HighP–T Nano-Mechanics of Polycrystalline Nickel
Nanoscale Research Letters
2007
2:476
Received: 2 August 2007
Accepted: 4 September 2007
Published: 26 September 2007
Abstract
We have conducted highP–T synchrotron X-ray and time-of-flight neutron diffraction experiments as well as indentation measurements to study equation of state, constitutive properties, and hardness of nanocrystalline and bulk nickel. Our lattice volume–pressure data present a clear evidence of elastic softening in nanocrystalline Ni as compared with the bulk nickel. We show that the enhanced overall compressibility of nanocrystalline Ni is a consequence of the higher compressibility of the surface shell of Ni nanocrystals, which supports the results of molecular dynamics simulation and a generalized model of a nanocrystal with expanded surface layer. The analytical methods we developed based on the peak-profile of diffraction data allow us to identify "micro/local" yield due to high stress concentration at the grain-to-grain contacts and "macro/bulk" yield due to deviatoric stress over the entire sample. The graphic approach of our strain/stress analyses can also reveal the corresponding yield strength, grain crushing/growth, work hardening/softening, and thermal relaxation under highP–T conditions, as well as the intrinsic residual/surface strains in the polycrystalline bulks. From micro-indentation measurements, we found that a low-temperature annealing (T < 0.4 Tm) hardens nanocrystalline Ni, leading to an inverse Hall–Petch relationship. We explain this abnormal Hall–Petch effect in terms of impurity segregation to the grain boundaries of the nanocrystalline Ni.
Keywords
Nano-mechanicsPolycrystalline nickelHigh pressure and high temperature
Introduction
Nanocrystalline materials hold the promise of revolutionizing traditional materials design in many applications via atomic-level structural control to tailor technological properties. As opposed to the micron-scale, the nanoscale is not just another step towards miniaturization, but is a qualitatively new scale because this size constraint often produces qualitatively new behavior. It starts to become clear that when the crystal size and/or domain size become comparable with a specific physical length scale such as the mean free path, the dislocation dimension, the domain size in ferromagnets or ferroelectics, the coherence length of phonons, or the correlation length of a collective ground state like superconductivity, the corresponding physical phenomenon will be strongly affected. Extensive experimental studies over the past decade have shown that a variety of properties, such as phase stability [1], melting temperature [2], yield strength [3, 4], elastic modulus [5–8], and electronic structure [9], can strongly be altered as crystallite size decreases from micrometers to nanometers.
Nickel is a 3d transition metal of technological importance. Nanocrystalline nickel (nano-Ni) has been the subject of considerable experimental and theoretical work in recent years. The elastic, mechanical, magnetic, and electrical properties, as well as diffusion coefficients and vibrational modes of nano-Ni have been widely studied [10–15]. In order to understand better the nano-mechanics of polycrystalline Ni, particularly its behavior under elevated pressure and/or temperature, we have recently conducted a series of synchrotron X-ray and time-of-flight neutron diffraction experiments as well as indentation measurements to study its equation of state, constitutive properties, and hardness [4, 16–18]. To accurately characterize the unique properties of nano-Ni, we studied both nano and bulk Ni using identical techniques, and in some cases with the two metals investigated simultaneously in a single high P–T experiment for direct comparison. The experimental results are summarized in this review article.
Elastic Softening in Nanocrystalline Nickel Metals
Among many properties that have so far been investigated on nanocrystalline materials, the grain-size effect on the elastic properties is still a matter of controversy and has not been well understood. The Young's modulus values of nanocrystalline materials obtained in early measurements, for example, have found to be substantially lower than those of their bulk counterparts [19]. Even though this softening phenomenon can partly be attributed to the presence of a large volume fraction of pores and cracks in the as-prepared nanocrystalline materials, later measurements on porosity-free nanocrystalline samples as well as theoretical calculations [20–22] still revealed an elastic softening in materials with grain size smaller than 20 nm. Contrary to these findings, a number of recent compression studies using X-ray diffraction reported higher bulk modulus for nanocrystalline materials than for the regular polycrystals [5–8]. Furthermore, in some materials such as Fe, Ni, MgO, and CuO, the compressibility was found to be independent of the crystallite size [10, 11, 23, 24]. While there may not exist a universal law for the grain-size effect on the materials' elastic properties, it is possible that conclusions from at least some of these studies are inconclusive or perhaps misleading. The reasons can be two folds. On one hand, many of these experimental studies were focused on nanocrystalline materials only, and, therefore, the comparison with early published data for conventional materials would be vulnerable to the systematic errors of the experiments using different techniques. On the other hand, this effect may be too subtle to be resolved with the experimental methods applied. We recently studied compressibility of nano- and micro-crystalline nickel in a single high-pressure experiment using synchrotron X-ray diffraction [16]. This comparative approach would eliminate systematic errors arising from instrument response and pressure/deviatoric-stress determination and thus allows detection of small difference in compressibility measurements [25, 26].
The microcrystalline nickel powders were commercially obtained which are 99.8% pure and have a grain size distribution of 3–7 μm. The nanocrystalline powders used in this study were prepared by ball milling, starting from coarse-grained powders of Ni (<840 μm, 99.999%) supplied by Alfa Aesar (Ward Hill, Massachusetts). Five grams of powder were ball-milled for 30 h using a SPEX 8000 mill, hardened-steel vials, and 30 1-g hardened steel balls. The SEPX mill was operated inside an argon-filled glove box containing less than 1 ppm oxygen. Measurement of the Curie transition temperature by a Differential Scanning Calorimetry technique [17] suggests that the as-prepared nanocrystalline Ni contain approximately 1 at% Fe impurity. Based on the peak width analysis of X-ray diffraction at ambient conditions (see later discussion), the nanocrystalline powders have an average grain size of 12–13 nm. For both starting Ni powders, neutron diffraction at the Bragg angles of 40°, 90°, and 150° reveals no preferred orientation texture. The high-pressure X-ray diffraction experiment was performed using a cubic anvil apparatus [27] at beamline X17B2 of the National Synchrotron Light Source, Brookhaven National Laboratory. An energy-dispersive X-ray method was employed and the cell assembly used is similar to those described in the reference [26]. The two Ni samples were placed in a boron nitride sleeve, separated by a layer of NaCl, which also serves as internal pressure standard. The pressure was determined using the Decker equation of state [28] for NaCl.
The compressibility of nanocrystalline Ni has recently been studied by X-ray diffraction in diamond anvil cells. Chen et al. [10] measured the variation of lattice volume with pressure up to 55 GPa and found that the bulk modulus of nanocrystalline Ni (K 0 = 185.4 ± 10 GPa) is similar to the value (K 0 = 180 GPa) previously reported for the bulk Ni. In another study of Rekhi et al. [11], the experimentally determined bulk modulus for nanocrystalline Ni (K 0 = 228 ± 15 GPa) was found to be comparable to that obtained from ab initio calculations of their own for the bulk Ni (K 0 = 217 GPa). Based on these results and in contrast to the findings of the present work, both studies concluded that there is no crystallite-size effect on the compressibility of Ni. This conclusion, however, should be viewed with some caution because systematic errors typically exist among measurements with different techniques (including theoretical calculations). The comparative approach of this work can practically eliminate pressure and deviatoric stress as variables and is particularly suitable for detection of subtle difference in compressibility measurements.
The enhanced compressibility in nanocrystalline Ni is consistent with the common view of a reduced atomic density and hence a general expectation of an increasing compressibility of interatomic spacings in the surface layer of nanocrystalline materials [19, 31]. However, there is essentially no information available on the specific arrangement of atoms at the surface of nanocrystals, and so far there exist no experimental methods that can directly distinguish the compressional behavior between the surface region and the crystalline cores. Nevertheless, based on a high-pressure Mössbauer spectroscopy study [31], a technique that can discriminate between the spectral components of the intercrystalline region and the crystalline core, Trapp et al. had deduced that the surface layer of nanocrystallie Fe has an enhanced compressibility when compared to the bulk crystalline α-Fe.
Recently, in a series of publications, Palosz and coworkers [32–34] showed that it is practically impossible to derive a single set of lattice parameters and hence a unique value of the overall bulk modulus from the positions of the Bragg reflections for nanocrystals. They proposed a methodology of the analysis of powder diffraction data for nanocrystals based on calculations of the lattice parameter values from individual Bragg reflections. Such quantities, which are associated with the specific values of the diffraction vectors Q (Q = 2π/d, where d is the d-spacing in the unit of Å) of the corresponding reflections, are termed as "apparent lattice parameters", alp. Based on theoretical calculations of powder diffraction data for nanocrystals with strained surface shell as well as experimental data of nanocrystalline SiC, the alp values are found to exhibit a complex dependence on Q with some characteristic minima and maxima. Careful analysis of these features may shed light on the atomic structure and behavior of nanocrystals, particularly those of the surface shell. According to Palosz's analysis, the reflections observed at very large Q could be used to probe the properties of the grain core (such as the real lattice parameter(s) of nanocrystals), whereas the reflections observed at small Q values are sensitive to the structure of the surface of the grains.
The grain-size dependence of the bulk modulus of nanocrystalline Ni has recently been investigated using molecular dynamics simulation [35]. Similar to the present findings, the calculated P–V data for Ni nanocrystals revealed a decrease of the "overall" bulk modulus up to 7% when compared with that of the single crystal Ni. Using a simple mixture model where the bulk modulus of nanocrystals is the sum of the elastic responses from two structurally different components, the bulk modulus of the surface layer at 286 K is found to be 9.2% smaller than that of the crystalline grains, which is in qualitative agreement with the present finding. Therefore, both experiment and theoretical calculation show that the enhanced "overall" compressibility of nanocrystalline Ni is a consequence of the higher compressibility of the surface shell. Our study demonstrates that careful compressional experiments with powder diffraction can be a useful means for probing the structure and behavior of the surface layer in nanocrystalline materials.
HighP–T Constitutive Properties of Nano and Bulk Ni
Yield strength (σy) is an important constitutive property of materials to define the onset of plastic deformation and viscous flow and is conventionally determined from the stress–strain measurements for engineering materials. Recent advancements in diffraction techniques with high intensity synchrotron X-ray and time-of-flight neutron allow the deformation studies for the bulk samples at the atomistic level [3, 4, 36–39]. Based on the classic Williamson-Hall method and its subsequent variations [40–45], the strain/strength, dislocation density, and crystal size can be derived from the peak-width analysis of diffraction data. This method will also overcome the sample porosity or impurity problems commonly faced in the conventional indentation or deformation experiments. Generally speaking, the polycrystalline diffraction profile is a convolution function of instrument response, grain size distribution, and crystal lattice deformations along the diffraction vector. During high-pressure compression experiment, the breaths of diffraction peaks broaden, and the amount of peak broadening indicates the distribution of differential strains along the diffraction vector [42], which is typically owing to different crystalline orientations relative to the loading direction and particularly to the stress concentration at grain-to-grain contacts during the powder compaction. The diffraction peak widths reach the maximum as the deviatoric stress approaches the ultimate yield strength and the sample material begins to flow plastically. By applying a stress field on crystalline sample and monitoring the peak width variation of different hkl diffractions as a function of pressure, one can derive the differential strain, thus the constitutive properties of the sample materials. In high-temperature annealing experiments without applied external stress, diffraction peak width sharpens with increasing temperature, reflecting the relaxation of residual strain and, in the case of nanocrystalline materials, demonstrating both the surface strain release and grain growth.
By multiplying the DER2 to the observed raw data, we can correct the strain differences of individual lattice planes. As shown in Fig. 6, the corrected data (solid blue and dark cyan circles) can be readily fit to a straight line in the

versus d 2 (P, T) plot and allow us to derive the apparent strain and grain size information unambiguously. From the (E hkl /E111) 2 and (E hkl /E200) 2 corrections, we effectively obtain the lower and upper bounds, respectively, for the apparent strains.
An Inverse Hall–Petch Effect in Nanocrystalline Ni99Fe1Alloy
It is often observed that the hardness (H) of conventional coarse-grained (>1 μm) polycrystalline metals and alloys increases with decreasing grain size L according to the classic Hall–Petch relation:
where H 0 and k are material constants. This Hall–Petch relation has been explained by several models, such as the pile-up of dislocations ahead of grain boundaries [47, 48], grain boundary acting as a source of dislocations [53], and the influence of grain size on the dislocation density (under the assumption that dislocation density is inversely proportional to grain size) [54, 55].
The Hall–Petch relation is fairly well obeyed in crystalline alloys with grain sizes ranging from tens of nanometers to microns. It often fails, however, in alloys with grain sizes in the range 3–20 nm. Most nanocrystalline materials that do not obey the Hall Petch were first prepared in the smallest grain size possible (e.g. using techniques such as high-energy ball milling, electrodeposition, or gas condensation) and then were annealed (at increasingly higher temperatures) to increase their grain size. In materials prepared this way, the strength increased with increasing grain size and thus these materials were said to obey an inverse (or abnormal) Hall–Petch relationship [56, 58–66, 66]. The inverse Hall–Petch effect has been attributed to factors such as (i) a decrease in dislocation line tension with decreasing grain size [67]; (ii) the difficulty of generating dislocation pile-ups within grains having sizes less than a critical value [68]; (iii) a contribution to plasticity from grain-boundary diffusion creep [69, 71, 71], grain-boundary sliding [72, 73] or grain-boundary shear [74]; (iv) an overall softening with decreasing grain size due to the increase in the density of triple junctions [75, 76] or grain boundaries [77, 78]; (v) a reduced ability of the grain boundaries to obstruct the dislocation motion due to the decrease in the interfacial excess volume and energy [79]; (vi) atomic ordering near grain boundaries and triple junctions [80]; and (vii) the competition between dislocation emission (from within the grain boundaries) and grain-boundary sliding [81]. Koch and Narayan [82] reviewed the literature prior to 2001 and suggested that in several instances the observed inverse Hall–Petch effect could be due to artifacts in the nanocrystalline materials such as porosity and/or amorphous inclusions. In spite of this extensive research, the observation of an inverse Hall–Petch relation upon increasing the grain size of nanocrystalline materials by annealing remains poorly understood. We studied the hardness-grain size relation in nanocrystalline Ni and find inverse Hall–Petch relation. We attribute our observed inverse Hall–Petch relation to impurity (Fe) segregating to grain boundaries.
The starting nanocrystalline Ni powders were prepared using the methods described in "Elastic Softening in Nanocrystalline Nickel Metals". Following synthesis by ball milling, the powders were annealed in the same glove-box at increasing temperatures. After each 1-h anneal, the powders were rapidly cooled inside the glove box. The annealed powders were then fixed in epoxy resin. The hardened particles/epoxy-resin composites were mechanically polished using a 0.3 μm alumina paste and tested on a Micromet-4 to obtain their microhardness. Each reported microhardness value is the average of 10–20 measurements.
Figure
14
shows the microhardness (
H
V
) as a function of annealing temperature for nanocrystalline Ni. It is clear from Fig.
14
that the initial annealing causes a slight
increase
in the hardness. This is against what is expected since annealing usually
decreases
the hardness of materials. Figure
15
shows a Hall–Petch plot (
H
V
as a function of
L
−1/2
) for nanocrystalline Ni. For the grain size larger than 25 nm, the variation of
H
V
follows a classic Hall–Petch relation. Below 25 nm, the data reveals an
inverse
Hall–Petch relationship, as identified by the dashed oval in Fig.
15
.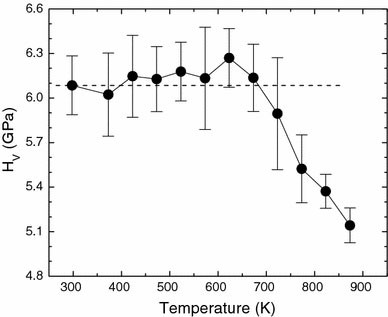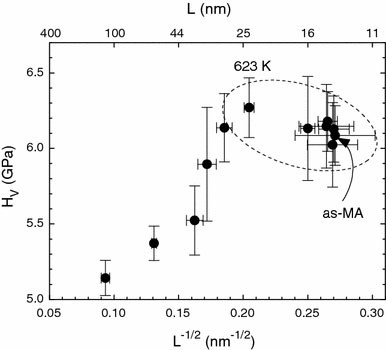 Since the inverse Hall–Petch relationship is observed in our nanocrystalline Ni (containing ∼1 at% Fe) but not in ultra-pure nanocrystalline Fe, studied using the same experimental methods [17], it is not unreasonable to assume that the inverse Hall–Petch relationship observed upon annealing nanocrystalline Ni is apparently due to the segregation of solutes to grain boundaries. Two previous studies on ball milled Fe seem to confirm our conclusions. Malow and Koch [83] ball-milled 99.9% pure Fe to achieve an initial grain size of ∼13 nm. This powder was sequentially annealed and the hardness was measured as a function of grain size. Here the Hardness versus L −1/2 followed a normal Hall–Petch relation. This contrasts with the experiments of Kahn et al. [65] who started with 98.5% pure Fe (the type of impurities were not specified) and added stearic acid [CH3(CH2)16CO2H] to the milling vial to minimize the agglomeration of the powder during ball milling. This additive most likely introduced additional impurities in the nanocrystalline product. The grain size of the as-prepared powder was 16 nm. Increasing the grain size to 23 nm (by annealing) caused the hardness to increase by 27%, in violation of the Hall–Petch relation [65]. Then, a further increase in grain size (by annealing at higher temperatures) caused the hardness to decrease, in agreement with the Hall–Petch relation.
Several mechanisms may contribute concurrently to the plastic deformation of nanocrystalline materials (grain-boundary sliding, grain-boundary rotation, and the generation of dislocations at grain-boundaries) [84]. All of these may be affected by the segregated solutes. Segregation of solutes and impurities in grain boundary may lead to three effects: (1) lowering the grain boundary energy, enabling the formation of low-energy grain boundary, (2) lowering the grain boundary free volume and thus the grain boundary diffusion coefficient, and (3) decreasing the stress gradient in the grain boundary regions. All of these three effects may increase the resistance for grain-boundary sliding, grain-boundary rotation, and the generation of dislocations at grain-boundaries. This reveals increased hardness of in annealed nanocrystalline materials.
Hardness increase induced by annealing has also been also frequently observed in plastically deformed large-grained polycrystalline materials. This phenomenon has been named as a "strain-ageing hardening" effect which means annealing (ageing) the deformed materials leads to hardening. In Fe97Si3 alloy (grain size = 30 μm) that was plastically deformed to ∼20% strain, annealing at 573 K for an hour increases the hardness by ∼4.6% [52]. Origin of this increased hardness, however, is different than that in our nanocrystalline Ni. In plastically deformed large-grained polycrystalline materials, the major resistance for further plastic deformation comes from the long-range stress field of multiplicated dislocations. Annealing can segregate Si to the multiplicated dislocations, increasing the stress that is needed to move these dislocations.
Summary
We have conducted highP–T synchrotron X-ray and time-of-flight neutron diffraction experiments as well as indentation measurements to study equation of state, constitutive properties, and hardness on nanocrystalline and bulk nickel. Our results present a clear evidence of elastic softening in nanocrystalline Ni as compared with the bulk nickel. It is also observed that the bulk moduli determined using the "apparent lattice parameters" are 17–18% lower at the smaller diffraction vectors (Q = 2π/d) than those at the largerQ values. These findings support the results of molecular dynamics simulation and a generalized model of a nanocrystal with expanded surface layer. Based on the peak-profile analysis of diffraction data, the yield strength for nano-Ni is determined to be 2.35 GPa, more than three times higher than that of bulk Ni. Contrary to tensile experiments of uniaxial loading, we observe significant work-hardening for the nano-Ni in high-pressure plastic deformation stage, whereas the micron-Ni experiences minor high-pressure work-softening and considerable energy dissipation into heat. The significantly reduced energy dissipation for the nano-Ni during the loading-unloading cycle indicates that the nanostructured materials can endure much greater mechanical fatigue in cyclic loadings. Nano-Ni exhibits grain crushing in the elastic stage of deformation but steady grain growth during bulk plastic deformation under high-pressure loading. During the high-temperature annealing, Ni nanocrystals show drastic stress reduction with increasing temperature and grain growth above 573 K. The rate of grain growth at high temperature, however, is considerably smaller at 7.4 GPa than that at atmospheric pressure, indicating that pressure is an effective thermodynamic parameter for controlling the crystallization process. From micro-indentation measurements, our analysis suggests that the inverse Hall–Petch effect observed in the annealed nanocrystalline Ni of different grain size can be ascribed to the impurity effects. Annealing allows impurity Fe to migrate to the grain boundaries, increasing the stress needed to initiate grain-boundary mediated plastic deformation in nanocrystalline Ni.
Declarations
Acknowledgements
Los Alamos National Laboratory is operated by Los Alamos National Security LLC under DOE contract DE-AC52-06NA25396. This work has benefited from the use of the Lujan Neutron Scattering Center at LANSCE, which is funded by the U.S. Department of Energy's Office of Basic Energy Sciences. This work was also supported by the Laboratory Directed Research & Development (LDRD) program of the Los Alamos National Laboratory. The highP–T X-ray diffraction experiments were carried out at the beamlines X17B2 of National Synchrotron Light Source, Brookhaven National Laboratory, which is supported by the Consortium for Materials Properties Research in Earth Sciences (COMPRES) under NSF Cooperative Agreement EAR 01-35554.
Authors' Affiliations
(1)
LANSCE-LC, Los Alamos National Laboratory, Los Alamos, USA
(2)
MST-8, Los Alamos National Laboratory, Los Alamos, USA