Wettability Switching Techniques on Superhydrophobic Surfaces
Nanoscale Research Letters
2007
2:577
Received: 27 June 2007
Accepted: 22 October 2007
Published: 13 November 2007
Abstract
The wetting properties of superhydrophobic surfaces have generated worldwide research interest. A water drop on these surfaces forms a nearly perfect spherical pearl. Superhydrophobic materials hold considerable promise for potential applications ranging from self cleaning surfaces, completely water impermeable textiles to low cost energy displacement of liquids in lab-on-chip devices. However, the dynamic modification of the liquid droplets behavior and in particular of their wetting properties on these surfaces is still a challenging issue. In this review, after a brief overview on superhydrophobic states definition, the techniques leading to the modification of wettability behavior on superhydrophobic surfaces under specific conditions: optical, magnetic, mechanical, chemical, thermal are discussed. Finally, a focus on electrowetting is made from historical phenomenon pointed out some decades ago on classical planar hydrophobic surfaces to recent breakthrough obtained on superhydrophobic surfaces.
Keywords
MicrofluidicSuperhydrophobic surfacesWettability switchingElectrowetting
Introduction
Biological surfaces, like lotus leaves, exhibit the amazing property for not being wetted by water leading to a self cleaning effect. The lotus leaves capability to remain clean from dirt and particles is attributed to the superhydrophobic nature of the leaves surface. The latter is composed of micro and nano structures covered with a hydrophobic wax, creating a carpet fakir, where water droplets attained a quasi spherical shape. In order to mimic these properties, artificial superhydrophobic surfaces have been prepared by several means, including the generation of rough surfaces coated with low surface energy molecules [1–6], roughening the surface of hydrophobic materials [7–9], and creating well-ordered structures using micromachining and etching methods [10, 11].
However, the modification of the liquid droplets behavior and in particular of their wetting properties on these surfaces is still a challenging issue. Functional surfaces with controlled wetting properties, which can respond to external stimuli, have attracted huge interest of the scientific community due to their wide range of potential applications, including microfluidic devices, controllable drug delivery and self cleaning surfaces.
In this review, after a brief overview on superhydrophobic states definition, we will discuss the techniques leading to the modification of wettability behavior on superhydrophobic surfaces under specific conditions: optical, magnetic, mechanical, chemical, thermal… Finally, a focus on electrowetting will be made from historical phenomenon pointed out some decades ago on classical planar hydrophobic surfaces to recent breakthrough obtained on superhydrophobic surfaces.
Surface Wetting
Introduction
At the equilibrium state, using energy minimization (dE = 0), the Young relation (1) is found. This approach will be used thereafter to determine the relations of Wenzel and Cassie–Baxter on superhydrophobic surfaces.
Concretely, following the rule of Zisman [13, 14], wetting surfaces are surfaces of high energy (∼500–5,000 mN m−1), where the chemical binding energies are about an eV (ionic, covalent, metal connections). The wetting materials are typically oxides (glass), metal oxides,… On the other hand, nonwetting surfaces are characterized by low surface energy (∼10–50 mN m−1). For these materials, the binding energies are about kT (ex: crystalline substrates and polymers) [15].
Hysteresis
The hysteresis of a surface is related to its imperfections. Indeed, the formula of Young considers that there is only one contact angle, the static contact angle, noted
θ
0
. However, this configuration exists only for perfect surfaces. Generally, surfaces present imperfections related to physical defects like roughness or to chemical variations. The static contact angle thus lies between two values called advanced angle, noted
θ
A
, and receding angle, noted
θ
R
. The difference between these two angles (
θ
A
−
θ
R
) is called hysteresis. While this force is opposed to droplet motion, the smaller hysteresis is, the more it will be easy to move the liquid droplet. Concretely, these angles can be measured thanks to the shape of a droplet on a tilted surface (Fig.
3
).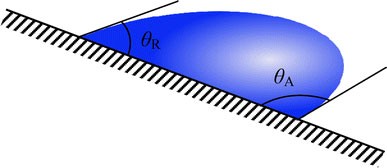 Wetting on Superhydrophobic Surfaces: Wenzel and Cassie–Baxter States
The lotus leaves are known for their water repellency and consequently to remain clean from any parasitic dust or debris. This phenomenon (also called rolling ball state) is very common in nature not only for the lotus, but also for nearly 200 other species: vegetable and animal like species. For example, the wings of a butterfly are covered with shapes whose size and geometrical form lead to a superhydrophobic state and are at the origin of their color (Fig.
4
).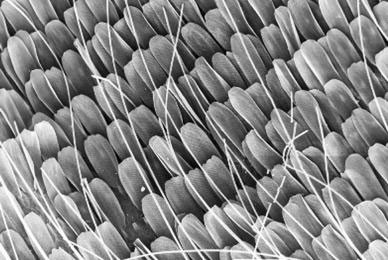 The common point between all these surfaces is their roughness. Indeed, the surfaces are composed of nanometric structures limiting the impregnation of the liquid and pushing back the drop. Most of the time, the surfaces are made of a second scale of roughness, consisting of micrometric size. In order to minimize its energy, a liquid droplet forms a liquid pearl on the microstructured surface. The superhydrophobicity term is thus used when the apparent contact angle of a water droplet on a surface reaches values higher than 150°.
Previously, the studied substrates were regarded as smooth surfaces, i.e. the roughness of the substrate was sufficiently low and thus does not influence the wetting properties of the surface. In this case, the relation of Young (1) gives the value of the contact angle θ on the surface (which we will henceforth call angle of Young). However, a surface can have a physical heterogeneity (roughness) or a chemical composition variation (materials with different surface energies). In this case, a drop deposited on the surface reacts in several ways. A new contact angle is then observed, called apparent contact angle and generally noted θ*. It should be noticed that locally, the contact angle between the liquid droplet and the surface are always the angle of Young. Two models exist: the model of Wenzel [17, 18] and of Cassie–Baxter [19].
These two models were highlighted by the experiment of Johnson and Dettre [
20
]. Many research teams have tried to understand in more detail the superhydrophobicity phenomenon [
21
] and particularly the difficulty of the wetting transition from Wenzel to Cassie configuration [
22
]. A drop on a rough and hydrophobic surface can adopt two configurations: a Wenzel [
23
] (complete wetting) and a Cassie–Baxter configuration (partial wetting), as presented in Fig.
5a and b
, respectively. In both cases, even if locally, the contact angle does not change (angle of Young), an increase in the apparent contact angle
θ*
of the drop is observed.

For a superhydrophobic surface, the fundamental difference between the two models is the hysteresis value. The first experiment on this subject was conducted by Johnson and Dettre (1964) who measured the advancing and receding contact angles, according to the surface roughness [20]. For a low roughness, a strong hysteresis being able to reach 100° (Wenzel) is observed and attributed to an increase in the substrate surface in contact with the drop. Starting from a certain roughness (not quantified in their experiment), the hysteresis becomes quasi null resulting from the formation of air pockets under the drop. The receding angle approaches the advancing angle.
Other experiments also show that for a drop, in a Cassie–Baxter state, it is possible to obtain a contact angle quite higher than for a drop in Wenzel state (Fig.
6a
) [
24
]. The drop on the left is in a Cassie–Baxter state whereas the drop on the right is in a Wenzel state. After partial evaporation of the drop (Fig.
6b
), the observed angle (which is the receding angle) is similar to the advancing angle for the drop on the left whereas the drop on the right appears like trapped on a hydrophilic surface.

In the following two paragraphs, we will discuss in detail the two models. Then we will show that the reality is more complex, in particular in the presence of metastable states in the Cassie–Baxter model.
Wenzel (1936)
When a surface exhibits a low roughness, the drop follows the surface and is impaled on roughness (Fig.
5a
). In this case, the solid surface/liquid and solid/gas energies are respectively
r
γ
SL
and
r
γ
SG,
where the roughness
r
is defined as the relationship between real surface and apparent surface (
r
> 1 for a rough surface, and
r
= 1 for a perfectly smooth surface) [
25
]. A
dx
displacement of the three phase contact line thus involves a variation of energy:
At the equilibrium state (
dE
= 0), for a null roughness, i.e. for
r
= 1, we find the relation of Young. For a nonnull roughness, the relation of Wenzel [
18
] is obtained:
The question is to know what are the conditions to be in this configuration? In this relation, the angle of Young
θ
cannot be modulated since on a planar surface the optimal contact angle value is around 120° for water. Moreover, this relation implies that it is possible to reach an apparent contact angle of 180° as soon as the product
r
cos
θ
reaches −1 (as shown in Fig.
7
). However an apparent angle
θ*
of 180° cannot be observed because the drop must preserve a surface of contact with the substrate. Thus the only parameter that can be modulated is the roughness. However, a strong roughness involves a configuration of Cassie–Baxter. Indeed, a liquid droplet rather minimizes its energy while remaining on a surface of a strong roughness than penetrating in the asperities. So the law of Wenzel is valid only for one certain scale of roughness and thus for apparent angles lower than 180°.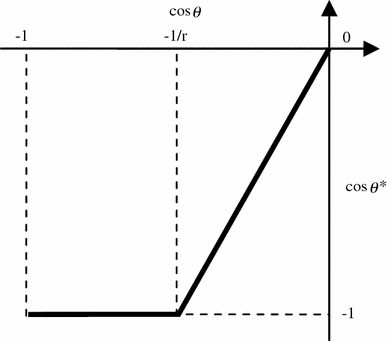 In this type of behavior, the liquid/solid interface and the hysteresis are strongly increased. The drop sticks to the surface and the Wenzel state contrasts with the superhydrophobicity idea i.e. the rolling ball effect.
Cassie–Baxter (1944)
However, when a drop is deposited on a rough surface, a Cassie–Baxter regime occurs even when θ < θ c (for water, θ < 120°) [27–29]. This state is metastable, i.e. by applying a pressure to the drop, for example, it is possible to reach the Wenzel regime: stable and displaying an important hysteresis [30]. This state is problematic, in particular in microfluidic microsystems where the displacement of a drop with a hysteresis of 100° is not easily realizable. An ideal configuration is the rolling ball or fakir effect i.e. the Cassie–Baxter state.
Neinhuis and Barthlott studied in detail the superhydrophobic properties of almost 200 plants, the famous lotus effect. In most cases, the surface comprises two different roughness scales: one is micrometric and the other one is nanometric.
When Φ s < 1, cosθ* is smaller than in the case of a simple roughness, the contact angle increases.
Preparation of Superhydrophobic Surfaces
From a technological point of view, there are currently several possibilities to mimic and prepare artificial superhydrophobic surfaces, including generating of rough surfaces coated with low surface energy molecules, roughening the surface of hydrophobic materials, and creating well-ordered structures using micromachining and etching methods. Some examples will be seen in the next part of this review.
Wettability Switching Techniques on Superhydrophobic Surfaces
Discussion
The hysteresis effect and the saturation phenomenon limit the interval of tension to be used for EWOD. Concretely, the voltage allowing displacement must lie between Vmin (related to hysteresis) and Vmax (related to saturation). The microsystems have most of the time vocation to be embarked. It is thus necessary to reduce the tensions of actuation. One of the solutions is the development of 1 plan microsystems, i.e. without counter-electrode [84]. In this case, the force related to hysteresis is only reduced by a factor

which is still not very practical in an embarked system. Moreover, such microsystems are definitely more sensitive to evaporation and do not allow microfluidic operations like drop scission. Another solution consists to reduce the thickness of the dielectric layer or to increase the permittivity of this one. However, a reduction in the dielectric layer involves an increase in the electric field. Under a certain thickness, the electric field is higher than the dielectric rigidity and involves a breakdown of the layer. There is thus a limit in the reduction of tension. The increase in the permittivity of the dielectric layer is limited by the weak permittivity of the hydrophobic layer. Thus, there is a breakdown even when a voltage of only few volts was applied [63].
The last possibility is the reduction of the hysteresis by using superhydrophobic surfaces (with hysteresis lower than Teflon).
Nonreversible Electrowetting on Superhydrophobic Surfaces
The same group brings in 2005 a first solution for the reversible wetting on such surfaces [86]. A very short electrical current impulse applied to the substrate leads to the surface heating. The temperature can then reach 240 °C, causing liquid boiling and droplet expelling from the surface. Even though this technique is easy to implement, it is hard to imagine such an integrated system within a Lab-on-Chip. The heating would cause significant damage to biological material within the drop. Moreover, this expulsion creates satellite droplets.
It is interesting to notice that an oil environment prevents the Wenzel effect. However, the question of the applicability of such a surface is not clearly explained since a water drop in an oil environment has already a very high contact angle [89], even on a planar surface.
Thus a planar surface allows at the same time a total wetting but also a complete reversibility.
Recently, Heikenfeld has reported electrowetting applied to textiles [90]. Two electrowetting textiles were prepared. The first one is made of a polyethylene naphthalate (PEN) film containing holes coated with Al (50 nm) (conductive layer). The second one was fabricated from wood microfibers on which a polymer (PEDOT-PSS and PEI) was deposited to render it electrically conductive. In both case parylene C (1 μm) and a fluoropolymer solution were used to insure a hydrophobic dielectric surface coating. The textile surfaces investigated are highly irregular and their electrowetting behavior was predicted, in first approximation by Cassie Baxter equation. For both textiles, irreversible electrowetting was observed with a contact angle varying from 120° to 70° in air. Here again, reversible electrowetting occurs in an oil environment.
Reversible Electrowetting on Superhydrophobic Surfaces
Our group has developed a different strategy to achieve electrowetting on superhydrophobic surfaces using a very heterogeneous surface composed of silicon nanowires coated with a fluoropolymer C
4
F
8
[
91
]. The SiNWs were grown on Si substrate using the vapor–liquid–solid (VLS) mechanism and electrically insulated with 300 nm of SiO
2
, First, a thin film of gold (4 nm thick) was evaporated on the substrate and then exposed to silane gas at different pressures at 500 °C for a given time. According to time and pressure of growth, eight surfaces were realized where the nanowires length varied from 1 μm (10 min, 0.1 T) to 30 μm (60 min, 0.4 T). Figure
30a
shows a scanning electron microscopy (SEM) image of SiNWs grown at 0.1 T for 10 min. It consists of low density of SiNWs around 1 μm in length. High density of SiNWs with an average diameter in the range of 20–150 nm and 30 μm in length were obtained at 0.4 T for 60 min, leading to a nonuniform structured surface (Fig.
30b
) Table
1
.

Table 1
Growth conditions of silicon nanowires (Q = 40 sccm, T = 500 °C)
| No. | Time (min) | Pressure (T) | Length (μm) |
| --- | --- | --- | --- |
| 1 | 10 | 0.1 | 1 |
| 2 | 10 | 0.4 | 1 |
| 3 | 20 | 0.1 | 2.5 |
| 4 | 20 | 0.4 | 15 |
| 5 | 40 | 0.1 | 8 |
| 6 | 40 | 0.4 | 35 |
| 7 | 60 | 0.1 | 7 |
| 8 | 60 | 0.4 | 30 |
To achieve surface superhydrophobicity, the SiNWs were coated with a fluoropolymer C4F8 (60 nm thick), deposited using a plasma technique. All the resulting surfaces displayed liquid contact angle θ* around 164° for a saline solution (100 mM KCl) in oil (undecane) with almost no hysteresis, confirming that the droplet is in a Cassie state. Electrowetting in oil was performed on all surfaces, but a reversible behavior was only observed for the surface prepared using the process 8. When a voltage of 150 Vrms was applied, the apparent contact angle decreased down to 106° for a saline solution (100 mM KCl). When the tension was cut off, the effect is completely reversible. The drop returns to its initial position. Applied voltage leads to nonreversible wetting on the other surfaces (droplet trapped in a Wenzel configuration).
Same experiments have been carried out in air, on all the surfaces. Only the surface prepared using the process 8 allows a reversible electrowetting with electrowetting induced a maximum reversible decrease of the contact angle of 23° to reach 137° (starting from 160°). Turning off the voltage leads to a complete relaxation of the droplet (Fig.
31
). This effect is ascribed to the high heterogeneity of the surface and trapped air under the droplet preventing to reach the Wenzel configuration [
92
].

We have shown for the first time that reversible electrowetting is possible on superhydrophobic surfaces that display specific geometrical criteria as predicted by Bico [24]. Due to low hysteresis of the surface, we assume that small voltages could be sufficient for droplet displacement. We have previously demonstrated the possibility to use such surfaces as EWOD ground electrodes with hydrophobic electrodes for matrix-free mass-spectrometry analysis (DIOS analysis)[91]. The main advantages associated are a simple realization of hydrophilic and functionalized pads in the superhydrophobic surface, allowing analytes trapping with an enhancement of the liquid/surface interaction, and a subsequent analysis by matrix-free desorption/ionization MS-DIOS on these pads.
Integration of the superhydrophobic electrodes inside a microfluidic microsystem, allowing low voltage actuation of a biological analyte and DIOS analysis is currently under investigation in our laboratory. Furthermore, the utilization of textured surfaces could prevent from nonspecific sticking of bio particles, leading to an easy and efficient removal operation as compared to planar surface. Application such as particle sampling, concentration and analysis on superhydrophobic surfaces should be dedicated to environment control.
Conclusion
Among all the superhydrophobic surfaces displaying high roughness combined with low surface energy coating, trapping of air between the substrate and the liquid droplets is necessary to obtain a rolling ball effect (i.e. a quasi null hysteresis). Associated to an effective way to switch the wettability properties of the surface, control of droplet displacement on superhydrophobic surface seems to be possible. Unfortunately, only few techniques based on optical, electrical, mechanical or magnetic phenomenon, lead to a reversible modification of surface wettability. Among these techniques, electrowetting on classical surfaces (i.e. hydrophobic) seems to be the more mature technology. This is particularly emphasized by recent results on EWOD droplet liquid pixel and by the very last improvement concerning optical lenses integrated inside commercialized cellular phones (varioptic.com). Combining the amazing properties of superhydrophobic surfaces with reliable EWOD devices will open new opportunities for designing systems with potential applications based on specific properties of theses surfaces, in particular in the field of lab-on-chip (preparation of highly functional microfluidic devices), optical devices and controlled self cleaning surfaces. Concerning lab-on-chip devices, the most important effect expected, due to the quasi null hysteresis of these surfaces, is the liquid manipulation at very low tension voltage.
Authors' Affiliations
(1)
Institut d'Electronique, de Microélectronique et de Nanotechnologie (IEMN), Villeneuve d'Ascq, France
(2)
Institut de Recherche Interdisciplinaire (IRI), Villeneuve d'Ascq, France
References
1. L. Feng, S. Li, H. Li, J. Zhai, Y. Song, L. Jiang, D. Zhu, Angew. Chem. Int. Ed. 41, 1221 (2002)Google Scholar
Feng L, Song Y, Zhai J, Liu B, Xu J, Jiang L, Zhu D: Angew. Chem. Int. Ed.. 2003, 42: 800. COI number [1:CAS:528:DC%2BD3sXhvFWmtb8%3D] 10.1002/anie.200390212View ArticleGoogle Scholar
Cao M, Song X, Zhai J, Wang J, Wang Y: J. Phys. Chem. B. 2006, 110: 13072. COI number [1:CAS:528:DC%2BD28XlsFensb4%3D] 10.1021/jp061373aView ArticleGoogle Scholar
Hong YC, Uhm HS: Appl. Phys. Lett.. 2006, 88: 244101. COI number [1:CAS:528:DC%2BD28XmsVWhurY%3D] 10.1063/1.2210449View ArticleGoogle Scholar
Tadanaga K, Katata N, Minami T: J. Am. Ceram. Soc.. 1997, 80: 1040. COI number [1:CAS:528:DyaK2sXivVWqt7o%3D] 10.1111/j.1151-2916.1997.tb02943.xView ArticleGoogle Scholar
Balaur E, Macak JM, Tsuchiya H, Schmuki P: J. Mater. Chem.. 2005, 15: 4488. COI number [1:CAS:528:DC%2BD2MXhtFCru7nO] 10.1039/b509672cView ArticleGoogle Scholar
Chen W, Fadeev AY, Hsieh MC, Oner D, Youngblood J, McCarthy TJ: Langmuir. 1999, 15: 3395. COI number [1:CAS:528:DyaK1MXisFGnu7w%3D] 10.1021/la990074sView ArticleGoogle Scholar
Coulson SR, Woodward I, Badyal JPS, Brewer SA, Willis CJ: J. Phys. Chem. B. 2000, 104: 8836. COI number [1:CAS:528:DC%2BD3cXlvFOqtb0%3D] 10.1021/jp0000174View ArticleGoogle Scholar
Fürstner R, Barthlott W: Langmuir. 2005, 21: 956. COI number [1:CAS:528:DC%2BD2MXovVyk] 10.1021/la0401011View ArticleGoogle Scholar
Shiu J-Y, Kuo CW, Chen P, Mou CY: Chem. Mater.. 2004, 16: 561. COI number [1:CAS:528:DC%2BD2cXksFemtQ%3D%3D] 10.1021/cm034696hView ArticleGoogle Scholar
McCarthy TJ, Oner D: Langmuir. 2000, 16: 7777. COI number [1:CAS:528:DC%2BD3cXlvFOqu7s%3D] 10.1021/la000598oView ArticleGoogle Scholar
Young T: Philos. Trans. R. Soc. Lond.. 1805, 95: 65. COI number [1:CAS:528:DyaG3MXitlGmtw%3D%3D] 10.1098/rstl.1805.0005View ArticleGoogle Scholar
Fox J, Zisman W: J. Colloid Interface Sci.. 1950, 5: 514. View ArticleGoogle Scholar
Zisman W: Chem. Ser.. 1964, 43: 381.Google Scholar
de Gennes P-G, Brochard-Wyart F, Quere D: Gouttes, bulles, perles et ondes. Belin, collection Echelles, Paris; 2002.Google Scholar
http://www.bath.ac.uk/ceos/insects3.htmlGoogle Scholar
Wenzel RN: Ind. Eng. Chem.. 1936, 28: 988. COI number [1:CAS:528:DyaA28Xkslentg%3D%3D] 10.1021/ie50320a024View ArticleGoogle Scholar
Wenzel RN: J. Phys. Colloid Chem.. 1949, 53: 1466. COI number [1:CAS:528:DyaG3cXhs12nsA%3D%3D] 10.1021/j150474a015View ArticleGoogle Scholar
Cassie ABD, Baxter S: Trans. Faraday Soc.. 1944, 40: 546. COI number [1:CAS:528:DyaH2MXhsFKqsA%3D%3D] 10.1039/tf9444000546View ArticleGoogle Scholar
Johnson RE, Dettre RH: Adv. Chem. Ser.. 1964, 43: 112. COI number [1:CAS:528:DyaF2cXls1Gntw%3D%3D] 10.1021/ba-1964-0043.ch007View ArticleGoogle Scholar
J. Bico, Thèse, Université Paris VI (2000)Google Scholar
Nosonovsky M: Langmuir. 2007, 23: 3157. COI number [1:CAS:528:DC%2BD2sXhsFOku7k%3D] 10.1021/la062301dView ArticleGoogle Scholar
Yang C, Tartaglino U, Persson BNJ: Phys. Rev. Lett.. 2006, 97: 116103. COI number [1:CAS:528:DC%2BD28Xps1OjtL8%3D] 10.1103/PhysRevLett.97.116103View ArticleGoogle Scholar
Callies M, Quéré D: Soft Matter. 2005, 1: 55. COI number [1:CAS:528:DC%2BD2MXlvFSnsr8%3D] 10.1039/b501657fView ArticleGoogle Scholar
D. Quéré, Physique statistique, Images de la Physique, CNRS 239 (2005)Google Scholar
Bico J, Thiele U, Quéré D: Colloids Surf. A. 2002, 206: 41. COI number [1:CAS:528:DC%2BD38XksVeru74%3D] 10.1016/S0927-7757(02)00061-4View ArticleGoogle Scholar
Shibuichi S, Onda T, Satoh N, Tsujii K: J. Phys. Chem.. 1996, 100: 19512. COI number [1:CAS:528:DyaK28XntVWnsbs%3D] 10.1021/jp9616728View ArticleGoogle Scholar
Bico J, Marzolin C, Quéré D: Europhys. Lett.. 1999, 47: 220. COI number [1:CAS:528:DyaK1MXltVektLc%3D] 10.1209/epl/i1999-00548-yView ArticleGoogle Scholar
Yoshimitzu Z, Nakajima A, Watanabe T, Hashimoto K: Langmuir. 2002, 18: 5818. COI number [1:CAS:528:DC%2BD38Xks12rtLc%3D] 10.1021/la020088pView ArticleGoogle Scholar
Lafuma A, Quéré D: Nature Mater.. 2003, 2: 457. COI number [1:CAS:528:DC%2BD3sXls1elsL0%3D] 10.1038/nmat924View ArticleGoogle Scholar
Quéré D, Lafuma A, Bico J: Nanotechnology. 2003, 14: 1109. 10.1088/0957-4484/14/10/307View ArticleGoogle Scholar
Herminghaus S: Europhys. Lett.. 2000, 52: 165. 10.1209/epl/i2000-00418-8View ArticleGoogle Scholar
Patankar NA: Langmuir. 2004, 20: 8213.Google Scholar
Gao L, McCarthy TJ: Langmuir.. 2006, 22: 2966. COI number [1:CAS:528:DC%2BD28XhvVKltbc%3D] 10.1021/la0532149View ArticleGoogle Scholar
Lau KKS, Bico J, Teo KBK, Chlowalla M, Amaratunga GAJ, Milne WI, McKinley GH, Gleason KK: Nano Lett.. 2003, 3: 1701. COI number [1:CAS:528:DC%2BD3sXot12rtLg%3D] 10.1021/nl034704tView ArticleGoogle Scholar
Feng L, Li S, Li Y, Li H, Zang L, Zhai J, Song Y, Liu B, Jiang L, Zhu D: Adv. Mater.. 2002, 14: 1857. COI number [1:CAS:528:DC%2BD3sXitlOhsg%3D%3D] 10.1002/adma.200290020View ArticleGoogle Scholar
Liu H, Zhai J, Jiang L: Soft Matter.. 2006, 2: 811. COI number [1:CAS:528:DC%2BD28XhtFemsLrK] 10.1039/b606654bView ArticleGoogle Scholar
Lee J, He B, Patankar N: J. Micromech. Microeng.. 2005, 15: 591. COI number [1:CAS:528:DC%2BD2MXkslKks7o%3D] 10.1088/0960-1317/15/3/022View ArticleGoogle Scholar
Chen TH, Chuang YJ, Chieng CC, Tseng FG: J. Micromech. Microeng.. 2007, 17: 489. COI number [1:CAS:528:DC%2BD2sXlt1GntL4%3D] 10.1088/0960-1317/17/3/010View ArticleGoogle Scholar
Zhang J, Lu X, Huang W, Han Y: Macromol. Rapid Commun.. 2005, 26: 477. COI number [1:CAS:528:DC%2BD2MXjtlShtr0%3D] 10.1002/marc.200400512View ArticleGoogle Scholar
Jin M, Feng X, Feng L, Sun T, Zhai J, Li T, Jiang L: Adv. Mater.. 2005, 17: 1977. COI number [1:CAS:528:DC%2BD2MXpsFGisL4%3D] 10.1002/adma.200401726View ArticleGoogle Scholar
Hong X, Gao X, Jiang L: J. Am. Chem. Soc.. 2007, 129: 1478. COI number [1:CAS:528:DC%2BD2sXot1Wiug%3D%3D] 10.1021/ja065537cView ArticleGoogle Scholar
F. Zhou, W.T.S. Huck, Chem. Commun. 5999 (2005)Google Scholar
Sun TL, Wang GJ, Feng L, et al.: Angew. Chem. Int. Ed.. 2004, 43: 357. COI number [1:CAS:528:DC%2BD2cXntVehsg%3D%3D] 10.1002/anie.200352565View ArticleGoogle Scholar
Fu Q, Rao GVR, Basame SB, Keller DJ, Artyushkova K, Fulghum JE, Lopez GP: J. Am. Chem. Soc.. 2004, 126: 8904. COI number [1:CAS:528:DC%2BD2cXltlCls74%3D] 10.1021/ja047895qView ArticleGoogle Scholar
Xia F, Feng L, Wang S, Sun T, Song W, Jiang W, Jiang L: Adv. Matter.. 2006, 18: 432. COI number [1:CAS:528:DC%2BD28XitFCnsr0%3D] 10.1002/adma.200501772View ArticleGoogle Scholar
Athanassiou A, Lygeraki MI, Pisignano D, Lakiotaki K, Varda M, Mele E, Fotakis C, Cingolani R, Anastasiadis SH: Langmuir. 2006, 22: 2329. COI number [1:CAS:528:DC%2BD28XoslarsQ%3D%3D] 10.1021/la052122gView ArticleGoogle Scholar
Lim HS, Han JT, Kwak D, Jin M, Cho K: J. Am. Chem. Soc.. 2006, 128: 14458. COI number [1:CAS:528:DC%2BD28XhtFSrs7%2FM] 10.1021/ja0655901View ArticleGoogle Scholar
W. Zhu, X. Feng, L. Feng, L. Jiang, Chem. Commun. 2753 (2007)Google Scholar
Feng X, Feng L, Jin M, Zhai J, Jiang L, Zhu D: J. Am. Chem. Soc.. 2004, 126: 62. COI number [1:CAS:528:DC%2BD3sXps1Gmt7s%3D] 10.1021/ja038636oView ArticleGoogle Scholar
Takei C, Nonogi M, Hibara A, Kitamori T, Kim HB: Lab on Chip. 2007, 7: 596. COI number [1:CAS:528:DC%2BD2sXkvVWku78%3D] 10.1039/b618851fView ArticleGoogle Scholar
Balaur E, Macak JM, Taveira L, Schmuki P: Electrochem. Commun.. 2005, 7: 1066. COI number [1:CAS:528:DC%2BD2MXhtVartLnE] 10.1016/j.elecom.2005.07.014View ArticleGoogle Scholar
Coffinier Y, Janel S, Addad A, Blossey R, Gengembre L, Payen E, Boukherroub R: Langmuir. 2007, 23: 1608. COI number [1:CAS:528:DC%2BD2sXjtVaruw%3D%3D] 10.1021/la063345pView ArticleGoogle Scholar
Lippmann G: Ann. Chim. Phys.. 1875, 5: 494.Google Scholar
Berge B: C. R. Acad. Sci. Paris série II. 1993, 317: 157. Google Scholar
Y. Fouillet, D. Jary, A.G. Brachet, J. Berthier, R. Blervaque, L. Davoux, J.M. Roux, J.L. Achard, C. Peponnet, 4th International Conference on Nanochannels, Microchannels and Minichannels, Liemrick, Ireland, June 19–21 (2006)Google Scholar
Froumkine A: Actualités Sci. Ind.. 1936, 373: 1.Google Scholar
Jones TB: Langmuir. 2002, 18: 4437. COI number [1:CAS:528:DC%2BD38Xjt12rurc%3D] 10.1021/la025616bView ArticleGoogle Scholar
Kang KH: Langmuir. 2002, 18: 10318. COI number [1:CAS:528:DC%2BD38XoslShsLk%3D] 10.1021/la0263615View ArticleGoogle Scholar
Buehrle J, Herminghaus S, Mugele F: Phys. Rev. Lett.. 2003, 91: 086101. COI number [1:CAS:528:DC%2BD3sXms1Cgs7w%3D] 10.1103/PhysRevLett.91.086101View ArticleGoogle Scholar
Bienia M, Vallade M, Quilliet C, Mugele F: Europhys. Lett.. 2006, 74: 103. COI number [1:CAS:528:DC%2BD28Xjs1yqu7c%3D] 10.1209/epl/i2006-10003-3View ArticleGoogle Scholar
Mugele F, Buerhle J: J. Phys.: Condens. Matter. 2007, 19: 375112. COI number [1:CAS:528:DC%2BD2sXhsVagsr3E] 10.1088/0953-8984/19/37/375112Google Scholar
S. Kuiper, 5th International Meeting on Electrowetting, Rochester (NY, USA), May 31–June 2 (2006)Google Scholar
A. Torkelli, Droplet microfluidics on planar surface, ISBN 951-38-6237-2 (2003)Google Scholar
Verheijen HJJ, Prins MWJ: Langmuir. 1999, 15: 6616. COI number [1:CAS:528:DyaK1MXlslaltLY%3D] 10.1021/la990548nView ArticleGoogle Scholar
Vallet M, Vallade M, Berge B: Eur. Phys. J. B. 1999, 11: 583. COI number [1:CAS:528:DyaK1MXnt1Gqsbs%3D] 10.1007/s100510051186View ArticleGoogle Scholar
Shapiro B, Moon H, Garrell RL, Kim CJ: J. Appl. Phys.. 2003, 93: 5794. COI number [1:CAS:528:DC%2BD3sXjtVyisb0%3D] 10.1063/1.1563828View ArticleGoogle Scholar
Mugele F, Baret JC: J. Phys.: Condens. Matter.. 2005, 17: R705. COI number [1:CAS:528:DC%2BD2MXnsVelsLs%3D] 10.1088/0953-8984/17/28/R01Google Scholar
Fair RD: Microfluid Nanofluid. 2007, 3: 245. COI number [1:CAS:528:DC%2BD2sXmvFGksrk%3D] 10.1007/s10404-007-0161-8View ArticleGoogle Scholar
Berge B, Peseux J: Eur. Phys. J. E. 2000, 3: 159. COI number [1:CAS:528:DC%2BD3MXhsVSqt78%3D] 10.1007/s101890070029View ArticleGoogle Scholar
Varioptic, http://www.varioptic.comGoogle Scholar
Pellat H: C. R. Acad. Sci. Paris.. 1895, 119: 691.Google Scholar
Smith NR, Abeysinghe DC, Haus JW, Heikenfeld J: Optics Express.. 2006, 14: 6557. 10.1364/OE.14.006557View ArticleGoogle Scholar
Liquavista, http://www.liquavista.comGoogle Scholar
Hayes RA, Feenstra BJ: Nature. 2003, 425: 383. COI number [1:CAS:528:DC%2BD3sXnsV2ktL4%3D] 10.1038/nature01988View ArticleGoogle Scholar
Heikenfeld J, Steckl AJ: Appl. Phys. Lett.. 2005, 86: 011105. COI number [1:CAS:528:DC%2BD2MXisFajsw%3D%3D] 10.1063/1.1842853View ArticleGoogle Scholar
Cho SK, Moon H, Kim CJ: J. Microelec. Sys.. 2003, 12: 70. 10.1109/JMEMS.2002.807467View ArticleGoogle Scholar
J. Berthier, P. Silberzan, Microfluidics for Biotechnology (Artech House Publishers 2005)Google Scholar
Pollack MG, Fair RB, Shenderov AD: Appl. Phys. Lett.. 2000, 77: 1725. COI number [1:CAS:528:DC%2BD3cXmt12msrg%3D] 10.1063/1.1308534View ArticleGoogle Scholar
Polack MG, Shenderov AD, Fair RB: Lab Chip. 2002, 2: 101. COI number [1:CAS:528:DC%2BD38XjsFOhsrk%3D] 10.1039/b110474hGoogle Scholar
Srinivasan V, Pamula VK, Fair RB: Lab Chip.. 2004, 4: 310. COI number [1:CAS:528:DC%2BD2cXlvVKms7c%3D] 10.1039/b403341hView ArticleGoogle Scholar
Wheeler AR, Moon H, Bird CA, Ogorzalek Loo RR, Kim CJ, Loo JA, Garrell RL: Anal. Chem.. 2005, 77: 534. COI number [1:CAS:528:DC%2BD2cXhtVOrtbbP] 10.1021/ac048754+View ArticleGoogle Scholar
F. Caron, J.-C. Fourrier, C. Druon, P. Tabourier, French Patent N°FR 0406080 issued on 2005Google Scholar
Fouillet Y, Jeanson H, Chartier I, Buguin A, Silberzan P: Houille blanche, Revue Internationale de l'Eau. 2003, 4: 37. 10.1051/lhb/2003073View ArticleGoogle Scholar
Krupenkin TN, Taylor JA, Schneider TM, Yang S: Langmuir. 2004, 20: 3824. COI number [1:CAS:528:DC%2BD2cXhtVGisbg%3D] 10.1021/la036093qView ArticleGoogle Scholar
Krupenkin T, Taylor JA, Kolodner P, Hodes M: Bell Labs Tech. J.. 2005, 10: 161. 10.1002/bltj.20111View ArticleGoogle Scholar
Herbertson DL, Evans CR, Shirtcliffe NJ, McHale G, Newton MI: Sens. Actuators A. 2006, 130: 189. COI number [1:CAS:528:DC%2BD28XntVSksLk%3D] 10.1016/j.sna.2005.12.018View ArticleGoogle Scholar
Dhindsa MS, Smith NR, Heikenfeld J, Rack PD, Fowlkes JD, Doktycz MJ, Melechko AV, Simpson ML: Langmuir. 2006, 22: 9030. COI number [1:CAS:528:DC%2BD28XpsFajtr0%3D] 10.1021/la061139bView ArticleGoogle Scholar
Klingner A, Mugele F: J. Appl. Phys.. 2004, 95: 2918. COI number [1:CAS:528:DC%2BD2cXhsVyrsLY%3D] 10.1063/1.1643771View ArticleGoogle Scholar
Bhat K, Heikenfeld J, Agarwal M, Lvov Y, Varahramyan K: Appl. Phys. Lett.. 2007, 91: 024103. COI number [1:CAS:528:DC%2BD2sXotlehsLg%3D] 10.1063/1.2753750View ArticleGoogle Scholar
N. Verplanck, Y. Coffinier, M. Wisztorski, G. Piret, C. Delhaye, V. Thomy, I. Fournier, J.-C. Camart., P. Tabourier, R. Boukherroub, The 10th International Conference on Miniaturized Systems for Chemistry and Life Sciences (lTAS Tokyo) 771 (2006)Google Scholar
Verplanck N, Coffinier Y, Galopin E, Camart J-C, Thomy V, Boukherroub R: Nano Lett.. 2007, 3: 813. COI number [1:CAS:528:DC%2BD2sXhslajtbg%3D] 10.1021/nl062606cView ArticleGoogle Scholar