Superlattices: problems and new opportunities, nanosolids
Nanoscale Research Letters
2011
6:127
Received: 11 August 2010
Accepted: 10 February 2011
Published: 10 February 2011
Abstract
Superlattices were introduced 40 years ago as man-made solids to enrich the class of materials for electronic and optoelectronic applications. The field metamorphosed to quantum wells and quantum dots, with ever decreasing dimensions dictated by the technological advancements in nanometer regime. In recent years, the field has gone beyond semiconductors to metals and organic solids. Superlattice is simply a way of forming a uniform continuum for whatever purpose at hand. There are problems with doping, defect-induced random switching, and I/O involving quantum dots. However, new opportunities in component-based nanostructures may lead the field of endeavor to new heights. The all important translational symmetry of solids is relaxed and local symmetry is needed in nanosolids.
Keywords
Porous Silicon
Resistive Switch
Quantum Cascade Laser
Resonant Tunneling
Bloch Wave
Introduction
Of all the thousands of minerals as jewelry, only a few are suitable for electronic devices. Silicon, in more than 95% of all electronic devices, GaAs-based III-V semiconductors, in the rest of the optical and optoelectronic devices, and less than 1% used in all the rest such as lasers, capacitors, transducers, magnetic disks, and switching devices in DVD and CD disks, comprise a very limited lists of elements. For this reason, Esaki and Tsu [1, 2] introduced the concept of man-made superlattices to enrich the list of semiconductors useful for electronic devices. In essence, superlattice is nothing more than a way to assemble two different materials stacked into a periodic array for the purpose of mimicking a continuum similar to the assemble of atoms and molecules into solids by nature. Although it was a very important idea, the technical world simply would not support such activity without showing some unique features [3]. We found it in the NDC, negative differential conductance, the foundation of a high speed amplifier. In retrospect, man-made superlattice offers far more as well as branching off into areas such as soft X-ray mirror [4], IR lasers [5], as well as oscillators and detectors in THz frequencies [6]. The very reason why such venture took off is because the availability of new tools such as the molecular beam epitaxy, MBE, with in situ RHEED, better diagnostic tools such as luminescence and Raman scattering, the all important TEM and SEM, etc. After the introduction of scanning tunneling microscopy, STM; and atomic force microscopy, AFM, stage is set for further extension of quantum wells, QWs, into three-dimensional structures, the quantum dots, QDs. The demand of nanometer regime is due to the requirement of phase coherency: the electrons must be able to preserve its phase coherency at least in a single period, on reaching the Brillouin zone in k-space. However, we shall see why new problems developed in reaching the nanometer regime. First of all, when the wave function is comparable to the size, approximately few nanometers in length, it is very similar to a variety of defects. Strong coupling to those defects results in random noise, the telegraph switching [7]. Thus we are facing great problems in pushing nanodevices. However, some of the new frontiers in these nanostructures are truly worthy of great efforts. For example, chemistry deals with molecules largely governed by the symmetry relationship within a molecule. In solids the symmetry is governed by the translational symmetry of unit cells. Now, with boundaries and shape to contend with, we are dealing with a new kind of chemistry, involving the symmetry of surfaces and boundaries as well as shapes. For example, we know that it is unlikely a tetrahedral-shaped QD may be constructed with individual linear molecules. Catalysis is still a matter of mystery even today. Now we are talking about adding boundaries and shape for nanochemistry. The possibility of crossing over to include biological research of nanostructures is even more spectacular, which will ultimately lead mankind into the physics of living things.
Problems
Response of a superlattice: DC and AC
Following [
2
], for a simple sinusoidal variation of potential, a very simple relationship may be obtained simply by integrating the equation of motion with a field
F
, with the expression for velocity, , we can write the current from , in which
τ
is the collision time. Taking a sinusoidal
E
-
k
relationship, the so-called tight binding dispersion relation with a period of
d
, the drift velocity
in which ξ ≡
eFτ
/
ħk
d
,
m
(0) = 2
ħ
2
/
E
1
d
2
, and
k
d
=
π
/
d
is the Brillouin zone
k
-vector. Note that at low field, small ξ,
v
d
is ohms law. But at high field, the drift velocity goes down with field, therefore NDC, the basic requirement for amplification, which is the foundation for oscillators. Note that for large
τ
, the drift velocity goes to zero so that the steady current disappears, leaving only pure oscillation. This is the basic Bloch Oscillation. With time varying fields, at frequency ω
1
, the velocity is now
and
ω
B
≡
eF
0
d
/
ħ
and
ω
B1
≡
eF
1
d/ħ
with
F
0
the dc field and
F
1
the ac field, Equation
3
is identical, as it should be, to the previous results Equation
1
, except the factor
H. H
= 1, then
v
0
H
=
E
1
d
/
ħ
and the maximum extent 〈
x
〉
m
= 〈v
x
〉
m
τ
=
E
1
/
2eF
0
. The length is measured by
nd
, with
n
being the number of periods. The electrons will now oscillate with a period
T
= 2
π
/
ω
B
, which was known to Bloch and discussed by Houston [
8
]. Without collision, an electron will oscillate at a frequency of
ω
B
and cover a distance of
E
1
/
eF
0
. The extent of an electron without collision is twice the maximum distance given by
ω
1
τ
= 1. The velocity [
9
] is given by:
The in-phase component with time goes as cos
ω
1
t
which we abbreviate by writing
Re
〈
v
x
〉 and the out-of-phase component with time goes as sin
ω
1
t
is abbreviated by Im〈
v
x
〉. In linear response, we sum for
n
-
m
= 1. The equations describing the linear response are given below:
In Figure
1
, for
ω
B
τ = 1,
Re
〈
v
〉 is always positive indicating the lack of gain or self-oscillation. The Im〈
v
〉 has a maximum at
ω
=
ω
B
. For
ω
B
τ = 2,
Re
〈
v
〉 has a minimum at
ω
=
ω
B
/2 and is negative, but Im〈
v
〉 has a peak at
ω
=
ω
B
. With a further increase to
ω
B
τ
= 3,
Re
〈
v
〉 has a maximum negative value at
ω
= 2
ω
B
/3 and the Im〈
v
〉 has a peak at
ω
=
ω
B
. Thus the peak in Im〈
v
〉 always appears at
ω
=
ω
B
, substantiating the intuitive understanding that the system is oscillating at the Bloch frequency. The question of gain or loss is another matter as we need to focus on
Re
〈
v
〉. Note that
Re
〈
v
〉 always has a maximum negative value below
ω
B,
indicating that self-oscillation that occurs at the maximum gain is never at the Bloch frequency. Only as
ω
B
τ
→
∞ does the maximum gain coincide with the Bloch frequency
. For both
ω
B
τ
≫
1 and
ωτ
≫
1, it is seen that
Re
〈
v
〉
3
can have a substantial region that is negative, indicating that in the region of nonlinear optics, an intense optical field is needed for gain. What is happening is that higher energy photons cause transitions between mini-bands, providing additional nonlinear response. This is because
k
is conserved to within multiples of the reciprocal lattice vector, as in
umklapprozesse
. In the usual solids, optical nonlinearity arises from small non-parabolicity of the
E-k
relation as treated by Jha and Bloembergen [
10
]. However,
in man-made suprelattices, non-parabolicity is huge, leading to substantial 2nd and 3rd harmonics
[
11
].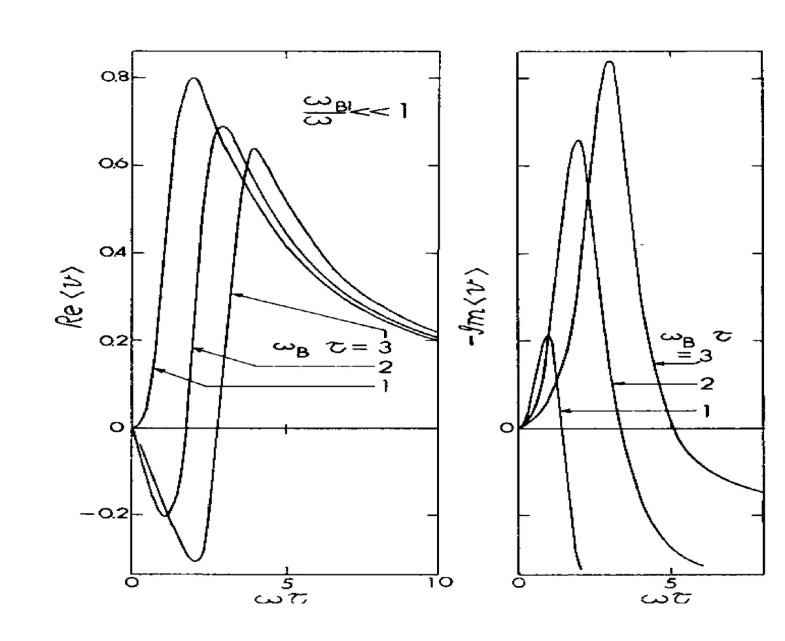 When are the full Bloch waves needed?
Figure
2a
shows a type I-superlattice, i.e., an electron in a conduction band incident to the left of another conduction band separated by an interface and a type III-superlattice in (b) where the right side is a valence band at the same energy.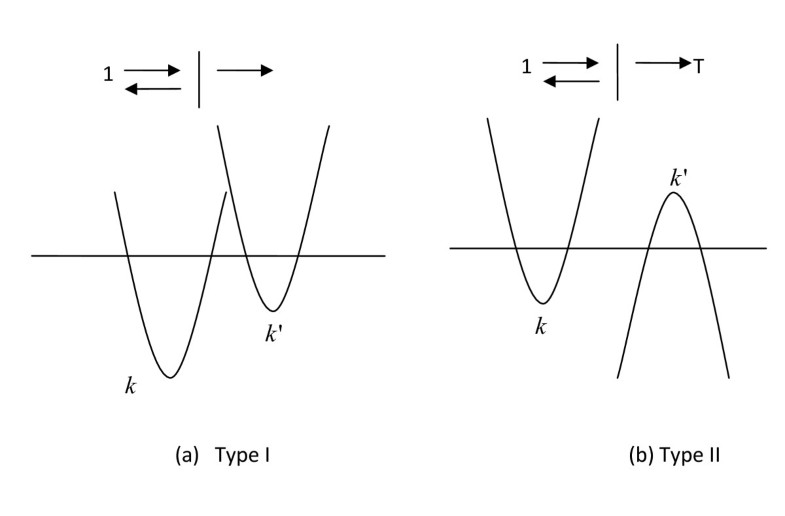 Explicitly [
12
], the superscripts (+) and (-) denote the waves moving to the right and left, respectively, and the subscripts c and v denote the conduction and valence bands, or the upper and lower bands:
Let us proceed with the reflection problem, with an electron from the left conduction band and emerging from the right of the interface into the conduction band with (+) for
k
2
, and valence band with (-)
k
2
. The conduction band electron incident from the left onto an interface located at
x
= 0, we use
U
1
≡
U
c
(
k
1
,
x
),
V
1
≡
U
c
(-
k
1
,
x
); and for the transmitted electron to the right,
U
2
≡
U
v
(,
x
), (-) for movement to the right and (+) for movement to the left, then
Matching these wave functions and their derivatives and for equal effective masses
Therefore, for Type III, the traditional reflection coefficient R and transmission coefficient T involve the U and V Bloch functions. In general, Bloch waves should be used. The smaller the period, the larger is the interaction resulting in coupling and larger bandgap. Therefore, Type III gives rise to bandgap by design. However, if the period > coherent length, the system returns to semi-metallic [12].
Resonant tunneling in a single quantum well with double barriers
Summary of problems
In fact these problems discussed are serious, however, the most serious problem is I/O [14, 20]. We reduce size to minimize real-estate. However, contacts are equal potentials, which call for metals. Nanosize metallic systems may be insolating, apart from the problem in lithography. Most of the bench-top demonstrations of Nanoelectronics have in-plane device configurations, not a real device. At this point I can conclude that with all the talk of nanoelectronics, the merit is perhaps due to special features, such as the THz devices, the QCL, and the new expectations in graphene-based electronics. It is true that MOSFET has been reduced to below 30 nm for the source-drain length, but there are still approximately 400 electrons in the channel-gate system, according to Ye [21]. Quantum computing is a somewhat unrealistic dream, because binary system makes computing possible, with the unique feature that on or off represents time-independent permanent states.
Abbreviations
ATM:

atomic force microscopy
MBE:

molecular beam epitaxy
NDC:

negative differential conductance
QDs:

quantum dots
QWS:

quantum wells
RPA:

random phase approximation
STM:

scanning tunneling microscopy.
Authors' Affiliations
(1)
University of North Carolina at Charlotte, Charlotte, USA
Copyright
© Tsu; licensee Springer. 2011
This article is published under license to BioMed Central Ltd. This is an Open Access article distributed under the terms of the Creative Commons Attribution License (http://creativecommons.org/licenses/by/2.0), which permits unrestricted use, distribution, and reproduction in any medium, provided the original work is properly cited.