Numerical evaluation of laminar heat transfer enhancement in nanofluid flow in coiled square tubes
Nanoscale Research Letters
2011
6:376
Received: 30 October 2010
Accepted: 9 May 2011
Published: 9 May 2011
Abstract
Convective heat transfer can be enhanced by changing flow geometry and/or by enhancing thermal conductivity of the fluid. This study proposes simultaneous passive heat transfer enhancement by combining the geometry effect utilizing nanofluids inflow in coils. The two nanofluid suspensions examined in this study are: water-Al2O3 and water-CuO. The flow behavior and heat transfer performance of these nanofluid suspensions in various configurations of coiled square tubes, e.g., conical spiral, in-plane spiral, and helical spiral, are investigated and compared with those for water flowing in a straight tube. Laminar flow of a Newtonian nanofluid in coils made of square cross section tubes is simulated using computational fluid dynamics (CFD)approach, where the nanofluid properties are treated as functions of particle volumetric concentration and temperature. The results indicate that addition of small amounts of nanoparticles up to 1% improves significantly the heat transfer performance; however, further addition tends to deteriorate heat transfer performance.
Keywords
Secondary Flow
Nanoparticle Concentration
Heat Transfer Performance
Straight Tube
Total Heat Transfer
Introduction
Convective heat transfer can be enhanced by active as well as passive methods. While the former usually provide better enhancement, it requires additional external forces and/or equipment which can increase the complexity, capital, and operating costs of the system. In contrast, passive heat transfer enhancement can be achieved by changing flow geometry or modifying thermo-physical properties of working fluid. Hence, it is generally a more desirable approach when compared to an active method. In our previous study [1–3] (Sasmito AP, Kurnia JC, Mujumdar AS: Numerical evaluation of transport phenomena in a T-junction micro-reactor with coils of square cross section tubes, submitted), we have shown that coiled tubes provide better heat transfer performance relative to straight tubes under certain conditions. In this study, the potential application of coiled tubes using nanofluids to improve heat transfer performance is investigated.
Coiled tubes have been known as one of the passive heat transfer enhancement techniques in heat and mass transfer applications due to the presence of secondary flows which improve heat and mass transfer rates. They have been widely used in process industries, e.g., heat exchangers and chemical reactors, due to their compact design, high heat transfer rate, and ease of manufacture. Aside from their industrial applications, studies of the transport phenomena in coiled duct have also attracted many attention from engineering researchers. The presence of secondary flows induced by coil curvature and the complex temperature profiles caused by curvature-induced torsion are among significant phenomena which can be observed in coiled tubes. Numerous experimental [4–8] and numerical [1–3, 9–13] investigations on heat transfer and flow characteristics inside coiled tubes have already been reported. Furthermore, reviews on the flow and heat transfer characteristics and potential application of coiled tubes in process industries and heat transfer application can be found in [14, 15].
It is well known that conventional heat transfer fluids including water, oil, and ethylene glycol mixtures have poor heat transfer rate due to their low thermal conductivity. Therefore, over the past decade, extensive research have been conducted to improve thermal conductivity of these fluids by suspending nanoparticles of diverse materials in heat transfer fluids, called nanofluids [16]. Modern technology provides opportunities to process and produce particles below 50 nm. It is also expected that nanofluids should provide not only higher heat transfer rate, but also good stability of the suspension by eliminating possible agglomeration and sedimentation to permit long-term application [17]. To date, several experimental (see for example [18–23]) and numerical (see for example [24–28]) investigations to characterize heat transfer performance of nanofluids have been already reported. Choi et al. [18] showed that addition of small amounts of less than 1% nanoparticles can double the thermal conductivity of working fluids. Vajjha et al. [24] showed that heat transfer rate increases up to 94% by adding 10% Al2O3 nanofluid and increase up to around 89% by adding 6% CuO nanofluid. In addition, the comprehensive reference on nanofluids can be found in the book of Das et al. [29], while several reviews of nanofluids are available in the literature [30–42].
It has been shown that coiled tubes geometry and nanofluids can passively enhanced heat transfer performance. Now, to maximize the advantages of the heat transfer enhancement, we propose to combine both techniques simultaneously; i.e., employing the combination of coiled tubes filled with nanofluids. Therefore, the aim of the study presented here is threefold: (i) to investigate the heat transfer performance of various configurations of coils of square tubes, e.g., conical spiral, in-plane spiral, and helical spiral, relative to the straight pipe; (ii) to evaluate simultaneous passive heat transfer enhancement-channel geometry and fluid thermo-physical properties-in coiled tubes filled with nanofluids; (iii) to study the heat performance of two different nanofluids, water-Al2O3 and water-CuO, in coiled tubes at various nanoparticle concentrations. The most significant aspect of this study is to determine the potential advantages and limitations of heat transfer enhancement of coiled of square tubes filled with nanofluids and provide design guidelines for their applications through mathematical modeling.
The layout of the article is as follows. First, the mathematical model is introduced; it comprises conservation equations for mass, momentum, and energy. The nanofluid thermo-physical properties are treated as functions of particle volumetric concentration and temperature. The mathematical model is then solved numerically utilizing finite-volume-based CFD software Fluent 6.3.26, the User-Defined Function written in C language is used extensively to capture the nanofluid properties. The model is further validated against experimental data by Anoop et al. [19] in terms of heat transfer performance for both base-fluid and nanofluid. Fluid flow and heat transfer performance of various coiled tube designs filled with nanofluids is evaluated in terms of a figure of Merit Defined later. Parametric studies for particle concentration and nanofluid type are then carried out. Finally, conclusions are drawn and possible extensions of the study are highlighted.
Mathematical model
The physical model (see Figure
1
) comprises four tube designs, e.g., straight pipe, conical spiral, in-plane spiral, and helical spiral, filled with two different nanofluids (water-Al
2
O
3
and water-CuO). We assume that the low particle volumetric concentration of nanoparticles (less than 3%) in the base-fluid makes it behave like a single-phase fluid and there is no agglomeration or sedimentation which occurs inside the tubes. A constant wall temperature is prescribed along all sides of the channel wall; the nanofluid is assumed incompressible and Newtonian. Furthermore, to ensure fidelity of the comparison of heat transfer performance for each tube design, the total length of each tube design is kept constant. Since this study relates only to laminar flow, a precise numerical solution is adequate to simulate reality very closely.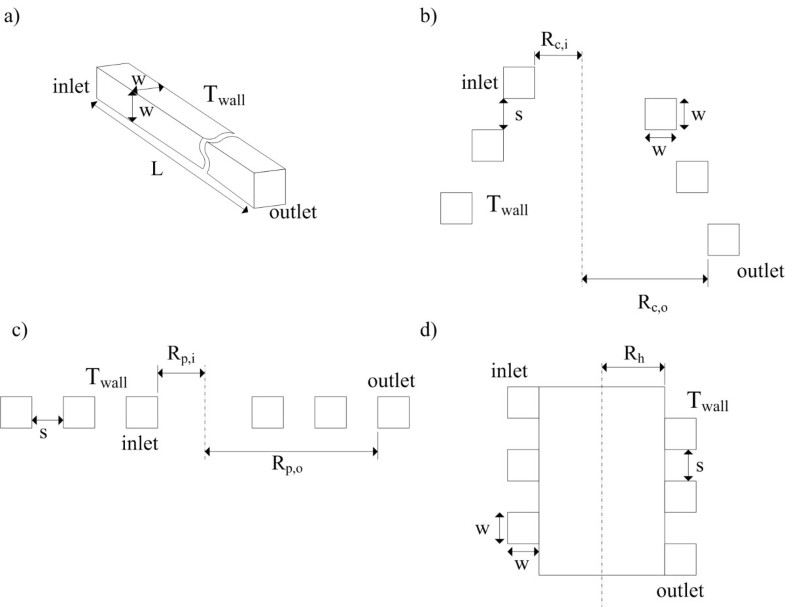 Governing equations
In the tube, fluid flow and convective heat transfer are taken into consideration. The con-servation equations of mass, momentum, and energy are given by [
24
]
In the above equations, ?nf is the nanofluid fluid density, u is the fluid velocity, p is the pressure, µnf is the dynamic viscosity of the nanofluid, cp,nf is the specific heat of the nanofluid and knf is thermal conductivity of the nanofluid.
Constitutive relations
Thermo-physical properties of nanofluids
where ß1, ß2,

,

,

and

, are constants (see Table 1).
Thermo-physical properties of base-fluids
Properties of nanoparticles are given in Table 1.
Heat transfer performance
Boundary conditions
The boundary conditions for the flow inside the channel are prescribed as follows
In this article, a constant mass flow rate at a Reynolds number (Re = ?UDh/µ) of approximately 1000 is prescribed at the inlet for comparison purposes.
Numerics
The computational domains (see Figure
2
) were created in AutoCAD 2010; the commercial pre-processor software GAMBIT 2.3.16 was used for meshing, labeling boundary conditions and determines the computational domain. Three different meshes, 1 × 10
5
, 2 × 10
5
, and 4 ×10
5
, were tested and compared in terms of the local pressure, velocities, and temperature to ensure a mesh independent solution. It is found that mesh number of around 2 × 10
5
gives about 1% deviation compared to mesh size of 4 × 10
5
; whereas the results from mesh number of 1 × 10
5
deviate by up to 8% compared to those from the finest one. Therefore, a mesh of around 2 × 10
5
(20 × 20 × 500) elements was considered sufficient for the numerical investigation purposes; a fine structured mesh near the wall to resolve the boundary layer and an increasingly coarser mesh in the middle of the channel to reduce the computational cost.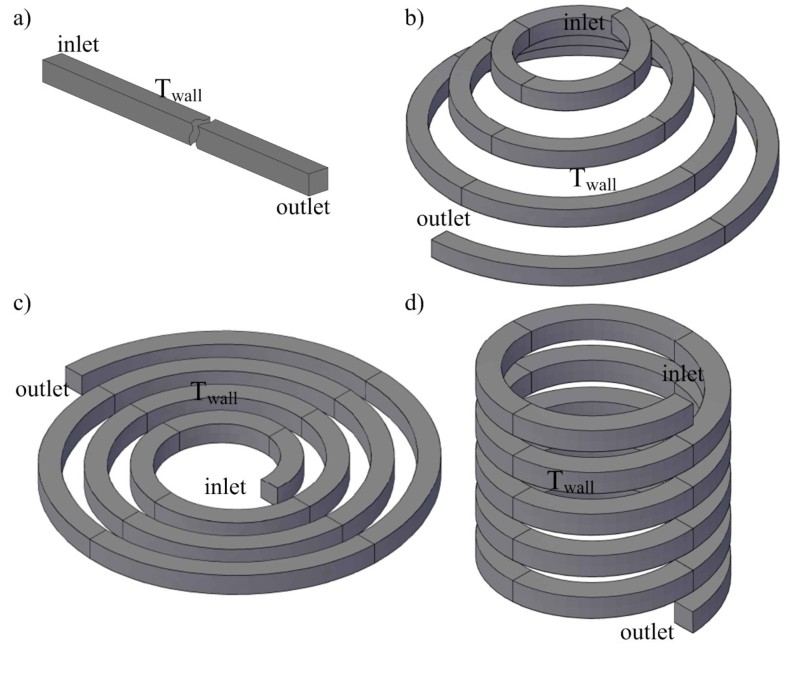 Equations 1-3 together with appropriate boundary conditions and constitutive relations comprising of five dependent variables, u, v, w, p, and T, were solved using the finite volume solver Fluent 6.3.26. User-Defined functions (UDF) were written in C language to account for particle volumetric concentration and temperature-dependence of the thermo-physical properties of the nanofluids.
The equations were solved with the well-known Semi-Implicit Pressure-Linked Equation (SIMPLE) algorithm, first-order upwind discretization and Algebraic Multi-grid (AMG) method. As an indication of the computational cost, it is noted that on average, around 200-500 iterations and 500 MB of Random Access Memory (RAM) are needed for convergence criteria for all relative residuals of 10-6, this takes 5-30 min on a workstation with a quad-core processor (1.83 GHz) and 8 GB of RAM.
Results and discussion
The numerical simulations were carried out for four different tube geometries, four different nanofluid concentrations, and two different nanofluid suspensions. The base-case conditions together with the physical parameters are listed in Table
1
, while the geometric details can be found in Table
2
.
Table 2
Geometric parameters
| Parameter | Value | Unit |
| --- | --- | --- |
| w | 1.00 × 10-2 | m |
| s | 1.00 × 10-2 | m |
| R pi | 2.00 × 10-2 | m |
| R po | 9.00 × 10-2 | m |
| R ci | 2.00 × 10-2 | m |
| R co | 9.00 × 10-2 | m |
| R h | 4.00 × 10-2 | m |
| L | 1.20 | m |
Concluding remarks
A computational study was conducted to investigate the laminar flow heat transfer performance of square cross section tubes, i.e., straight, conical spiral, in-plane spiral, and helical spiral, with water and two nanofluids. It is found that adding 1% nanoparticle volumetric concentration improves heat transfer performance and the figure of merit for all tubes. However, higher amounts of nanoparticles is not recommended. In-plane spiral tubes give better performance than other coiled tubes for nanofluids. Furthermore, Al2O3 nanofluid gives slightly better heat transfer performance than CuO nanofluid in coiled tubes. Future study will evaluate various modeling approaches for nanofluid heat transfer, e.g., single-phase, two-phase mixture, Euler-Euler, and Euler-Lagrange models, in coils with respect to the effect of secondary flow to the nanoparticle concentration.
Abbreviations
AMG:

algebraic multi-grid
CFD:

computational fluid dynamics
RAM:

random access memory
SIMPLE:

semi-implicit pressure-linked equation
UDF:

user-defined functions. List of symbols: Ac: Cross section area (m-2)
c p :

Specific heat (J · kg-1 · K-1)
d p :

Particle diameter (m)
D h :

Hydraulic diameter (= 4Ac/Pc) (m)
FoM:

Figure of merit
h :

Heat transfer coefficient (W · m-2 · K-1)
k :

Thermal conductivity (W · m-1 · K-1)
? :

Boltzmann constant (J · K-1)
L :

Total length channel (m)
p :

Pressure (Pa)
P c :

Cross section perimeter (m)
R :

Radius of coil (m)
Re Reynolds number (= ?U D:

h/µ)
s :

Spacing (m)
T :

Temperature (K)
u :

u, v, w, U: Velocity (m · s-1)
V :

Mean velocity (m · s-1)
w :

Channel width
W :

Total heat transfer (J · s-1)
W pump :

Pumping power (W). Greek: ß: Brownian motion parameter
? :

Fluid density (kg · m-3)
? :

Particle volumetric concentration (%)
? :

Efficiency (%)
µ :

Dynamic viscosity (Pa · s). Subscripts: c: Conical spiral
h:

Helical spiral
i:

Inner
in:

Inlet
L:

Length
mean:

Mean value
norm:

Normalized value
nf:

Nanofluids
np:

Nanoparticle
o:

Outer
out:

Outlet
p:

In-plane spiral
pump:

Pump
w:

Water
wall:

Wall.
Authors' Affiliations
(1)
Department of Mechanical Engineering, National University of Singapore, Singapore, Singapore
(2)
Minerals, Metals and Materials Technology Centre, National University of Singapore, Singapore, Singapore
Copyright
© Sasmito et al; licensee Springer. 2011
This article is published under license to BioMed Central Ltd. This is an Open Access article distributed under the terms of the Creative Commons Attribution License (http://creativecommons.org/licenses/by/2.0), which permits unrestricted use, distribution, and reproduction in any medium, provided the original work is properly cited.