Facile method to synthesize magnetic iron oxides/TiO2 hybrid nanoparticles and their photodegradation application of methylene blue
Nanoscale Research Letters
2011
6:533
Received: 18 May 2011
Accepted: 30 September 2011
Published: 30 September 2011
Abstract
Many methods have been reported to improving the photocatalytic efficiency of organic pollutant and their reliable applications. In this work, we propose a facile pathway to prepare three different types of magnetic iron oxides/TiO2 hybrid nanoparticles (NPs) by seed-mediated method. The hybrid NPs are composed of spindle, hollow, and ultrafine iron oxide NPs as seeds and 3-aminopropyltriethyloxysilane as linker between the magnetic cores and TiO2 layers, respectively. The composite structure and the presence of the iron oxide and titania phase have been confirmed by transmission electron microscopy, X-ray diffraction, and X-ray photoelectron spectra. The hybrid NPs show good magnetic response, which can get together under an external applied magnetic field and hence they should become promising magnetic recovery catalysts (MRCs). Photocatalytic ability examination of the magnetic hybrid NPs was carried out in methylene blue (MB) solutions illuminated under Hg light in a photochemical reactor. About 50% to 60% of MB was decomposed in 90 min in the presence of magnetic hybrid NPs. The synthesized magnetic hybrid NPs display high photocatalytic efficiency and will find recoverable potential applications in cleaning polluted water with the help of magnetic separation.
Keywords
magnetic iron oxide nanoparticles
TiO2
hybrid structure
photocatalyst
methylene blue
Introduction
Extended and oriented nanostructures are desirable for many applications, but facile fabrication of complex nanostructures with controlled crystalline morphology, orientation, and surface architectures remains a significant challenge [1]. Among their various nanostructured materials, magnetic NPs-based hybrid nanomaterials have attracted growing interests due to their unique magnetic properties. These functional composite NPs have been widely used in various fields, such as magnetic fluids, data storage, catalysis, target drug delivery, magnetic resonance imaging contrast agents, hyperthermia, magnetic separation of biomolecules, biosensor, and especially the isolation and recycling of expensive catalysts [2–12]. To this end, magnetic iron oxide NPs became the strong candidates, and the application of small iron oxide NPs has been practiced for nearly semicentury owing to its simple preparation methods and low cost approaches [13].
Currently, semiconductor NPs have been extensively used as photocatalyst. TiO2 NPs have been used as aphotocatalytic purification of polluted air or wastewater, will become a promising environmental remediation technology because of their high surface area, low cost, nontoxicity, high chemical stability, and excellent degradation for organic pollutants [14–17]. Moreover, TiO2 also bears tremendous hope in helping to ease the energy crisis through effective utilization of solar energy based on photovoltaic and water-splitting devices [18–21]. As comparing with heterogeneous catalysts, many homogenerous catalytic systems have not been commericalized because of one major disadvantage: the difficulty of separation the reaction product from the catalyst and from any reaction solvent for a long and sustained environment protection [22]. In addition, there are two bottleneck drawbacks associated with TiO2 photocatalysis currently, namely, high charge recombination rate inherently and low efficiency for utilizing solar light, which would greatly hinder the commercialization of this technology [23]. Currently, the common methods are metals/non-metals-doping or its oxides-doping to increasing the utilization of visible light and enhancing the separation situation of charge carriers [24–27]. More importantly, the abuse and overuse of photocatalyst will also pollute the enviroment.
In this point, magnetic separation provides a convenient method to removing pollutants and recycling magnetized species by applying an appropriate external magnetic field. Therefore, immobilization of TiO
2
on magnetic iron oxide NPs has been investigated intensely due to its magnetic separation properties [
28
–
32
]. Indeed, the study of core-shell magnetic NPs has a wide range of applications because of the unique combination of the nanoscale magnetic iron oxide core and the functional titania shell. Although some publications reported the synthesis of iron oxide-TiO
2
core-shell nanostructure, these reported synthesis generally employed solid thick SiO
2
interlayer. For instance, Chen et al. reported using TiO
2
-coated Fe
3
O
4
(with a silica layer) core-shell structure NPs as affinity probes for the analysis of phosphopeptides and as a photokilling agent for pathogenic bacteria [
33
,
34
]. Recently, Wang et al. reported the synthesis of (γ-Fe
2
O
3
@SiO
2
)
n
@TiO
2
functional hybrid NPs with high photocatalytic efficiency [
35
]. Generally, immobilization of homogeneous catalysts usually decreases the catalytic activity due to the problem of diffusion of reactants to the surface-anchored catalysts [
36
]. In order to increase the active surface area, hollow and ultrafine iron oxide NPs are employed in this paper. Moreover, we proposed a new utilization of magnetic NPs as a catalyst support by modifying the surface on three different-shaped amino-functionalized iron oxide NPs with an active TiO
2
photocatalytic layer via a seed-mediate method, as shown in Figure
1
. The surface amines on the magnetic iron oxide NPs can serve as functional groups for further modification of titania. We discuss the formation mechanism of iron oxide/TiO
2
hybrid NPs. The results maybe provide some new insights into the growth mechanism of iron oxide-TiO
2
composite NPs. It is shown that the as-synthesized iron oxide/TiO
2
hybrid NPs display good magnetic response and photocatalytic activity. The magnetic NPs can be used as a MRCs vehicle for simply and easily recycled separation by external magnetic field application.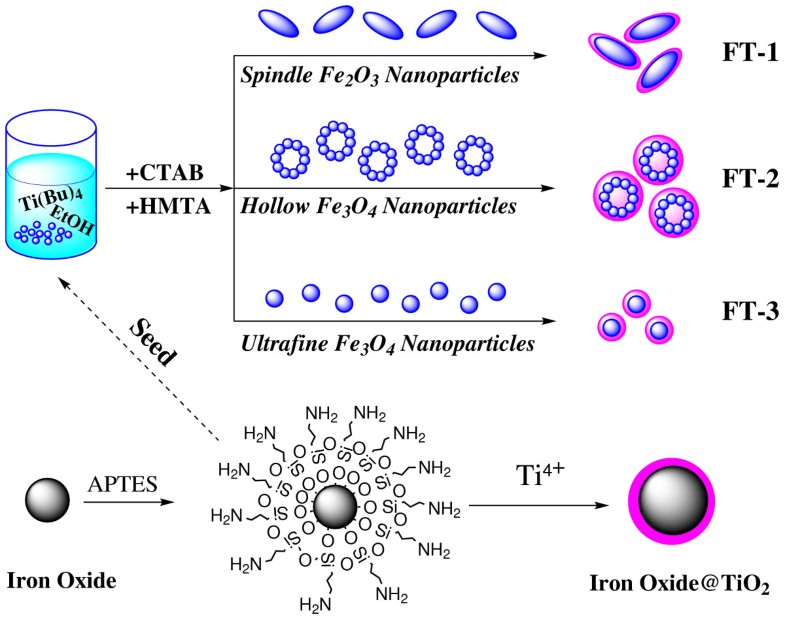 Experiment
Reagents and materials
FeCl3·6H2O, FeCl2·4H2O, FeSO4·7H2O, and KOH were purchased from Tianjin Kermel Chemical Reagent Co., Ltd. (Tianjin, China); KNO3, L(+)-glutamic acid (Gla, C5H9NO4), tetrabutyl titanate (Ti(Bu)4, Bu = OC4H9, CP) and methylene blue were purchased from Sinopharm Chemical Reagent CO., Ltd. (Shanghai, China); cetyltrimethylammmonium bromide (CTAB, C19H42BrN, ultrapure), MB and hexamethylenetetramine (C6H12N4) were purchased from Aladdin Chemical Reagent CO., Ltd. (Shanghai, China); 3-aminopropyltriethyloxysilane (APTES) were purchased from Sigma (St. Louis, MO, USA), and all the reagents are analytical pure and used as received.
Preparation of iron oxide seeds
A. Spindle hematite NPs
According to Ishikava's report [37], we take a modified method to prepare the monodisperse spindle hematite NPs, in a typical synthesis, 1.8 ml of a 3.7 M FeCl3·6H2O solution was added dropwise into 4.5 × 10-4 M NaH2PO4 solution at 95°C and the mixture was aged at 100°C for 12 h. The resulting precipitates were washed with a 1 M ammonia solution and doubly distilled water and finally dried under vacuum.
B. Hollow magnetite NPs
According to our previous report [38], in a typical synthesis, solution A was prepared by dissolving 2.02 g KNO3 and 0.28 g KOH in 50 mL double distilled water, solution B was prepared by dissolving 0.070 g FeSO4·7H2O in 50 mL double distilled water. Then the two solution were mixed together under magnetic stirring at a rate of ca. 400 rpm. Two minutes later, solution C (0.18 g Gla in 25 mL double distilled water) was added dropwise into the mixed solution. The reaction temperature was raised increasingly to 90°C and kept 3 h under argon (Ar) atmosphere. Meanwhile, the brown solution was observed to change black. After the mixture was cooled to room temperature, the precipitate products were magnetically separated by MSS, washed with ethanol and water two times, respectively, and then redispersed in ethanol.
C. Ultrafine magnetite NPs
The ultrafine magnetite NPs were prepared through the chemical co-precipitation of Fe(II) and Fe(III) chlorides (FeII/FeIII ratio = 0.5) with 0.5 M NaOH [39]. The black precipitate was collected on a magnet, followed by rinsing with water several times until the pH reached 6 to 7.
Preparation of amino-functionalized iron oxide NPs
A solution of APTES was added into the above seed suspensions, stirred under Ar atmosphere at 25°C for 4 h. The prepared APTES-modified seeds were collected with a magnet, and washed with 50 mL of ethanol, followed by double distilled water for three times [40].
Preparation of iron oxides/TiO2 hybrid NPs
In a typical synthesis, 0.2 g amino-functionalized seeds, 0.2 g CTAB, and 0.056 g HMTA were dissolved in 25 ml ethanol solution under ultrasonic condition at room temperature. The mixture solution was then transferred into a Teflon-lined tube reactor. Then, 1 ml Ti(Bu)4 dropwise added in the tube, and was kept at 150°C for 8 h.
Photodegradation of MB
The prepared samples were weighed and added into 80 mL of methylene blue solutions (12 mg/L). The mixed solutions were illuminated under mercury lamp (OSRAM, 250 W with characteristic wavelength at 365 nm), and the MB solutions were illuminated under UV light in the photochemical reactor. The solutions were fetched at 10-min intervals by pipette for each solution and centrifuged. Then, the time-dependent absorbance changes of the transparent solution after centrifugation were measured at the wavelength between 500 and 750 nm.
Characterization
TEM images were performed with a JEOL JEM-2010 (HT) (JEOL, Tokyo, Japan) transmission electron microscope operating at 200 kV, and the samples were dissolved in ethanol and dropped on super-thin cabon coated copper grids. SEM studies were carried out using a FEI Sirion FEG operating at 25 keV, samples were sprinkled onto the conductive substrate, respectively. Powder X-ray diffraction (XRD) patterns of the samples were recorded on a D8 Advance X-ray diffractometer (Germany) using Cu Kα radiation (λ = 0.1542 nm) operating at 40 kV and 40 mA and with a scan rate of 0.05° 2θ s-1. X-ray photoelectron spectroscopy (XPS) measurements were made using a VG Multilab2000X. This system uses a focused Al exciting source for excitation and a spherical section analyzer. The percentages of individual elements detection were determined from the relative composition analysis of the peak areas of the bands. Magnetic measurements were performed using a Quantum Design MPMS XL-7 SQUID magnetometer. The powder sample was filled in a diamagnetic plastic capsule, and then the packed sample was put in a diamagnetic plastic straw and impacted into a minimal volume for magnetic measurements. Background magnetic measurements were checked for the packing material. The diffuse reflectance, absorbance and transmittance spectra, and photodegradation examination of the microspheres was carried out in a PGeneral TU-1901 spectrophotometer.
Conclusions
In summary, MRCs have been fabricated via a facile seed-mediate technology. These iron oxide/TiO2 hybrid NPs were synthesized in a stepwise process. First, three different shapes of naked iron oxide NPs were prepared. Next, amino groups encapsulated iron oxide NPs are synthesized by APTES modification. Finally, the iron oxide/TiO2 hybrid NPs can be obtained after the TiO2 coating. The FT-2 and FT-3 hybrid NPs show superparamagnetic and both display good photocatalytic properties. This MRCs combination of the photocatalysis properties of TiO2 and the superparamagnetic property of Fe3O4 NPs endows this material with a bright perspective in purification of polluted wastewater. Additionally, this work also discusses the formation mechanism and potentially provided a general method for synthesizing nanocomposites of magnetic iron oxide NPs and other functional NPs, which may find wider applications besides in photocatalysis.
Declarations
Acknowledgements
The authors thank the National Basic Research Program of China (973 Program, no. 2009CB939704), the National Nature Science Foundation of China (nos. 91026014, 10905043, 11005082), the Fundamental Research Funds for the Central Universities and the PhD candidates self-research (including 1 + 4) program of Wuhan University in 2008 (no. 20082020201000008) for financial support. W. Wu thanks L. Lin, L. Zeng, Z. H. Wu, and Prof. Q. G. He of HUT for assistance with the photodegradation measurements.
Authors' Affiliations
(1)
Key Laboratory of Artificial Micro- and Nano-structures of Ministry of Education, Wuhan University, Wuhan, People's Republic of China
(2)
Center for Electron Microscopy and School of Physics and Technology, Wuhan University, Wuhan, People's Republic of China
(3)
School of Printing and Packaging, Wuhan University, Wuhan, People's Republic of China China
Copyright
© Wu et al; licensee Springer. 2011
This article is published under license to BioMed Central Ltd. This is an Open Access article distributed under the terms of the Creative Commons Attribution License (http://creativecommons.org/licenses/by/2.0), which permits unrestricted use, distribution, and reproduction in any medium, provided the original work is properly cited.