Ferroelectric BaTiO3/SrTiO3 multilayered thin films for room-temperature tunable microwave elements
Nanoscale Research Letters
2013
8:338
Received: 15 May 2013
Accepted: 17 July 2013
Published: 29 July 2013
Abstract
Ferroelectric BaTiO3/SrTiO3 with optimized c-axis-oriented multilayered thin films were epitaxially fabricated on (001) MgO substrates. The microstructural studies indicate that the in-plane interface relationships between the films as well as the substrate are determined to be (001)SrTiO3//(001)BaTiO3//(001)MgO and [100]SrTiO3//[100]BaTiO3//[100]MgO. The microwave (5 to 18 GHz) dielectric measurements reveal that the multilayered thin films have excellent dielectric properties with large dielectric constant, low dielectric loss, and high dielectric tunability, which suggests that the as-grown ferroelectric multilayered thin films can be developed for room-temperature tunable microwave elements and related device applications.
Keywords
BaTiO3//SrTiO3
Multilayer
Ferroelectric thin films
Epitaxial behavior
Microwave dielectric properties
Background
Ferroelectric perovskite oxide materials have fascinated considerable attention both in scientific research and technology development due to their interesting physical properties and important application prospects in various areas such as electric, optical, and microwave devices in control systems and wireless communications. In the past two decades, the nonlinearly dielectric property of ferroelectric oxides has been utilized for various devices in tunable wireless microwave communications, such as room-temperature tunable microwave phase shifters, oscillators, filters, antennas, etc.[1–12]. Especially, ferroelectric barium strontium titanate (Ba x Sr1−xTiO3 or BST) thin films have been considered to be one of the most important candidates for the development of tunable microwave components. However, the relatively large dielectric insertion loss, soft mode effect, and limited figure of merit at high-frequency microwave regions still restrict practical applications in tunable microwave elements. Therefore, optimizing the microwave dielectric properties by lowering the dielectric loss tangent and enhancing dielectric tunability has become an important issue for device applications[13–19].
Multifunctional tunable ferroelectric BaTiO3/SrTiO3 (BTO/STO) heterostructures with artificial multilayer and/or superlattice structures have achieved a great enhancement on physical properties compared to the single-crystal epitaxial films of BTO, STO, and BST[20–27]. Especially, the interface and nanosize effects have been found to significantly enhance the dielectric properties from the BTO/STO multilayer system at low frequency range[28–33]. However, there are quite a few reports on high-frequency microwave properties in the gigahertz range. Recently, we have systematically studied [(BaTiO3)0.4/(SrTiO3)0.6] N multilayered thin films and found that the high-frequency microwave dielectric properties and related physical properties can be significantly improved by optimizing the growth conditions. The optimized dielectric performance was achieved with the best value for the loss tangent (0.02) at approximately 18 GHz with each BTO layer thickness near 7.0 nm[34]. However, the high dielectric constant of near 1,600 achieved from the [(BaTiO3)0.4/(BaTiO3)0.6] N multilayer is too high to meet the device requirements for impedance matching which is normally less than 500[35]. To reduce the dielectric constant for meeting the impedance matching requirement, we have redesigned and further investigated a new combination of BTO/STO multilayer systems of the optimized [(BaTiO3)0.5/(BaTiO3)0.5]16 based on our above optimized multilayered structure. Here, we report our recent achievements on the microstructural studies and high-frequency microwave (5 to 18 GHz) dielectric measurements of [(BaTiO3)0.5/(SrTiO3)0.5]16 on (001) MgO substrates.
Methods
A KrF excimer pulsed laser deposition system with a wavelength of 248 nm was employed to fabricate the ferroelectric BTO/STO multilayered thin films on (001) MgO substrates. Single-phase pure BTO and STO targets were employed for the fabrication. The single-crystal MgO substrates were selected for the epitaxial growth of the superlattices because of their low frequency-dependent dielectric constant (approximately 9.7) and low loss tangent values (approximately 3.3 × 10
−7
). The optimal growth conditions were found at a temperature higher than 840°C with an oxygen pressure of 250 mTorr under a laser energy density of about 2 J/cm
2
with a repetition rate of 4 Hz. The BTO and STO layers have been designed to have the same thickness with a stacking periodic number (
N
) of 16, as seen in Figure
1
. The microstructure, crystallinity, and epitaxial behavior of the as-grown multilayer were characterized by X-ray diffraction (XRD) and cross-sectional electron microscopy. The microwave dielectric properties were characterized using a coplanar waveguide (CPW) test structure consisting of an 8720C Vector Network Analyzer (Agilent Technologies, Inc., Santa Clara, CA, USA) and an on-wafer probe station. After the thru-reflect-line calibration, the swept frequency response of the
S
parameters can be obtained from the reference (CPW lines on bare MgO substrates) and test samples (CPW lines on BTO/STO multilayer-coated substrates). Details of the measurement technique can be found in the literature[
36
,
37
].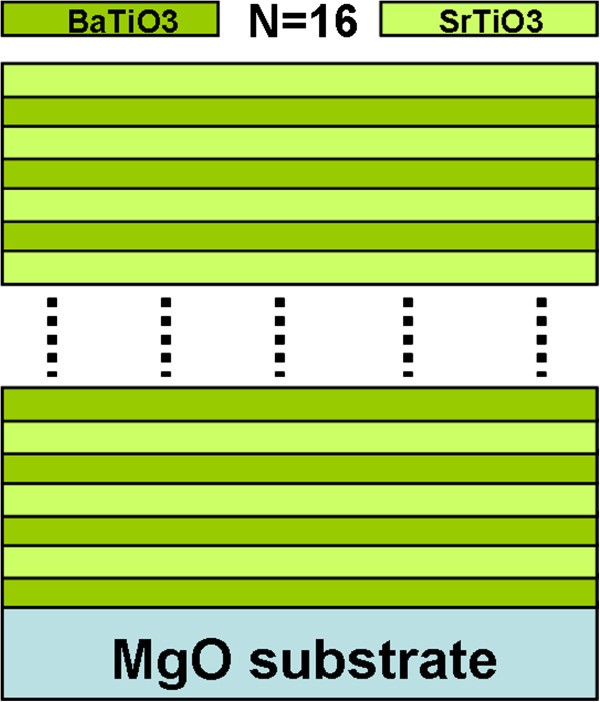 Conclusions
In summary, ferroelectric BTO/STO multilayers have been epitaxially grown on (001) MgO by pulsed laser deposition. The microstructural studies from X-ray diffraction show that the as-designed multilayers are c-axis oriented with good epitaxial nature. The high-frequency microwave (5 to 18 GHz) dielectric measurements reveal that the multilayers have excellent microwave dielectric properties with very low dielectric loss and high dielectric tenability, which suggests that the BTO/STO multilayers on (001) MgO have great potential for the development of room-temperature tunable microwave elements and related applications.
Declarations
Acknowledgements
This research was partially supported by the National Science Foundation under NSF-NIRT-0709293 and the Natural Science Foundation of China under 11028409. Also, Dr. Ming Liu and Dr. Chunrui Ma would like to acknowledge the support from the 'China Scholarship Council' for their PhD researches at UTSA.
Authors' Affiliations
(1)
Electronic Materials Research Laboratory, Key Laboratory of the Ministry of Education and International Center for Dielectric Research, Xi'an Jiaotong University, Xi'an, People's Republic of China
(2)
Department of Physics and Astronomy, University of Texas at San Antonio, San Antonio, USA
(3)
Department of Electrical and Computer Engineering, University of Dayton, Dayton, USA
(4)
Center of High Resolution Electron Microscopy, Hunan University, Changsa, People's Republic of China
(5)
State Key Laboratory of Electronic Thin Films and Integrated Devices, University of Electronic Science and Technology of China, Chengdu, People's Republic of China
(6)
Rodman Materials Research Directorate, U.S. Army Research Laboratory, Aberdeen, USA
Copyright
© Liu et al.; licensee Springer. 2013
This article is published under license to BioMed Central Ltd. This is an Open Access article distributed under the terms of the Creative Commons Attribution License (http://creativecommons.org/licenses/by/2.0), which permits unrestricted use, distribution, and reproduction in any medium, provided the original work is properly cited.