High-separation efficiency micro-fabricated multi-capillary gas chromatographic columns for simulants of the nerve agents and blister agents
Nanoscale Research Letters
2014
9:224
Received: 13 November 2013
Accepted: 18 March 2014
Published: 8 May 2014
Abstract
To achieve both high speed and separation efficiency in the separation of a mixture of nerve and blister agent simulants, a high-aspect-ratio micro-fabricated multi-capillary column (MCC, a 50-cm-long, 450-μm-deep, and 60-μm-wide four-capillary column) was fabricated by the application of the microelectromechanical system (MEMS) techniques. Mixtures of chemical warfare agent (CWA) simulants - dimethyl methylphosphonate (DMMP), triethyl phosphate (TEP), and methyl salicylate - were used as samples. The fabricated MCC allowed for the separation of all the components of the gaseous mixture within 24 s, even when the difference in boiling point was 4°C, as in the case of TEP and methyl salicylate. Furthermore, interfering agents - dichloromethane, ethanol, and toluene - were also included in the subsequent gaseous mixture samples. The boiling point of these six components ranged from 78°C to 219°C. All six components were clearly separated within 70 s. This study is the first to report the clear separation of gas mixtures of components with close boiling points. The column efficiency was experimentally determined to be 12,810 plates/m.
Keywords
Micro-fabricated multi-capillary gas columnSeparation efficiencyFlow splittersHigh-speed separationCWA simulants
Background
Since Terry's first report in 1979 [1], micro-fabricated gas chromatography (GC) columns have been developed for over 30 years. The new generation of GC columns has unique characteristics. Silicon is often used as a substrate for column fabrication. These GC columns come in small sizes with high-column efficiency [2] and differ significantly from packed or capillary columns, which are made of steel or silica [3, 4]. Thus, micro-fabricated columns are suitable for applications in hand-held GC systems [5]. The structure of the GC column varies when fabricated via microelectromechanical system (MEMS) processes. For instance, since the depth and width of columns can be arbitrarily designed, the column structure can feature different aspect ratios. These flexibilities provide a new direction for research in this field.
Over the past 30 years, techniques for column fabrication have changed significantly. Wet etching was an important technique in early fabrication techniques [6]. In 1998, Sandia National Laboratories reported the application of wet etching process to fabricate single open-tube columns with rectangular channels [7]. However, precise regulation of concentrations and temperatures of etching solution were important factors that influenced structure formation. The chemical wet etching technique has not found widespread use because of its lack of control over the structure. To allow for better control of the column shape, the deep reactive-ion etching (DRIE) technique was developed. This technique prevents lateral etching of the silicon and results in highly anisotropic etch profiles at high etch rates [8]. Etching capabilities can vary from <1 μm to >700 μm in depth in vertical sidewalls [9]. Considering its many advantages, DRIE has become the workhorse of column fabrication.
Since the 9/11 attack, acts of terrorism have become a matter of significant concern to many countries. Chemical warfare agents (CWAs) constitute one class of such lethal weapons for potential use by terrorists. Rapid separation and identification of lethal gas in public space is a great challenge, especially in airports and subways. Previously, researchers have shown that micro-fabricated GC columns can separate the components of a mixture in a complex environment [10, 11]. For instance, MEMS-based semi-packed GC columns can separate environmental carcinogens with concentrations at the ppb level [12] with higher separation efficiency than commercial GC columns, and the total length of the GC column is only 2-m long.
To reduce the retention time of analytes, extra-short GC columns can be used. Agah et al.[13] designed a high-speed signal open-tube GC column, through which components of the mixture were separated within 10 s. However, the separation efficiency and sample capacity of the fabricated column can be improved further. In 1975, Golay introduced the principle of multi-capillary columns (MCCs). MCCs demonstrated much higher sample capacities when compared with single capillary column [14, 15]. MEMS-based multi-capillary GC columns were subsequently designed. The sample capacity of MCC was ten times higher than in the single channel [16]. However, for MCCs with a short length, the separation efficiency needs to be improved further. Our work focuses on improving separation efficiency by designing a column with a high aspect ratio.
In this study, MEMS techniques were applied in the fabrication of an MCC. Using the DRIE process, a 50-cm-long, 450-μm-deep, and 60-μm-wide four-capillary column was fabricated. The static coating method was used for coating the column with the stationary phase - dimethyl (94%) + vinyl (1%) + phenyl (5%) polysiloxanes (SE-54). Mixtures of DMMP, TEP, and methyl salicylate (representing CWAs) were used as samples to evaluate the efficiency of the column. Dichloromethane, ethanol, and toluene were added as interference components to the analytes to produce new sample mixtures.
Methods
Materials and reagents
A solution of SE-54 (5% phenyl, 1% vinyl, 94% dimethyl polysiloxane) was purchased from Sigma-Aldrich (St. Louis, MO, USA) for use as the stationary phase. The internal unions were purchased from VICI (Valco Instruments Co., Schenkon, Switzerland), and the fused silica tubing was purchased from SGE (SGE Analytical Science, Ringwood, VT, Australia). All analytes were purchased from J&K Scientific Ltd. (Beijing, China). Samples (mixture of gases) were generated by a MF-3C dynamic vapour generator, where the analyte-solvent mixtures were injected into a vaporising chamber. Two digital mass flow controllers in the vapour generator regulated the concentration of the sample.
MEMS fabrication
The DRIE technique was applied to create an MCC with 7.5:1 aspect ratio (length = 50 cm, depth = 450 μm, and width = 60 μm). The steps involved in MCC fabrication is shown in Figure
1
. The aluminium film was deposited on type <100 > silicon wafer by electronbeam evaporation. The thickness of the aluminium film was approximately 3 μm. The photoresist was then coated on the wafer (4-μm-thick layer) and patterned as an etch mask for aluminium. The etchant was used to wash the parts of unprotected aluminium film, thereby exposing the silicon surface underneath. The DRIE etching process was then performed by introducing the two gases (sulphur hexafluoride, SF
6
, and octafluorocyclobutane, C
4
F
8
) alternately into the chamber. SF
6
etched the silicon while C
4
F
8
formed a passive layer [
17
]. The channels formed vertical sidewalls via this technique. Figure
2
a shows the MCC structure. In addition, to ensure that the carrier gas was partitioned equally through the capillaries of an MCC, i.e. the carrier gas must have the same velocity as it travels through each capillary, flow splitters were created at the inlet and outlet of the MCC which is shown in Figure
2
b. Finally, the aluminium mask was stripped off and the column was sealed by bonding Pyrex 7740 glass to the silicon wafer as shown in Figure
2
c.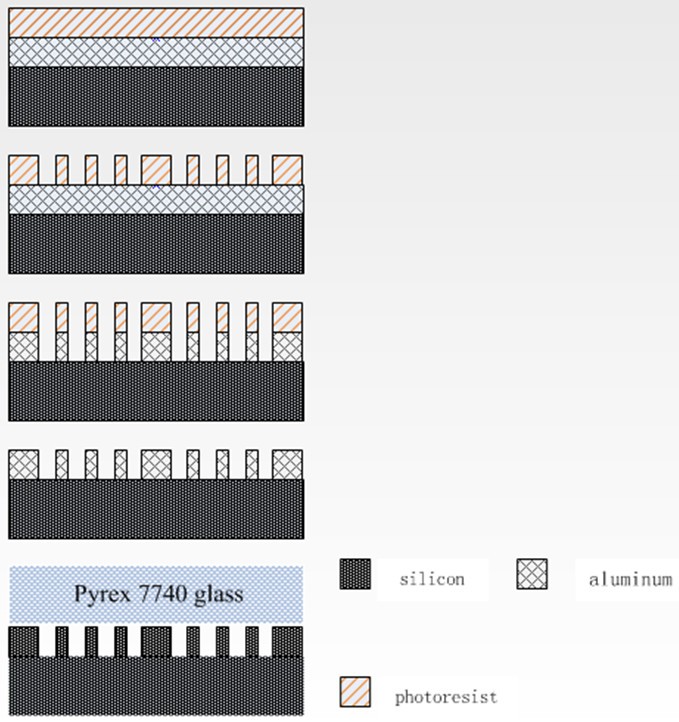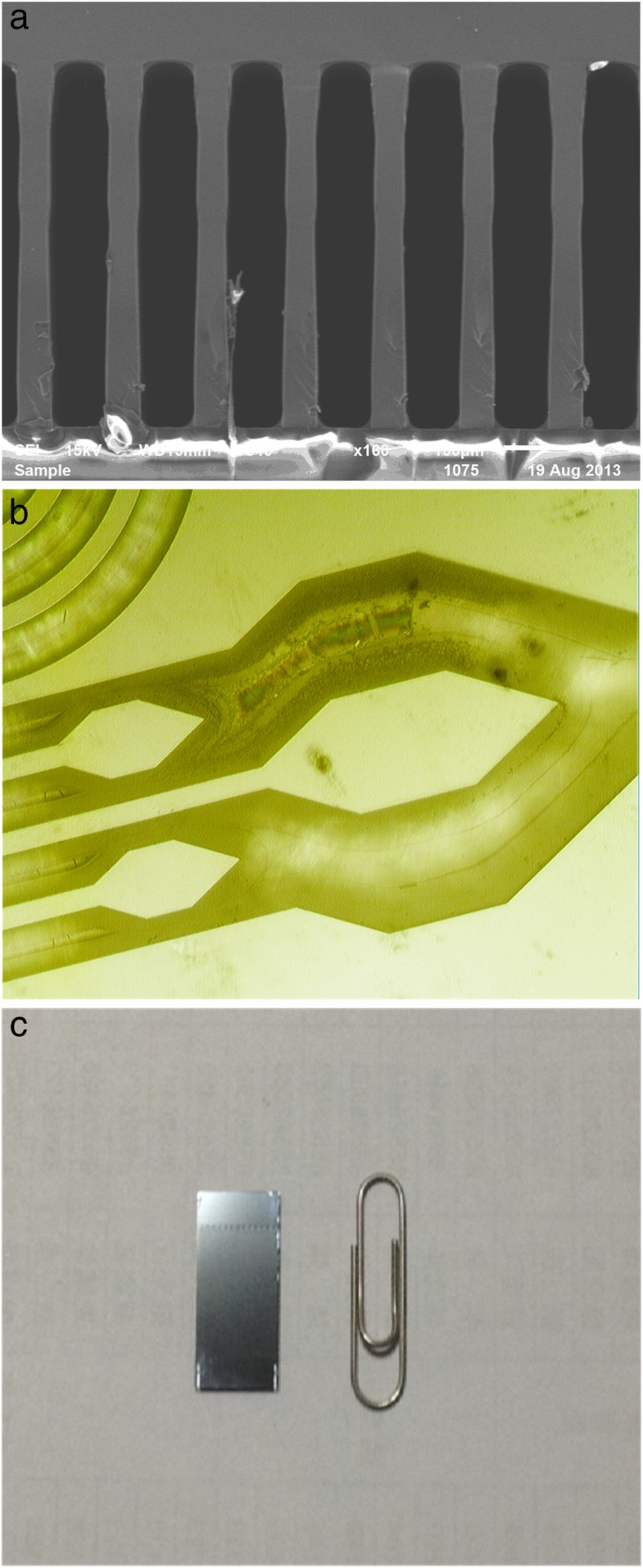 Coating procedure
Deactivation
The MCC was deactivated with octamethylcyclotetrasiloxane (D4) before coating with the stationary phase. Since silanol (Si-OH) groups can attract moisture on the surface through hydrogen bonding and influence column performance, D4 was used to remove Si-OH groups and inactivate the surface of the column [18, 19]. D4 was injected into the MCC and both ends of the column were sealed. To ensure complete deactivation, the column was placed in an oven at 400°C for 90 min. After deactivation, the GC column was washed with methylene chloride (1 mL) while using N2 as carried gas at 220°C for 60 min to remove all residues.
Coating
SE-54 was used as the stationary phase. A solution of the stationary phase material consisted of 5% polar phase (0.16 g) in 1:1 (
v
/
v
) mixture of n-pentane and dichloromethane (2.0 mL). The vial containing this solution was sonicated for 30 min. One end of the fused silica connecting line was connected to a vacuum pump and the other end was sealed by wax. The MCC was maintained at 38°C in a water bath and the solution of the stationary phase pumped through it for 2 h (pressure of the columns = 12 KPa). Subsequently, methyl groups present in the column were treated with ozone to form free radicals and readily cross-link to form a more stable, higher-molecular weight gum phase [
15
,
20
]. Ozone, produced by an ozone generator, was passed through the column for 25 min. Subsequently, the two open ends of the fused silica were sealed and the column was kept at room temperature for 20 min. The MCC was washed by N
2
for 3 h. After cross-linking, the temperature of the column was increased at a rate of 5°C/min until it reached 180°C; the column was kept at 180°C for 4 h. Figure
3
shows an image of the column after coating.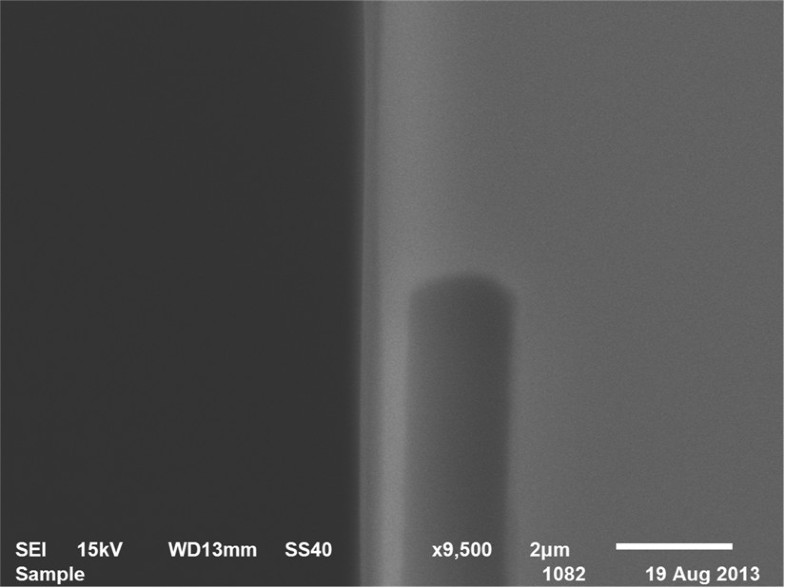 Conclusions
In this work, the MEMS technique was used to fabricate a MCC column which was 50-cm long. By applying the DRIE technique, a 60-μm-wide and 450-μm-deep MCC was fabricated; these dimensions resulted in an aspect ratio of 7.5:1. The resulting MCC achieved both high speed and high separation efficiency in separating nerve and blister agent simulants. This study is the first to report MCC etching at such high depths.
Flow splitters were installed at the inlet and outlet of the MCC. By simulating the flow of carrier gas through the column, the gas flow was shown to be equally divided between the capillaries of the MCC. To evaluate the effects of interfering components, we mixed three commonly used chemicals with the simulants. The boiling points of the six components ranged from 78°C to 219°C. This study is the first to report a successful separation of gas mixtures containing components with close boiling points.
This short length of the MCC ensured that components of the mixture were rapidly separated, i.e. within 70 s. The number of plates was determined to be 12,810 plates/m. The results indicate that the proposed MCC will find applications as a new generation of GC columns. The present study also features several limitations. First, fabrication of the MCC entails high costs. Furthermore, a smaller GC system requires miniaturisation of its component devices. Production of MCCs in a batch-to-batch manner may help reduce costs for commercialisation.
Declarations
Acknowledgements
This work was supported by the National Science Foundation of China via Grant Nos. 61176066 and 61101031. It was also supported by the National High-Tech Research & Development Program (Grant No. 2014AA06A510).
Authors' Affiliations
(1)
State key Laboratory of Electronic Thin Films and Integrated Devices, School of Optoelectronic Information, University of Electronic Science and Technology of China (UESTC), Chengdu, People's Republic of China
Copyright
© Li et al.; licensee Springer. 2014
This article is published under license to BioMed Central Ltd. This is an Open Access article distributed under the terms of the Creative Commons Attribution License (http://creativecommons.org/licenses/by/2.0), which permits unrestricted use, distribution, and reproduction in any medium, provided the original work is properly credited.