A sight on the current nanoparticle-based gene delivery vectors
Nanoscale Research Letters
2014
9:252
Received: 11 December 2013
Accepted: 25 April 2014
Published: 21 May 2014
Abstract
Nowadays, gene delivery for therapeutic objects is considered one of the most promising strategies to cure both the genetic and acquired diseases of human. The design of efficient gene delivery vectors possessing the high transfection efficiencies and low cytotoxicity is considered the major challenge for delivering a target gene to specific tissues or cells. On this base, the investigations on non-viral gene vectors with the ability to overcome physiological barriers are increasing. Among the non-viral vectors, nanoparticles showed remarkable properties regarding gene delivery such as the ability to target the specific tissue or cells, protect target gene against nuclease degradation, improve DNA stability, and increase the transformation efficiency or safety. This review attempts to represent a current nanoparticle based on its lipid, polymer, hybrid, and inorganic properties. Among them, hybrids, as efficient vectors, are utilized in gene delivery in terms of materials (synthetic or natural), design, and in vitro/in vivo transformation efficiency.
Keywords
Gene deliveryNon-viral vectorsNanoparticlesInorganic vectors
Review
Introduction
Gene therapy is described as the direct transfer of genetic material to cells or tissues for the treatment of inherited disorders and acquired diseases. The base of this therapeutic method is to introduce a gene encoding a functional protein altering the expression of an endogenous gene or possessing the capacity to cure or prevent the progression of a disease [1–3]. This method was initially performed in 1990 in the USA for the treatment of adenosine deaminase-deficient SCID (combined immune deficiency disease) patients [4]. This therapy is not only used in genetic deficiencies, but also in other complicated diseases, such as viral infection (human immunodeficiency virus), autoimmunity (rheumatoid arthritis), cancer, diabetes, coronary, and artery disease [5]. With the progress of this technique, gene therapy will become an effective therapeutic method for neurodegenerative conditions, hemophilia, AIDS, asthma, and the myriad of other genetic and acquired diseases that affect humanity [2].
By considering the mentioned issues, the choice of a suitable method for DNA delivery to the targeted cells beseems very important at the point of receiving appropriate genes. Although gene therapy can be carried out using naked DNA into the target cells, having negative nature of cellular membrane and negative charge of large DNA molecules, the nucleic acid-based therapeutics cannot cross cellular membranes by simple passive diffusion methods. Hence, to facilitate the transfer of DNA molecules into a cell, the existence of a vector is necessary [6, 7]. Viral and non-viral vectors, two major types of vectors for gene delivery, are currently being utilized in clinical trials at similar levels.
In gene delivery, it is relatively common to follow biomimetic approaches. Biological systems include modified viruses and mildness bacteria. Viral vectors are more efficient than non-viral vectors for DNA delivery but may present a significant risk to patients, while non-viral carriers are inherently safer than viral carriers [8–10]. Furthermore, in contrast to the viral gene delivery systems, the non-viral carriers are expected to be less immunogenic, with simple preparation and a possible versatile surface modification [7]. The non-viral vectors are usually made of lipids or polymers with/without using other inorganic materials where they can also be prepared from a lipid-polymer or lipid-polymer-inorganic hybrid. The choice of gene delivery strategies among several delivery systems depend on some factors including the improvement of vectors, kind of expression systems, and better understanding of molecular biology of target site and employing of the advances in the identification of new genes and new targets [11]. Recently, nanotechnology approaches play an important role in the design novel and efficient non-viral gene delivery vectors. In this review, we will focus on introducing lately synthesized nanoparticles as vectors with gene delivery applications.
Non-viral vectors
In considering the viral gene delivery vector safety concerns regarding the risk of excessive immune response (adenovirus) and insertion mutagenesis (retroviruses), the use of non-viral vectors can overcome the mentioned safety problems [12]. Non-viral vectors either consist of natural vectors (plasmid DNA or small nucleic acids, antisense oligonucleotides, small interfering RNAs) or synthetic vectors (liposomes, cationic polymers) [11]. Naked DNA, usually in plasmid form, is the simplest form of non-viral transferring of a gene into a target cell [13–16]. Because of low transferring efficiency of a bare plasmid, several physical (electroporation, ultrasound, gas-filled micro-bubbles) and chemical (liposomes) approaches have been exploited to enhance their transformation efficiency [17].
In another type of classification, non-viral delivery vectors can be categorized as organic (lipid complexes, conjugated polymers, cationic polymers, etc.) and inorganic (magnetic nanoparticles, quantum dots, carbon nanotubes, gold nanoparticles, etc.) systems [18].
Among the materials used to design non-viral vectors, attention has recently increased on the natural biomaterials due to their unique properties such as biodegradability, biocompatibility, and controlled release.
The delivery carriers necessitate being small enough to be internalized into the cells and enter the nucleus passing through the cytoplasm and escaping the endosome/lysosome process following endocytosis (Figure
1
). The use of nanoparticles in gene delivery can provide both the targeted and sustained gene delivery by protecting the gene against nuclease degradation and improving its stability [
19
–
22
].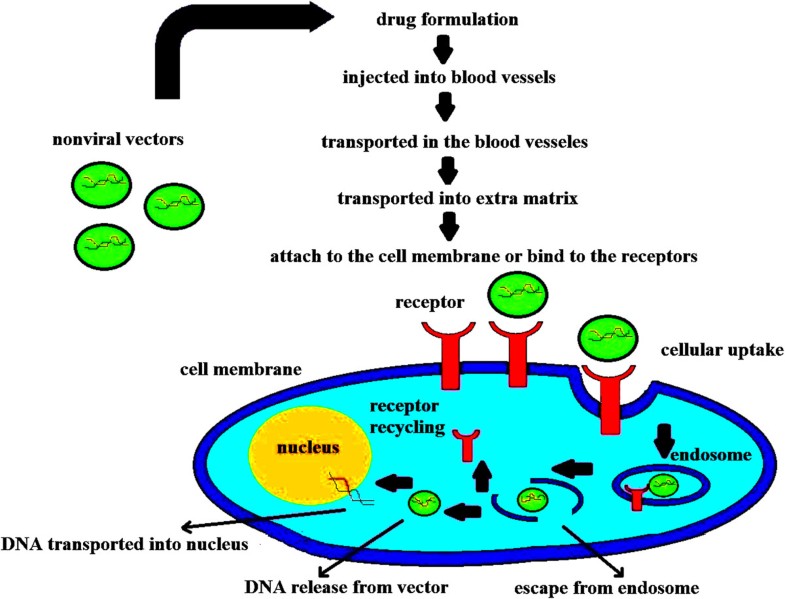 Nanoparticles in gene delivery
In the field of nanomedicine, nanotechnology methods focus on formulating therapeutic biocompatible agents such as nanoparticles, nanocapsules, micellar systems, and conjugates [22, 23]. Nanoparticles are solid and spherical structures ranging to around 100 nm in size and prepared from natural or synthetic polymers [24]. To reach the large-size nucleic acid molecule, the cytoplasm, or even the nucleus, a suitable carrier system is required to deliver genes to cells which enhance cell internalization and protect the DNA molecule from nuclease enzymatic degradation (e.g., virosomes, cationic liposomes, and nanoparticles). To achieve the suitable carrier system, the nanoparticles can be considered as a good candidate for therapeutic applications because of several following reasons: (1) They exist in the same size domain as proteins,(2) they have large surface areas and ability to bind to a large number of surface functional groups, and (3) they possess controllable absorption and release properties and particle size and surface characteristics [25]. Nanoparticles can also be coated with molecules to produce a hydrophilic layer at the surface (PEGylation) to increases their blood circulation half-life. Poloxamer, poloxamines, and chitosan have also been studied for surface modifications. The surface modifications are performed for different objectives: (1) the utilized groups can usually block the electrostatic and hydrophobic interactions thus protect nanoparticles from opsonization and (2) targeting of tumors or organs accordingly increases selective cellular binding and internalization through receptor-mediated endocytosis [24].
Nanoparticles exploited in gene delivery were categorized into four major groups in this investigation for further explanations.
Conclusion
Gene delivery is one of the recent attractive therapeutic methods that involved viral and non-viral vectors. From the stability and safety point of view, non-viral vectors have more efficiency in gene transfection. Non-viral vectors can be efficiently passing through biological barriers compared to viral vectors. Among these vectors, nanoparticle carriers have been successfully applied for in vitro gene delivery and efforts continue in improving in vivo applications. While a wide variety of organic, inorganic, or hybrid materials are used for the production of nanoparticles, polymeric nanoparticles have great therapeutic application. Polymeric nanoparticles can be produced in a wide range of sizes and varieties and can be used in sustained and targeted gene delivery for long periods. Among the naturally derived and synthetic biomaterials for gene delivery, natural biopolymers can potentially avoid many of the safety concerns with viral gene delivery due to high biocompatibility, low toxicity, and good biodegradability. In conclusion, the utilization of biopolymers such as proteins, polypeptides, and polysaccharides will be one of the potentially promising methods for gene delivery. However, the clinical application of gene delivery still is in its initial stage, but more progression of it is expected in the near future.
Authors' Affiliations
(1)
Biotechnology Research Center, Tabriz University of Medical Sciences, Tabriz, Iran
(2)
Student Research Committee, Tabriz University of Medical Sciences, Tabriz, Iran
(3)
Department of Pharmaceutical Nanotechnology, Faculty of Pharmacy, Tabriz University of Medical Sciences, Tabriz, Iran
(4)
Drug Applied Research Center, Tabriz University of Medical Sciences, Tabriz, Iran
(5)
Department of Pharmacognosy, Faculty of Pharmacy, Tabriz University of Medical Sciences, Tabriz, Iran
Copyright
© Dizaj et al.; licensee Springer. 2014
This article is published under license to BioMed Central Ltd. This is an Open Access article distributed under the terms of the Creative Commons Attribution License (http://creativecommons.org/licenses/by/2.0), which permits unrestricted use, distribution, and reproduction in any medium, provided the original work is properly credited.