Effect of ZnO:Cs2CO3 on the performance of organic photovoltaics
Nanoscale Research Letters
2014
9:323
Received: 20 May 2014
Accepted: 20 June 2014
Published: 27 June 2014
Abstract
We demonstrate a new solution-processed electron transport layer (ETL), zinc oxide doped with cesium carbonate (ZnO:Cs2CO3), for achieving organic photovoltaics (OPVs) with good operational stability at ambient air. An OPV employing the ZnO:Cs2CO3 ETL exhibits a fill factor of 62%, an open circuit voltage of 0.90 V, and a short circuit current density of −6.14 mA/cm2 along with 3.43% power conversion efficiency. The device demonstrated air stability for a period over 4 weeks. In addition, we also studied the device structure dependence on the performance of organic photovoltaics. Thus, we conclude that ZnO:Cs2CO3 ETL could be employed in a suitable architecture to achieve high-performance OPV.
Keywords
Polymer solar cellsInverted structureZnOCs2CO3PEDOTPSS
Background
The performance of organic solar cells significantly improved during the last few years. Both industrial and academic sectors have focused on the enhancement of their performance, developed new materials, and also improved the stability of the devices. Organic solar cells have attracted a huge interest, given that they are easy to make on flexible substrates, using roll-to-roll technology [1–4], which significantly reduces the manufacturing costs [5, 6].
Although we have seen a significant improvement in the performance of organic solar cells, the efficiency of organic solar cells is still far behind their counterparts, inorganic solar cells. Organic solar cells are basically fabricated by sandwiching a photoactive layer between two electrodes. Normally, in the conventional device architecture, a poly (3,4-ethylenedioxythiophene):poly (styrenesulfonate) (PEDOT:PSS) layer is employed as an anode buffer layer [7–9]. However, one major drawback of using PEDOT:PSS is its poor stability.
Therefore, another alternative to avoid the use of PEDOT:PSS is to make use of an inverted structure [10–22], where the anode and cathode positions are reversed, and n-type metal-oxide-semiconductors, namely, ZnO, TiO x , AZO, and NiO x , are used [2–5], instead of the PEDOT:PSS. Despite device architecture, there is another factor which one can consider in order to enhance the performance of optoelectronic devices, which is the energy barrier between layers. One may find that by decreasing this energy barrier, charge carrier injection at the interface can be significantly improved and therefore, device performance can be improved [23–26]. To date, various methods have been introduced to tune the work functions between semiconductors and metals such as plasma treatment, absorption of atoms, and also the introduction of additional thin-films [27–31].
Zinc oxide (ZnO) has attracted considerable interest for its optical, electrical, and mechanical properties. Experimental and theoretical studies on ZnO crystals have revealed the presence of a permanent dipole moment, which yields a significant piezoelectric effect for a variety of mircomechanical devices. ZnO has been shown to be a good electron selective and hole blocking contact in inverted solar cells. The conduction band (CB) and valence band (VB) of ZnO have been reported to be −4.4 and −7.8 eV, respectively [15]. This allows ZnO to function as a good interfacial layer between ITO and the bulk-heterojunction blend for inverted solar cell devices. ZnO also has large exciton binding energy of about 60 meV, which has been shown to be valuable for optoelectronic devices such as light-emitting diodes and lasers. Nevertheless, ZnO has one major drawback, which is the lack of stable and reproducible p-type ZnO with low resistivity, high carrier concentration, and high carrier mobility.
Doping with the first group elements like Li, Na, K, and Cs in ZnO would substitute Zn2+ by the monovalent cations, thus making it possible to realize n-type conduction. The realization of n-type conduction is very important for ZnO applications in optoelectronic devices, and there are reports on the electrical property of the first group element-doped ZnO thin-films [32–36]. Various techniques such as pulsed laser deposition [37, 38], magnetron sputtering [39, 40], and molecular beam epitaxy [41] have been used to deposit thin-films of ZnO. The sol-gel method [42] has been receiving increased attention because of its many advantages such as low cost, simple deposition procedure, easier composition control, low processing temperature, and easier fabrication of large area films. Therefore, here, we demonstrate the improved performance of P3HT:PCBM and P3HT:ICBA-based inverted bulk-heterojunction solar cells through the appropriate interface modification by Cs2CO3-doped ZnO on the electron collecting ITO interface. Recently, Yang et al. has reported that a solution-processed Cs2CO3 is able to make interface dipoles layer on ITO. One may say that these two entities (ZnO and Cs2CO3) are completely different but the most important thing is that these entities do improve the performance of the device. Moreover, we have seen a number of works on tuning the work function of ITO by adding an electron transport layer such as ZnO [43], TiO2[44–46], Cs2CO3[44–46], and poly(ethylene oxide) (PEO) [47]. The created dipole moment helps to reduce the work function of ITO, allowing ITO to serve as the cathode. The improved device performance is due to the reduction of series resistance, improved shunt performance, and enhanced open-circuit voltage of the cell which can be attributed to the improvement of the following aspects: (1) reduction of the contact resistance between the ZnO:Cs2CO3 and active organic layer, (2) enhancement of the electronic coupling between inorganic ZnO:Cs2CO3 and active organic layer to mediate better forward charge transfer and reduce back charge recombination at the interface, and (3) affect the upper organic layer growth mode and morphology.
Methods
ZnO solution preparation
ZnO solution was prepared using similar procedures to the one reported by Jang et al. [27]. Cs2CO3 solution was prepared by dissolving in ethanol in the ratio of 1.25 wt%.
Organic solar cell fabrication
Schematic diagram of organic solar cells is shown in Figure
1
b, where the device is fabricated using pre-patterned ITO-coated glass substrate. Prior to the use, the substrate was cleaned in ultrasonic using acetone, methanol, and isopropanol, rinsed with deionized water, and later dried with N
2
compressor. All cleaned substrates were treated with UV Ozone treatment for 15 min.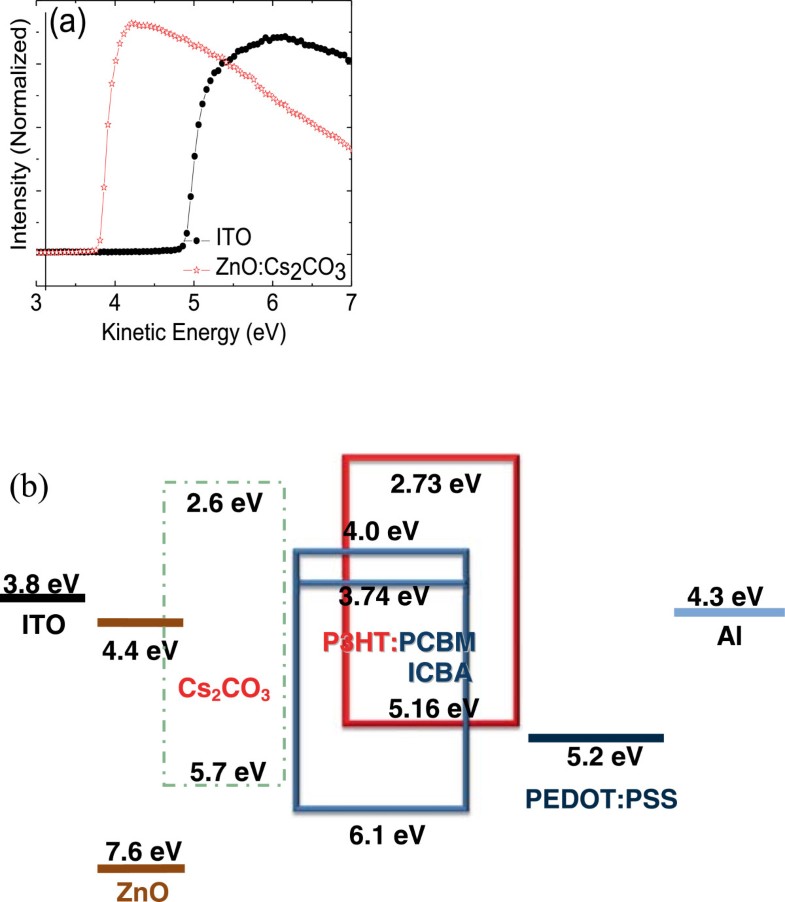 The solution for electron selective layer was prepared by mixing ZnO and Cs2CO3 with different blend ratios, namely, 1:1, 1:2, 1:3, 2:1, and 3:1. The solution-processed ZnO or ZnO:Cs2CO3 was spin-coated at 1,000 rpm for 25 s onto the cleaned substrates and later annealed at 300°C for 10 min. The photoactive layer either P3HT:PCBM or P3HT:ICBA dissolved in 1,2-dichlorobenzene was spin-coated at 700 rpm for 25 s and subsequently annealed at 130°C for 30 min or 150°C for 10 min, respectively. Later, PEDOT:PSS was spin-coated at 4,000 rpm for 25 s onto the photoactive layer and annealed at 120°C for 20 min. To complete the device, 100-nm thick of Al was thermally evaporated at rates 4 A/s through a shadow mask at a base pressure of 10−7 Torr. The active area of the complete devices is 0.04 cm2. To ensure the reproducibility of our results, we have fabricated 83 devices throughout this work.
The following are the fabricated devices based on different photoactive materials.
P3HT:PCBM-based devices.
Device A-ITO/ZnO/P3HT:PCBM/PEDOT:PSS/Al
Device B-ITO/ZnO:Cs2CO3/P3HT:PCBM/PEDOT:2PSS/Al
P3HT:ICBA-based devices.
Device C-ITO/ZnO/P3HT:ICBA/PEDOT:PSS/Al
Device D-ITO/ZnO:Cs2CO3/P3HT:ICBA/PEDOT:PSS/Al
Thin film and device characterizations
The J-V characteristics of the conventional solar cells were measured using the Keithley 2400 source meter under a solar simulator (AM1.5) with an irradiation intensity of 100 mW/cm2.
The EQE measurements were performed using an EQE system (Model 74000) obtained from Newport Oriel Instruments, Irvine, CA, USA, and the HAMAMATSU calibrated silicon cell photodiode (HAMAMATSU, Shizuoka, Japan) was used as the reference diode. The wavelength was controlled with a monochromator to range from 200 to 1,600 nm.
AFM imaging was achieved in air using a Digital Instrument Multimode that is equipped with a nanoscope IIIa controller.
XPS measurements were performed in a PHI 5000 VersaProbe (Ulvac-PHI, Chigasaki, Kanagawa, Japan) with background pressure of 6.7 × 10−8 Pa, using a monochromatized Al Kα (hv = 1,486.6 eV) anode (25 W, 15 kV).
Ultraviolet photoemission spectroscopy (UPS) measurements were carried out using the He 1 photon line (hv = 21.22 eV) of a He discharge lamp under UHV conditions (4 × 10−10 mbar).
The transmittances of ZnO, and ZnO:Cs2CO3 coated on ITO-glass substrates were recorded at room temperature with a SCINCO S4100 (SCINCO, Seoul, South Korea) spectrophotometer.
XRD measurements were carried out using X'PERT PRO of PANalytical Diffractometer (PANalytical, Seongnam City, South Korea) with a Cu Kα source (wavelength of 1.5405 Å) at 40 kV and 100 mA and at a speed of 1°/min.
Raman scattering experiments were performed at room temperature using a Ramanor T-64000 microscopy system (Jobin Yvon, Longjumean, France).
Photoluminescence (PL) spectra were recorded using a lock-in technique with JASCO FP-6500 (JASCO, Easton, MD, USA)composed of two monochromators for excitation and emission, a 150-Watt Xe lamp with shielded lamp house and a photomultiplier as light detector.
Conclusion
In conclusion, we have found that modification of the interface between the inorganic ITO and photoactive layer can improve the performance of inverted solar cells. The modification of ITO leads to 8% improvement over unmodified ITO inverted devices. This interface modification serves multiple functions that affect the photoinduced charge transfer at the interface, which include the reduction the recombination of charges, passivation of inorganic surface trap states, and improvement of the exciton dissociation efficiency at the polymer/ZnO interface. Moreover, the stability of these modified devices is slightly better compared with unmodified ones.
Declarations
Acknowledgements
This work was supported by the Industrial Strategic Technology Development (10045269, Development of Soluble TFT and Pixel Formation Materials/Process Technologies for AMOLED TV) funded by MOTIE/KEIT.
Authors' Affiliations
(1)
Department of Information Display and Advanced Display Research Center, Kyung Hee University, Seoul, Republic of Korea
Copyright
© Kim et al.; licensee Springer. 2014
This article is published under license to BioMed Central Ltd. This is an Open Access article distributed under the terms of the Creative Commons Attribution License (http://creativecommons.org/licenses/by/4.0), which permits unrestricted use, distribution, and reproduction in any medium, provided the original work is properly credited.