Surface properties and biocompatibility of nanostructured TiO2 film deposited by RF magnetron sputtering
Nanoscale Research Letters
2015
10:56
Received: 26 November 2014
Accepted: 5 January 2015
Published: 11 February 2015
Abstract
Nanostructured TiO2 films are deposited on a silicon substrate using 150-W power from the RF magnetron sputtering at working pressures of 3 to 5 Pa, with no substrate bias, and at 3 Pa with a substrate bias of −50 V. X-ray diffraction (XRD) analysis reveals that TiO2 films deposited on unbiased as well as biased substrates are all amorphous. Surface properties such as surface roughness and wettability of TiO2 films, grown in a plasma environment, under biased and unbiased substrate conditions are reported according to the said parameters of RF power and the working pressures. Primary rat osteoblasts (MC3T3-E1) cells have been cultured on nanostructured TiO2 films fabricated at different conditions of substrate bias and working pressures. The effects of roughness and hydrophilicity of nanostructured TiO2 films on cell density and cell spreading have been discussed.
Keywords
TiO2 Working pressureSubstrate biasRoughnessWettabilityMagnetron sputteringCell culturing
Background
The use of biomaterials dates far back to ancient civilizations. Artificial eyes, ears, teeth, and noses were found on Egyptian mummies [1,2]. Waxes, glues, and tissues for the restoration of the missing or malfunctioning parts of the body were used by the Chinese and Indians. Over the centuries, developments in synthetic materials, surgical techniques, and sterilization methods have permitted the use of biomaterials in many ways [2,3]. Nowadays, a large number of devices and implants are used as a medical practice. Biomaterials in the form of implants (ligaments, vascular grafts, heart valves, intraocular lenses, dental implants, etc.) and medical devices (pacemakers, biosensors, artificial hearts, etc.) are extensively used to replace and/or restore the function of disturbed or deteriorated tissues or organs, and thus improve the quality of life of the patients.
Commercially pure titanium (CP-Ti) and its alloys are chosen and extensively used as biomaterials, i.e., for dental and orthopedic implants or prosthesis, because of their better corrosion resistance, lower modulus, superior biocompatibility, durability, and strength [2,4,5]. However, being bioinert, it is assumed that the integration of such implants in bone is not good enough. The biocompatibility of titanium used as an implant material is accredited to surface oxides naturally formed in air and/or physiological fluids [6,7]. The surface properties, including composition, roughness, hydrophilicity, texture, and morphology of the oxide on titanium, greatly influence the cellular behaviors, e.g., adhesion, morphologic change, functional alteration, proliferation, and differentiation [4,7-9]. Among surface properties, surface roughness and composition have been considered the most essential parameters for altering cell activity [10]. Titanium and its alloys, owing to their lower elastic modulus, are widely used as hard tissue replacements in artificial bones, joints, and dental implants, which, in general, are regarded as a biomechanical advantage on account of their smaller elastic modulus that can result in a smaller stress shielding [5,11].
The purpose of this work is to study the in vitro behavior of osteoblast cells cultured on nanostructured TiO2 film and investigate the effect of the nanostructured surface of TiO2 film on osteoblast cell density and cell spreading. Such accelerated cell density and cell spreading are beneficial for faster cure of dental and orthopedic patients, as well as for a variety of biomedical diagnostic and therapeutic applications [12].
Over the past few decades, implant coating has documented a wide range of applications. Thin-film coating of implant surfaces has been studied by several methods, including plasma spraying, dipping, electro-chemical deposition, pulsed laser deposition, ion beam dynamic mixing, and ion beam deposition [13]. Some of these methods have severe limitations such as poor adhesion, microcrack formation and phase changes at high temperature, non-uniformity, and improper microstructural control, all of which make them inadequate for implant systems [14,15].
Most recently, magnetron sputtering deposition has been proposed by many researchers as a flexible deposition technique that offers many advantages including high-deposition rates; ease of sputtering any metal, alloy or compound; the formation of high-purity films; extremely high adhesion to films; and the ability to form dense coatings [16-18].
In this letter, we report the effect of working pressure and substrate bias on the surface roughness of a TiO2 film deposited by RF magnetron sputtering and see the influence of surface roughness in nanoscale [19] on surface hydrophilicity and cell behavior over the surface.
Methods
Fabrication of nanostructured TiO2 films
The TiO
2
films were deposited by using RF magnetron sputtering system (JGP-450 A, China), whose schematic diagram is shown in the Figure
1
. For the deposition of thin films, silicon and titanium were used as the substrate and target materials, respectively. The purity of the titanium target fixed on the magnetron cathode was 99.9% with a diameter of 60 mm (Beijing General Research Institute for Non-Ferrous Metals, China). The silicon substrate (100) with a diameter of 25.4 mm was mounted on the substrate stage separated at a distance of 70 mm from the titanium target. Before mounting the silicon substrate onto the substrate stage in the vacuum chamber, it was cleaned ultrasonically in acetone followed by ethanol and finally in deionized water for 15 min in each solution and dried thereafter. A pumping system comprising of mechanical and the turbo-molecular pumps was implied to achieve the base pressure down to 1.4 × 10
−3
Pa inside the chamber. In order to remove the residual gases, the chamber was heated along with the pumping. Argon and oxygen, as sputtering and reactive gases, with a purity of 99.99% and 99.95%, respectively, were introduced into the chamber one after another and controlled by standard mass flow controllers (Beijing Jianzhong Machine Co. Ltd., China). The gas pressure was adjusted with the help of a throttle valve. The ZDF-2 AK compound vacuum meter (Beijing Xinhua Vacuum Instrument Factory, China) was used to monitor the vacuum pressure in the chamber. Prior to thin-film deposition, Ti ceramic target was pre-sputtered in an argon environment for 10 min by RF power supply working at a frequency of 13.56 MHz to weed out the surface adsorptions and contaminations. The effect of working pressures of 3 and 5 Pa, on the surface morphology of the films at an RF power of 150 W, without bias was studied by depositing TiO
2
films on silicon substrates for 5 h in each case. Also, a sample at a working pressure of 3 Pa with a bias of −50 V at an RF power of 150 W for 5 h was prepared/deposited so as to compare the surface morphologies of the films with and without bias. The substrate temperature was measured with a thermocouple in contact with the surface of the substrate. The flow rates utilized for argon and oxygen were staying constant, that is 30 and 10 sccm (i.e., standard cubic centimeter per minute), respectively, during the whole experiment. The summary of the deposition condition is given in Table
1
.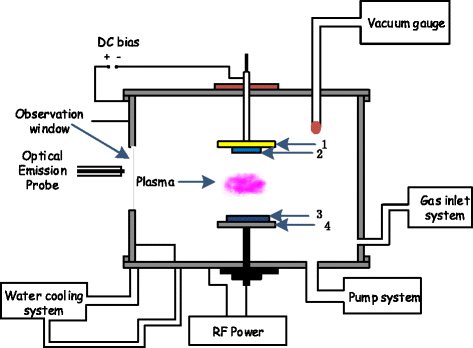 Table 1
Summary of deposition conditions of TiO 2 films
Base pressure

1.4 ×10−3 Pa

Working pressures

3 Pa at a substrate bias of 0 V,

5 Pa at a substrate bias of 0 V,

3 Pa at a substrate bias of −50 V

Deposition time

5 Hrs for each sample

RF Power

150 W

Argon flow rate

30 sccm

Oxygen flow rate

10 sccm

Target to substrate distance

70 mm

Diameter of silicon (100) substrate

25.4 mm

Diameter of the titanium target

60 mm
Surface characterization
The phase characterization of the TiO2 films deposited on silicon substrates at different working pressures with RF power of 150 W, with and without bias, was carried out by X-ray diffraction (XRD), using CuKα radiation (λ = 0.154056 nm) for 2θ values ranging from 20° to 80°. The diffractometer (XRD, Rigaku D/max 2550 VB/PC, Rigaku, Tokyo, Japan) was operated at 40 kV and 200 mA with a scanning speed of 8°/min at 2θ steps of 0.020°. The angle of the incident beam was 0.9°. The surface topography of the said TiO2 films, deposited under the same conditions, was characterized by atomic force microscopy (AFM, Nanoscope 3A, DI, USA) and the root-mean-square (RMS) roughness was estimated by an image analysis software called Nanoscope®III. The wettability of the films' surface was observed through water contact angle measurements, using contact angle measurement equipment (OCA 20, Dataphysics, Germany).
Cell culture
Primary rat osteoblasts (MC3T3-E1) were cultured for 7 days in a humidified atmosphere of 5% CO2 –95% air at 37°C in 25 cm2 flasks until confluent. Cells were then detached using trypsin/EDTA (0.25% w/v trypsin/0.02% EDTA of pH 7.2). Subsequently, cells were re-suspended in the supplemented culture medium as described above and seeded with the density of 2 × 104 cells/cm2 on the specimen surfaces for the biocompatibility study. After being fixed in 4% paraformaldehyde (Sigma, USA), cells were stained with acridine orange (AO, Sigma, USA), and the cells' behavior for 12 h over the specimen surface was examined with a fluorescent microscope (×200).
Conclusions
In this article, TiO2 films, with different surface roughnesses measured in nanometer scale, were deposited on a silicon substrate using a power level of 150 W from the RF magnetron sputtering at different working pressures under varying bias conditions for biocompatibility analysis. The XRD analysis of the TiO2 film revealed its amorphous nature. Water contact angle measurements clarified that the rough surface was more hydrophilic than the smooth surface, which was well elaborated in terms of surface energy that could play a very vital role on the surface wettability.
It was concluded that the surface could be designed to influence cell density and cell spreading, and RF reactive magnetron sputtering method could be a potential method to improve the cytocompatibility of titanium-based implants by depositing a layer of TiO2 with suitable roughness.
Declarations
Acknowledgements
The work was financially supported by the National Natural Science Foundation of China (grant no. 11275127, 90923005, 31400859) and Biomedical Engineering Cross Research Foundation of Shanghai Jiao Tong University (YG2013MS60). Asif Majeed acknowledges the financial assistance provided by the Chinese Scholarship Council for providing him the Distinguished Chinese Scholarship for pursuing his PhD studies in Shanghai Jiao Tong University. The authors would like to thank Mrs. H.Q. Li (Analysis and Measurement Center of Shanghai Jiao Tong University) for AFM measurements.
Authors' Affiliations
(1)
Key Laboratory for Laser Plasmas (Ministry of Education) and State Key Laboratory of Advanced Optical Communication Systems and Networks, Department of Physics and Astronomy, Shanghai Jiao Tong University, Shanghai, China
(2)
Department of Physics, University of Azad Jammu & Kashmir, Muzaffarabad, Pakistan
(3)
Department of Oral and Maxillofacial-Head and Neck Oncology, Shanghai 9th People's Hospital, Shanghai Jiao Tong University School of Medicine, Shanghai, China
Copyright
© Majeed et al.; licensee Springer. 2015
This is an Open Access article distributed under the terms of the Creative Commons Attribution License (http://creativecommons.org/licenses/by/4.0), which permits unrestricted use, distribution, and reproduction in any medium, provided the original work is properly credited.