Investigation on the passivated Si/Al2O3 interface fabricated by non-vacuum spatial atomic layer deposition system
Nanoscale Research Letters
2015
10:93
Received: 16 November 2014
Accepted: 5 February 2015
Published: 28 February 2015
Abstract
Currently, aluminum oxide stacked with silicon nitride (Al2O3/SiNx:H) is a promising rear passivation material for high-efficiency P-type passivated emitter and rear cell (PERC). It has been indicated that atomic layer deposition system (ALD) is much more suitable to prepare high-quality Al2O3 films than plasma-enhanced chemical vapor deposition system and other process techniques. In this study, an ultrafast, non-vacuum spatial ALD with the deposition rate of around 10 nm/min, developed by our group, is hired to deposit Al2O3 films. Upon post-annealing for the Al2O3 films, the unwanted delamination, regarded as blisters, was found by an optical microscope. This may lead to a worse contact within the Si/Al2O3 interface, deteriorating the passivation quality. Thin stoichiometric silicon dioxide films prepared on the Si surface prior to Al2O3 fabrication effectively reduce a considerable amount of blisters. The residual blisters can be further out-gassed when the Al2O3 films are thinned to 8 nm and annealed above 650°C. Eventually, the entire PERC with the improved triple-layer SiO2/Al2O3/SiNx:H stacked passivation film has an obvious gain in open-circuit voltage (V oc) and short-circuit current (J sc) because of the increased minority carrier lifetime and internal rear-side reflectance, respectively. The electrical performance of the optimized PERC with the V oc of 0.647 V, J sc of 38.2 mA/cm2, fill factor of 0.776, and the efficiency of 19.18% can be achieved.
Keywords
PERCNon-vacuum spatial atomic layer depositionAl2O3/SiNx:H stacked rear passivationBlisterTriple-layer SiO2/Al2O3/SiNx H stacked passivation films
Background
For the past decade years, dielectric films have become promising materials applied in high-efficiency silicon solar cells due to their superior surface passivation effect. An attractive candidate for outstanding Si surface passivation is aluminum oxide (Al2O3), which can be deposited by physical vapor deposition (PVD) system [1], chemical vapor deposition (CVD) system [2-4], liquid-phase deposition (LPD) technique [5,6], and atomic layer deposition (ALD) system [7-9]. Generally, ALD system is the most suitable choice for the deposition of Al2O3 owing to some advantages: (i) capable of producing very thin conformal and uniform films, (ii) with large process temperature window, and (iii) able to deposit films on high-aspect-ratio substrates. However, traditional plasma-assist ALD and thermal ALD have an extremely low deposition rate of the order of dozen picometers per second; the industrial application of this technique is chiefly limited to CMOS and DRAM processes [10]. Recently, Al2O3 films are applied to a noted cell structure so-called passivated emitter and rear cell (PERC) as the passivation layers. The PERC structure which offers the possibility of importantly improved performance over traditional commercial cell design needing only little extra process steps can achieve the efficiency of around 22%. Hence, the PERC structure is going to be the next key product of most solar companies.
For the solar industrials, the deposition of Al2O3 for PERC is mainly by turn-key plasma-enhanced chemical vapor deposition (PECVD) technique due to its higher production capacity in comparison with ALD system. But the uniformity of the PECVD Al2O3 films is difficult to control well, making the film thicker at the central region and thinner around the edge of the wafer. A spatial-type ALD with both merits of a high deposition rate and producing films with a high-level uniformity has been proposed to provide a great passivation effect and enhance the production capacity. The precursor TMA (Al(CH3)3) and reactant water vapor (H2O) were used to proceed two half reactions to deposit the Al2O3 films in spatial ALD. A little amount of hydrogen (H2) and H2O may remain on the rear-side surface of Si substrate. The blisters which form at the Si/Al2O3 interface occur under an external load in the presence of a tensile residual stress due to the effusion of H2 and H2O [11]. The blistering may deteriorate minority carrier lifetime. Several studies have claimed that treating the Al2O3 films with enough thermal budgets prior to the capping of SiNx:H and thinning the thickness Al2O3 film are two possible ways to conquer this obstacle [12].
In this study, a non-vacuum spatial ALD with a deposition rate of 10 nm/min which is ten times faster than the traditional ALD systems is developed. The fast-growing Al2O3 films are used as a rear-side passivation layer applied to the P-type PERC structure. In the beginning, the analysis of electrical and structural properties for pure Al2O3 is characterized. The expected blistering formation is observed through an optical microscope. Two approaches tried to solve the blistering problem as well as to improve the efficiency of PERC. Firstly, a very thin stoichiometric silicon dioxide (SiO2) film deposited by inductively coupled plasma chemical vapor deposition (ICPCVD) is inserted into the interface between Al2O3 and silicon wafer to reduce blisters. In the meantime, SiO2 film can further chemically passivate the interface defects. Secondly, reducing the thickness of the Al2O3 film to lower than 10 nm and increasing the post-annealing temperature to a higher temperature of 650°C to enhance out diffusion of gas. After that, the SiNx:H films with abundant hydrogen content prepared by ICPCVD are capped on the Al2O3 films to enhance the passivation effect by filling dangling bonds. The positive effect of the stacked passivation layer is proven from a quasi-steady-state photo-conductance (QSSPC). The electrical performance for the PERC devices with various rear-side-passivated structures is eventually investigated.
Methods
Few pieces of 15.6 cm × 15.6 cm shiny etched Cz-Si wafers (P-type, 5 Ω-cm, (100-oriented)) wafers of 200 μm thick were prepared. They were then etched in a chemical polishing solution to remove the saw damages at the edges followed by standard RCA clean. Subsequently, the identical Al2O3 films were deposited on both sides of the Si wafers to evaluate the passivation effect. Various thicknesses of the Al2O3 films from 10 to 25 nm were firstly prepared before sending them to the furnace for post-annealing process in N2 ambient. The temperature was set from 450°C to 600°C. We prepared other wafers capped with identical thin SiO2 films as an interlayer by ICPCVD. The Al2O3 films were deposited on the top of SiO2 films to form stacked structures. Those samples were also annealed in the range from 450°C, 500°C, 550°C, to 600°C, respectively. For a special case, the stacked structures SiO2/Al2O3 with thinner Al2O3 of about 8 nm were fabricated for comparison. A higher annealing temperature of 650°C was treated on these samples to drive more imbedded gas out diffused. The stacked structures capped with silicon nitride films doped hydrogen (SiNx:H) was made by ICPCVD, forming the triple-layer stacked structure of SiO2/Al2O3/SiNx. These triple-layer stacked films were then annealed at 450°C for 20 min.
High-resolution scanning electrical microscope (HR-SEM) and optical microscope (OM) were used to observe the thicknesses of the Al2O3 films and the distribution of blisters, respectively. The wafers were characterized by QSSPC effective lifetime measurement (Sinton Company WCT-120; Sinton Instruments, Boulder, CO, USA). Cross-sectional images of the stacked films were carried out by transmission electron microscope (TEM).
After completing the analysis of passivation effect, we started to fabricate the entire PERC devices. For fabrication of emitter, P-type cleaned wafers were thermal diffused by phosphorous atoms in a quartz tube furnace at 850°C. Anti-reflective coatings (ARCs) were deposited by PECVD. Four kinds of the passivation films were prepared on the rear side of wafers as shown in Figure
1
. Cell A has a pure Al
2
O
3
film on the rear side of the Si wafer, having a large number of blisters. Cell B has a thin SiO
2
film inserted between the Al
2
O
3
film and Si wafer, having fewer blisters compared to sample A. Note that blisters may probably occur at two interfaces of Al
2
O
3
/SiO
2
and SiO
2
/Si substrates. According to our experimental results, almost all the blisters are observed to stay at the SiO
2
/Si substrate. This phenomenon can be attributed to the fact that the SiO
2
thin films fabricated by ICPCVD have lots of pores, allowing H
2
and H
2
O penetrating into the region between the SiO
2
layer and the Si substrate after the deposition of Al
2
O
3
. In contrast with cell B, cell C has the same stacked structure, but thinner Al
2
O
3
film of 8 nm. Post-annealing at 650°C was performed on it as well. Thus, the blisters in cell C were out-gassed, forming some voids to act as defects. The last cell D has a triple-layer stacked passivation film of SiO
2
/Al
2
O
3
/SiN
x
:H as described above. The detailed thickness information for each layer is summarized in Table
1
. Laser ablation technique was subsequently used to form the local openings to let the aluminum paste contact with the Si wafer through a co-firing process. I-V characteristics of solar cells were measured using AM1.5G (100 mW/cm
2
) solar simulator.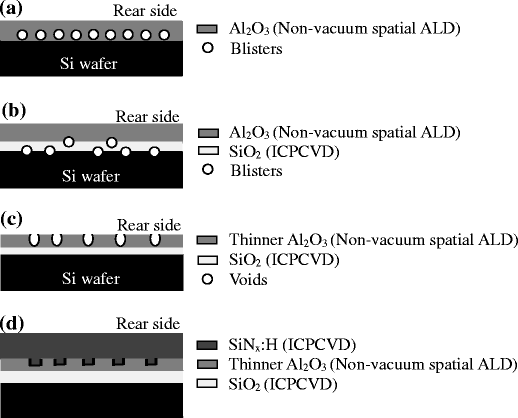 Table 1
Detailed thickness information of rear-side passivation films
| Cell type | SiO 2 (nm) | Al 2 O 3 (nm) | SiN x :H (nm) | Annealing temperature prior to cap SiN x :H (°C) |
| --- | --- | --- | --- | --- |
| A | N/A | 25 | N/A | 500 |
| B | 3 | 25 | N/A | 500 |
| C | 3 | 8 | N/A | 650 |
| D | 3 | 8 | 70 | 650 |
Conclusions
In this study, the uniform Al2O3 films with high reproducibility are fabricated by self-developed non-vacuum spatial ALD system. We report two effective ways to improve the blistering problem upon the annealing after the deposition of Al2O3, including (i) depositing a thin stoichiometric SiO2 film on the surface of the silicon wafer by ICPCVD and (ii) further reducing the thickness of the Al2O3 film to below 10 nm and provide higher thermal budget to the stacked Si/SiO2/Al2O3 film prior to capping with SiNx:H. An obvious improvement on blistering issue can be verified from OM images and minority carrier lifetime measurement. The blisters can be out-gassed when treating the 8-nm thin Al2O3 film with a 650°C annealing temperature. The subsequent deposition of 70 nm-SiNx:H film can not only protect the Al2O3 film from damage but also provide an effective chemical passivation on the surface of the silicon wafer via the voids. The improved triple-layer stacked Si/3 nm-SiO2/8 nm-Al2O3/70 nm-SiNx:H passivation film is successfully applied to PERC device with distinct gains in V oc of about 0.03 V and in J sc of about 0.6 mA/cm2. The final optimal conversion efficiency of 19.18% for the PERC device with the improved stacked passivation film is obtained.
Abbreviations
ARC:

anti-reflective coatings
ALD:

atomic layer deposition system
CVD:

chemical vapor deposition system
FF:

fill factor
GPC:

growth per cycle
HR-SEM:

high-resolution scanning electron microscopy
HR-TEM:

high-resolution transmission electron microscope
ICPCVD:

inductively coupled plasma chemical vapor deposition
LPD:

liquid-phase deposition technique
V oc :

open-circuit voltage
PERC:

passivated emitter and rear cell
PVD:

physical vapor deposition system
QSSPC:

quasi-steady-state photo-conductance
J sc :

short-circuit current
TEM:

transmission electron microscope
Declarations
Acknowledgements
This work is sponsored by Mosel Vitelic Inc., Taiwan, R.O.C. and the Ministry of Science and Technology of the Republic of China under the grants No. 102-2221-E-212-021-MY2 and Hsinchu Science Park Bureau, Ministry of Science and Technology, Republic of China under the grants No. 102A24.
Authors' Affiliations
(1)
Department of Materials Science and Engineering, DaYeh University, Changhua, Taiwan
(2)
Department of Electrical Engineering, National Chung Hsing University, Taichung, Taiwan
(3)
Crystalline Silicon R & D Section, Mosel Vitelic Inc, Hsinchu, Taiwan
Copyright
© Lien et al.; licensee Springer. 2015
This is an Open Access article distributed under the terms of the Creative Commons Attribution License (http://creativecommons.org/licenses/by/4.0), which permits unrestricted use, distribution, and reproduction in any medium, provided the original work is properly credited.