Large Area Nano-transfer Printing of Sub-50-nm Metal Nanostructures Using Low-cost Semi-flexible Hybrid Templates
Nanoscale Research Letters
2016
11:143
Received: 6 July 2015
Accepted: 29 February 2016
Published: 15 March 2016
Abstract
In this work, we present a method for printing metal micro- and nanopatterns down to sub-50-nm feature sizes using replicated, defect-tolerant stamps made out of OrmoStamp®; material. The relevant parameters for a successful transfer over large areas were investigated and yields above 99 % have been achieved. Comparing our results to conventional nano-transfer printing using PDMS stamps, we find that the more rigid hybrid polymer used here prevents unintended transfer from interspaces between structures of large distance due to roof collapse and deformation of nano-sized structures due to lateral collapse. Yet, our stamps are flexible enough to ensure intimate contact with the underlying substrate over large areas even in the presence of defect particles. Additionally, the presented patterning technique is resist-, solvent-, and chemical-free and is therefore ideally suited for applications in organic nanoelectronics where standard nanostructuring methods can harm or destroy the organic material.
Keywords
Nano-transfer printing
Thin-film
Nanofabrication
Material science
Nanotechnology
Background
Nano-transfer printing (nTP) is a promising technique to directly produce patterns of metallic films at the nano-scale on different kinds of substrates without the need of conventional lithographic methods. Here, the pattern is initially defined on a stamp as a 3D-relief structure. After metal deposition on the entire stamp area, its relief is brought into intimate contact with the target substrate. If the adhesion of the metal film towards the substrate is stronger than towards the stamp, the film will adhere on the target substrate upon release of the stamp [1, 2]. Consequently, nano-scale metal structures can be easily defined in a purely additive process. As this process does not necessarily involve high temperatures, nor any form of chemistry (e.g., organic solvents, developer solutions, etc.), it is especially interesting for applications where harsh conditions should be avoided (e.g., organic electronics) [3]. Note, that in a nTP process, while the stamp itself needs to be structured with some sort of high-end, cost-intensive lithographic methods (e.g., e-beam lithography), as it then serves as a template for multiple transfer processes, the initial effort is capitalized more efficiently. The quality of this transfer printing process depends mainly on the quality of the stamp, the difference in adhesion between stamp/metal and substrate/metal, and the metal film itself [4, 5]. Silicon stamps, where the structure is defined by partially etching a silicon wafer to produce a 3D-relief structure have proven to be suitable for nTP. The silicon surface can be modified by a self-assembled monolayer (most prominently perfluorooctyltrichlorosilane [PFOTS]) to reduce its surface free energy which significantly reduces the adhesion of metals [6]. We previously demonstrated the fabrication of arrays of nano-scale tunneling diodes using nTP with structured silicon stamps [7].
Nonetheless, there are a few drawbacks involved with using silicon stamps: due to the high elastic modulus of silicon, such stamps can in general not easily adapt to inhomogeneous surfaces or particles on the substrate. As a result, the reliability of the transfer process is limited. Additionally, remaining metal on the stamp can significantly impede the establishment of conformal contact in subsequent transfer attempts and thus prevent a successful transfer of the metal film. As a result, nTP stamps in general can be mostly used only once. Consequently, a better approach is to use the silicon stamp as a master template for replication of a daughter, or working stamp based on a cheaper and preferably more flexible material. Those working stamps would still be one-time-use-only, yet the replication process can be very fast and results in a fresh and clean stamp for each metal transfer.
One prominent example is polydimethysiloxane (PDMS), which has not only been widely adopted for micro-contact printing (μCP) [8, 9], but also for nano-transfer printing. Its inherently low surface free energy enables the transfer of metal films without further modification of the stamp's surface. Moreover, the low Young's modulus of PDMS (<100 KPa) [10] facilitates the establishment of intimate contact between stamp and target substrate and allows transfer printing without application of external pressure. Yet, at the same time, this flexibility can also lead to unwanted defects during transfer caused by sagging or collapsing of the 3D structures on the stamp. This limits the minimal achievable structure size and can lead to collapse of high-aspect-ratio features during transfer [11].
Here, we describe a method to use OrmoStamp®;, a commercially available UV-curable, solvent-free, organic/inorganic-hybrid polymer from Micro resist technology GmbH, Berlin, as a viable, cost-efficient material for stamp replication in a nTP process. OrmoStamp®; has initially been developed for UV nanoimprint lithography (UV-NIL) as an alternative to the use of expensive quartz wafers and is suitable for replication of silicon master templates with structures in the low nanometer range [12]. Once cured, the optical transparent replica has a Young's modulus of 650 MPa (according to manufacturer's processing guidelines [micro resist technology GmbH]), and its surface can be modified with the same organic chemistry (PFOTS) as silicon to decrease its surface free energy. We demonstrate a successful approach to use OrmoStamp®; working stamps to reliably transfer print at the same time both micrometer- and nanometer-sized metal structures onto silicon target substrates. Furthermore, we investigate the influence of different process parameters on the achievable transfer yield.
Methods
OrmoStamp-Based Master Replication
The fabrication of working stamps comprises two successive replication processes (basically two adapted UV-NIL processes): (1) negative replication of silicon master, and (2) replication of the negative replica to obtain a positive working stamp. First, the silicon master is exposed to oxygen plasma and then coated with a self-assembled monolayer (SAM) of PFOTS (perfluorooctyltrichlorosilane) in a desiccator at low pressure and room temperature by physical vapor deposition for 30 min. Afterwards, the master is baked on a hotplate at 150 °C for 30 min to remove any physisorbed molecules. Next, a defined amount of the OrmoStamp®; resin is placed on the master, and a thin glass plate is placed carefully on the droplet (Fig.
1
a
). To improve the adhesion of the OrmoStamp®; resin to the glass backing, the latter is coated with an adhesion promoter (OrmoPrime08®;) before the replication process. Without applying any pressure, the resin spreads between master and glass to form a thin layer (20–30
μ
m) and fills up any gaps by capillary forces. When the resin is fully spread, it is exposed to UV light from a mask-aligner (Hg lamp, 350 W,
∼
7 mW cm
−2
at 365 nm [i-line]) for 12s to initiate the curing process (Fig.
1
b
). Afterwards, the glass plate together with the cured polymer can be carefully released from the master by lifting the glass with a thin razor blade. The cured replica stamp requires a hard bake for 30 min at 130 °C on a hot plate (Fig.
1
c
). Finally, the replica is exposed to a mild oxygen plasma and coated with a PFOTS SAM as described above. We checked the efficacy of this SAM treatment by means of a static water contact angle (CA) measurement: the coated surface exhibits a CA of 110°, while an uncoated surface has a CA of
∼
80° (Additional file
1
: Figure S1).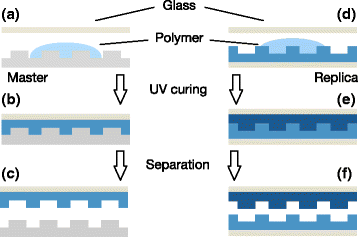 We can then use this negative replica to produce a positive working stamp following the same procedure (Fig. 1 a–c). The final working stamp is backed by a ∼ 0.1 mm thin microscope cover glass. A thin backing of the working stamp is favorable to retain the flexibility of the polymer layer. This way, we obtain a transparent, semi-flexible, defect-free, identical copy of the original silicon stamp. We are able to reliably produce multiple, identical working stamps from a single negative replica of a silicon master.
Metal Transfer Printing
In this article, we mainly use silicon as a model substrate, due to its importance in semiconductor industry and research. In principle, a variety of substrate materials (glass, plastics, organic polymers, just to name a few) can be used the same way as presented in the following procedure for metal transfer printing with replicated stamps (a nTP carried out on a glass substrate is shown in Fig.
7
c
: (1) the ready-to-use stamp is coated with a gold/titanium metal layer in a high-vacuum physical vapor deposition system. Typically we use 20 nm gold and 3 nm titanium. The thin titanium layer improves the adhesion of the gold layer to the target substrate (silicon). (2) The target substrate is cleaned (acetone/isopropanol) and preconditioned in an oxygen plasma. (3) The stamp is placed with the metal layer facing downwards onto the target substrate and put into a pressure chamber (Obducat NIL machine). (4) A uniform pressure is applied via compressed nitrogen for a specified period of time. Optionally, the temperature can be increased during the transfer printing process. (5) Finally, the stamp is lifted from the substrate (see Fig.
2
). Micrometer-sized structures can be easily transfer printed using OrmoStamp replicas over a large area.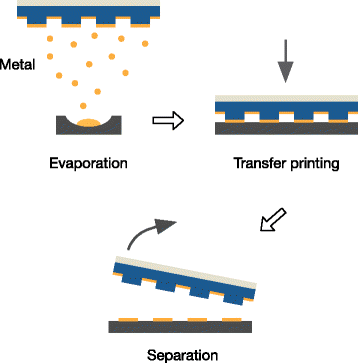 Conclusions
We have demonstrated nano-transfer printing with replicated semi-flexible, hybrid polymer stamps down to 40 nm feature size. Typical problems regarding nTP such as master reusability, defect tolerance, process cost and speed have been solved utilizing this replication technique. Working stamps based on OrmoStamp®; material are flexible enough to ensure intimate contact with the underlying substrate over large areas even in the presence of contaminating particles. Yet, the polymer is rigid enough for printing features in the sub-50-nm regime without lateral or roof collapse of the structures. Temperature and contact duration have been found to be the main parameters influencing the yield of nTP on silicon substrates. Using the optimized procedure presented in this work, a high yield above 99 % has been achieved repeatedly.
The main advantages compared to conventional working stamps made out of PDMS are the very high feature resolution and the more suitable UV-light curing process of the stamp material on the master mold instead of thermal curing, which results in a highly increased fabrication throughput.
Additionally, the avoidance of standard nanostructuring methods like e-beam and UV-light exposure, reactive ion etching as well as any kind of solvents or developers on the substrate during the nTP procedure make this process ideally suited for organic electronics where the organic materials tend to degrade rapidly under the influence of harsh conditions. In summary, this will open up opportunities for a wide range of applications of metal nanostructures in science and engineering such as energy conversion, sensing on solids and flexible substrates.
Declarations
Acknowledgements
The authors acknowledge financial support from the German Research Foundation (DFG).
Open Access This article is distributed under the terms of the Creative Commons Attribution 4.0 International License(http://creativecommons.org/licenses/by/4.0/), which permits unrestricted use, distribution, and reproduction in any medium, provided you give appropriate credit to the original author(s) and the source, provide a link to the Creative Commons license, and indicate if changes were made.
Authors' Affiliations
(1)
Institute for Nanoelectronics, Technische Universität München, München, Germany