Modelling of Three-Dimensional Nanographene
Nanoscale Research Letters
2016
11:151
Received: 16 February 2016
Accepted: 2 March 2016
Published: 16 March 2016
Abstract
Monte Carlo simulations and tight-binding calculations shed light on the properties of three-dimensional nanographene, a material composed of interlinked, covalently-bonded nanoplatelet graphene units. By constructing realistic model networks of nanographene, we study its structure, mechanical stability, and optoelectronic properties. We find that the material is nanoporous with high specific surface area, in agreement with experimental reports. Its structure is characterized by randomly oriented and curved nanoplatelet units which retain a high degree of graphene order. The material exhibits good mechanical stability with a formation energy of only ∼0.3 eV/atom compared to two-dimensional graphene. It has high electrical conductivity and optical absorption, with values approaching those of graphene.
Keywords
3D grapheneMonte Carlo simulationsTight-binding calculationsStructureRigidityElectronic structureConductivityAbsorption
Background
Recent efforts in graphene research include the realization of three-dimensional (3D) bulk materials with graphene nanoplatelets (nanoribbons) as their building blocks [1–4]. These architectures are envisioned such as to retain the exceptional properties of 2D graphene in addition to providing mechanical robustness, high surface area, and macroporosity, properties that are invaluable for a plethora of applications including catalysis, sensors, and energy storage and conversion (carbon-based supercapacitors, electrodes in Li-ion batteries, active materials in solar cells), among others. In addition, the preservation of high conductivity and electron mobility is essential for any possible electronic applications.
The reported up-to-date 3D graphene structures, produced by a variety of experimental techniques, such as chemical vapor deposition (CVD) [1], assembly, and chemical treatment of graphene oxide (GO) sheets [5, 6], or pyrolysis and etching of sol-gel organic polymers [4, 7], generally visualize the resulting 3D networks as porous and spongy, composed of nanometer-sized (2–10 nm) curved nanoplatelets randomly oriented, interconnected, and intertwined. The aim is to avoid restacking of individual sheets which suppresses conductivity and mechanical strength and lowers the surface area. However, besides their porous nature, the 3D structures are reported to be distorted, in the sense that the nanoplatelets are deformed, possibly containing both topological and point defects. Also, at the junction areas where the platelets meet and merge, and at the edges, one might expect carbon hybridizations other than the planar sp 2 geometries of the graphene plane, which may possibly alter the anticipated electronic conduction and optical properties of these materials.
This inherent disorder, therefore, raises a number of questions about the stability and the microstructure of these porous networks, and how this disorder influences the optoelectronic properties of 3D nanographene. Some key issues to be tackled include the rigidity and robustness of the networks, their high specific surface area, whether and in what degree they preserve graphene order and bonding percolation, and if conduction and optical absorption are strongly influenced by the deformations of the nanoplatelets.
Here, we report what is presumably the first attempt to simulate and study theoretically the structural, mechanical, and optoelectronic properties of realistic 3D nanographene (3D-NG) materials. We achieve this through a combination of atomistic Monte Carlo simulations, to generate the networks in a random unbiased way, and tight-binding calculations to relax them properly and extract their basic properties. The outstanding finding of our studies is that 3D-NG exhibits good mechanical stability and high electrical conductivity and optical absorption, approaching those of 2D graphene.
Methods
Monte Carlo simulations
We construct and characterize the 3D-NG networks in two steps, following a procedure we used earlier to construct carbon nanofoam networks [8]. In the first step, we generate networks in a random and unbiased way using atomistic Monte Carlo (MC) simulations in the (N,P,T) isothermal-isobaric statistical ensemble [9, 10]. The resulting networks are generic, representing materials produced by the various methods mentioned above. The networks are formed by condensing a "vapor" containing various randomly oriented nanoribbon graphene units with lengths 2–5 nm, both of the zig-zag and armchair types, initially positioned at large distances, under small external pressure and at 1000 K. The energetics are described by the Tersoff empirical potential [11]. We use cubic supercells of ∼1300 carbon atoms, with periodic boundary conditions, thus simulating the bulk of the material. During condensation, the nanoribbon units perform rotational moves while approaching each other. Thus, when they interact with neighboring units, they randomly agglomerate and interlink, forming a covalently bonded network, with a certain degree of deformation and fragmentation inducing disorder around the junctions and curvature alterations on the nanoribbon surfaces. The resulting networks are then relaxed at 300 K.
Tight-binding calculations
In the second step of our procedure, the 3D-NG networks generated by the MC method are fully relaxed using tight-binding molecular dynamics (TBMD) simulations in the (N,V,T) canonical ensemble. We first anneal extensively the networks at 2000 K in order to bring the structures out of any local energy minima, and then we relax the volume/density at 300 K, where the structural, mechanical, and electronic properties are inferred. The calculations are carried out within the TB framework developed at the Naval Research Laboratory (NRL) [12]. This is a two-center non-orthogonal model, using s and p atomic-like orbitals and distance- and environment-dependent parameters for transferability between different structures. The successful description of various carbon phases by this model was previously demonstrated [8, 13]. Due to the large size of the supercell (thus small Brillouin zone), we only use the Γ point for the calculation of energies and optoelectronic quantities.
The model also describes nicely the well-known [
14
,
15
] instability of the ideal planar graphene layer towards roughening, characterized by undulations and ripples. Figure
1
shows a snapshot of the graphene plane from TBMD simulations at 300 K. Ripples of the order of
∼
1 Å are evident.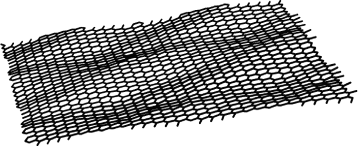 Conclusions
In conclusion, we reported here the first simulational and theoretical study of the structural, mechanical, and optoelectronic properties of realistic 3D nanographene materials, through Monte Carlo simulations and tight-binding calculations. We found that 3D-NG is characterized by nanoporosity and high specific surface area. It is a random network at the macrolevel but with high graphene order at the nanolevel, within the nanoplatelet units. It exhibits good mechanical stability and high electrical conductivity and optical absorption, approaching those of 2D graphene. These characteristics and the calculated relevant quantities are in good agreement with experimental measurements. Actually, some of them, such as the electrical conductivity, are even higher than what is reported experimentally. This may indicate that there is room for improvement of these materials at the lab through better unit connectivity and percolation, and pore size and density control.
Declarations
Acknowledgements
This work is supported by the Strategic Infrastructure Project NEW INFRASTRUCTURE/ ΣTPATH/0308/04 of DESMI 2008, which is co-financed by the European Regional Development Fund, the European Social Fund, the Cohesion Fund, and the Research Promotion Foundation of the Republic of Cyprus.
Open Access This article is distributed under the terms of the Creative Commons Attribution 4.0 International License (http://creativecommons.org/licenses/by/4.0/), which permits unrestricted use, distribution, and reproduction in any medium, provided you give appropriate credit to the original author(s) and the source, provide a link to the Creative Commons license, and indicate if changes were made.
Authors' Affiliations
(1)
Research Unit for Nanostructured Materials Systems, Department of Mechanical and Materials Science Engineering, Cyprus University of Technology, Limassol, Cyprus
Copyright
© Mathioudakis and Kelires. 2016