Structural Properties and Phase Transition of Na Adsorption on Monolayer MoS2
Nanoscale Research Letters
2016
11:330
Received: 1 June 2016
Accepted: 7 July 2016
Published: 15 July 2016
Abstract
First-principles calculations are performed to investigate the structural stability of Na adsorption on 1H and 1T phases of monolayer MoS2. Our results demonstrate that it is likely to make the stability of distorted 1T phase of MoS2 over the 1H phase through adsorption of Na atoms. The type of distortion depends on the concentration of adsorbed Na atoms and changes from zigzag-like to diamond-like with the increasing of adsorbed Na atom concentrations. Our calculations show that the phase transition from 1H-MoS2 to 1T-MoS2 can be obtained by Na adsorption. We also calculate the electrochemical properties of Na adsorption on MoS2 monolayer. These results indicate that MoS2 is one of potential negative electrodes for Na-ion batteries.
Keywords
First-principles
MoS2
Structural stability
Phase transition
Background
In recent years, the study of transition-metal dichalcogenides (TMDs) has been a topic of current interest due to their layered structure [1, 2]. TMDs exhibit a broad range of properties, which are advantageous for a wide range of applications as high-performance functional nanomaterials [3]. Among them, molybdenum disulfide (MoS2) has attracted considerable attention because of its important role in ultrasensitive photodetectors, flexible electronic device, lithium ion battery, field effect transistors, and sodium-ion batteries [4–7]. These applications show high figure of merit in microelectronics, thermoelectrics, and optoelectronics.
Bulk MoS2 crystal is an indirect-gap semiconductor, which is built up of atomic layers stacking by weak van der Waals force. It is possible to exfoliate MoS2 monolayer from the bulk, owing to the weak van der Waals interaction between these layers [8, 9]. The typical monolayers of TMDs come in two varieties, called H and T phase with trigonal or octahedral prismatic coordination, respectively [10]. Consequently, MoS2 monolayers come in two phases, called 1H-MoS2 and 1T-MoS2 [11]. The 1H-MoS2 phase has the space group of P6/mmc and is semiconducting with a direct band gap [12]. The 1T-MoS2 phase is metallic and metastable relative to the 1H-MoS2 phase [13]. However, stable 1T-MoS2 phase can be realized by doping of MoS2 with Re atoms [14] and be stabilized by adsorption of Li atoms [15].
Previous studies demonstrated the phase transition between 1H-MoS2 and 1T-MoS2 in the early lithiation process [16–20]. The charge transfer induced by the adatoms leads to turn 1T-MoS2 phase into a stable MoS2 phase. The phase transition is the main issue for application in Li-ion batteries [20, 21] and Na-ion batteries [22, 23]. A large amount of experimental and theoretical works on the application of MoS2 in Li-ion batteries has emerged in the past years [16–21]. Kan et al. [16] studied possible pathways of structural phase transition between 1H-MoS2 and 1T-MoS2 by increasing lithium adsorption concentration constantly. Esfahani et al. [18] calculated the H-T transition by adsorption of Li atoms on both sides of the MoS2 monolayer. Mortazavi et al. [22] investigated phase transition between 2H-MoS2 and 1T-MoS2 upon Na intercalation. Li-ion batteries are prime energy storage systems at present in amounts of devices used in our daily lives such as smartphones and laptops. Na-ion batteries are excellent alternatives to Li-ion batteries because of their lower cost and the greater availability. However, to our knowledge, there are few theoretical calculations on Na adsorption on monolayer MoS2.
In this work, we perform a comprehensive first-principles study of the electronic structure, adsorption energies, phase transitions, and electrochemical properties for Na-adsorption compounds. All reasonable structure phases of MoS2 monolayer are introduced. Our results suggest that it is easily to turn to be octahedral phases by Na-adsorption for 1T-MoS2, such as ZT-MoS2 with zigzag Mo-Mo chains and DT-MoS2 in rhombus-shape with Mo-Mo chains. Furthermore, Na adsorption on the MoS2 surface can lead to a structural phase transformation from 1H-MoS2 to an octahedral coordinated MoS2. Average operating voltages by Na adsorption are calculated. This will be helpful to understand the basic processes involved in monolayer MoS2 applied in Na-ion batteries.
Methods
Our calculations are carried out by using the Vienna Ab-initio Simulation Package (VASP) package [24], which is based on density functional theory (DFT) and plane-wave pseudopotential method. The electron exchange-correlation energy is described in the Perdew-Burke-Ernzerhof (PBE) form for the generalized gradient approximation (GGA) [25]. The cut-off energy is set to be 600 eV for the plane-wave expansion of the wave functions. The Brillouin zone integration is represented by the Monkhorst-Pack k-point scheme with 9 × 9 × 1 and 5 × 5 × 1 grid meshes for the (1 × 1) unit cell and (4 × 4) supercell, respectively. The criterion of convergence of energy is chosen as 10−5 eV between two ionic steps, and the maximum force allowed on each atom is 0.01 eV/Å. The vacuum space along the z direction is taken to be more than 15 Å for the both 1H-MoS2 and 1T-MoS2.
The geometry structures are shown in Fig.
1
. A (4 × 4) supercell of MoS
2
monolayer consisting of 48 atoms, which contains 16 Mo and 32 S, is made up of the primitive cell of MoS
2
. 1H-MoS
2
has single S-Mo-S layer, where the Mo site in a trigonal prism coordination as shown in Fig.
1a
. 1T-MoS
2
has asymmetric sulphur atoms sites, where the Mo site in octahedral coordination as shown in Fig.
1b
.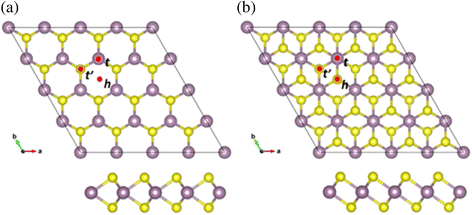 Conclusions
In conclusion, we investigated the adsorption energies, phase transition for the adsorption of Na onto MoS2 monolayer, and electrochemical properties of Na x MoS2 by using the first-principles DFT method. The traditional trigonal prismatic 1H-MoS2 phase is stable under normal conditions. However, a comprehensive study of the relative phase stability of MoS2 tells us that the other structural phase transition can be stable by adsorption. Our results show that some triangular Mo-Mo clustering appears in 1H-Na x MoS2 with the increasing of Na-adsorption concentration. On the other hand, some diamond-like Mo-Mo chains appear in 1H-Na x MoS2 when the Na-adsorption concentration is beyond 25 %. What is more, the adsorption of Na on MoS2 induces a phase transformation at x = 0.35 from the 1H to 1T phase. Our calculated results show that the adsorption of Na onto MoS2 monolayer results in a lower energy barrier from 1H to 1T-MoS2. Finally, Na x MoS2 compound is likely to become a battery anode material with a low average electrode potential of 0.72~1.28 V.
Declarations
Acknowledgements
This work was supported by the National Basic Research Program of China (973 Program) under Grant No. 2014CB643900, the Open Fund of IPOC (BUPT), the Open Program of State Key Laboratory of Functional Materials for Informatics, the National Natural Science Foundation of China (No. 61404153), and the Shanghai Pujiang Program (Grant No.14PJ1410600). P.F. Guan acknowledges the computational support from the Beijing Computational Science Research Center (CSRC).
Authors' Contributions
HH carried out the calculations and HH and PFL wrote the manuscript. LYW, CFZ, YXS, and SMW helped in the discussions and analysis of the results. PFL and PFG proposed the initial work, supervised the analysis, and revised the manuscript. All authors read and approved the final manuscript.
Competing Interests
The authors declare that they have no competing interests.
Open AccessThis article is distributed under the terms of the Creative Commons Attribution 4.0 International License (http://creativecommons.org/licenses/by/4.0/), which permits unrestricted use, distribution, and reproduction in any medium, provided you give appropriate credit to the original author(s) and the source, provide a link to the Creative Commons license, and indicate if changes were made.
Authors' Affiliations
(1)
State Key Laboratory of Information Photonics and Optical Communications, Ministry of Education, Beijing University of Posts and Telecommunications, Beijing, China
(2)
Beijing Computational Science Research Center, Beijing, China
(3)
State Key Laboratory of Functional Materials for Informatics, Shanghai Institute of Microsystem and Information Technology, Chinese Academy of Sciences, Shanghai, China
(4)
Photonics Laboratory, Department of Microtechnology and Nanoscience, Chalmers University of Technology, Gothenburg, Sweden