Surfactant-assisted solvothermal synthesis of pure nickel submicron spheres with microwave-absorbing properties
Nanoscale Research Letters
2016
11:352
Received: 22 June 2016
Accepted: 21 July 2016
Published: 29 July 2016
Abstract
Pure metallic nickel submicron spheres (Ni-SSs), flower-like nickel nanoflakes, and hollow micrometer-sized nickel spheres/tubes were controllably synthesized by a facile and efficient one-step solvothermal method with no reducing agent. The characteristics of these nickel nanostructures include morphology, structure, and purification. Possible synthesis mechanisms were discussed in detail. The resultant Ni-SSs had a wide diameter distribution of 200~800 nm through the aggregation of small nickel nanocrystals. The ferromagnetic behaviors of Ni-SSs investigated at room temperature showed high coercivity values. Furthermore, the microwave absorption properties of magnetic Ni-SSs were studied in the frequency range of 0.5–18.0 GHz. The minimum reflection loss reached −17.9 dB at 17.8 GHz with a thin absorption thickness of 1.2 mm, suggesting that the submicron spherical structures could exhibit excellent microwave absorption properties. More importantly, this one-pot synthesize route provides a universal and convenient way for preparation of larger scale pure Ni-SSs, showing excellent microwave absorption properties.
Keywords
Solvothermal method
Nickel nanostructures
Microwave absorption properties
Background
With the rapid development of nanoscience and nanotechnology, magnetic nanostructured materials have attracted significant interest because of their interesting optical, electrical, and catalytic properties, as well as response and manipulability under magnetic fields [1–3]. As a result of these characteristics, their potential applications have been proposed in several fields such as optoelectronics, magnetics, catalysis, biologic engineering, information storage, and photovoltaic technology [4–6]. In particular, extensive research has been focused on magnetic metallic nanoparticles such as nickel (Ni), cobalt, and iron which represent a group of promising nanomaterials to ascertain their usefulness in several areas such as high density magnetic recording media, chemical and photochemical catalysis, ferrofluids, and medical diagnostics because of their special structures and distinctive magnetic and physical properties [7–9].
As an important class of ferromagnetic transition metal, Ni nanoparticles are emerging and displaying many characteristics such as high magnetism, high surface area, large surface energy, excellent chemical stability, low melting point, resource-rich, and low cost [10–12]. They are widely used in several important technological fields such as magnetic materials catalysts, magnetic fluids, microwave devices, and high-sensitive gas sensors [13–15]. Specifically, metal Ni nanoparticles as an important conducting and magnetic-anisotropy material have attracted wide significant interest because of their intriguing electronic and magnetic properties under magnetic fields [16, 17]. Over the past several years, Ni nanomaterials provide the possibility of a good candidate for microwave absorbers due to their proper combination of dielectric and magnetic loss leading to wave impedance matching. It is commonly known that the microwave absorption properties of the electromagnetic wave absorbers depend on the complex permittivity and permeability [18]. Nevertheless, it is relatively difficult to achieve impedance match conditions under many conditions owing to unilateral dielectric loss or magnetic loss [19]. For example, some studies have illustrated that an array of Ni nanowires has a negative magnetic permeability as well as a negative permittivity in the resonance frequency [20]. In fact, the attenuated permeability and weak magnetocrystalline anisotropy may limit its applications at higher frequencies due to the dimension decrease and the repression of skin effect [21]. Furthermore, this phenomenon obviously shows that the physical and chemical performances of Ni nanomaterials strongly depend on the makeup, structure, size, nanoscale morphology, and polydispersity [22, 23] which are the key factors for its further application including the electromagnetic wave absorption characteristic and intensity. However, the control of the Ni/Ni-based nanomaterials fabrication is sensitive to the preparation methods.
In recent years, multiple methods are adopted for the fabrication of Ni nanomaterials, which include sputtering, solution glow discharge process, thermal decomposition, pulsed laser ablation, and metal evaporation condensation [24–26]. To date, Ni nanomaterials have been synthesized by using different controllable synthesis routes for various applications with different purities, sizes, structures, and shapes, such as nanowires, nanoparticles, nanotubes, nanosheets, hollow microspheres, and microstructures [27–29]. Although the abovementioned Ni-based nanomaterials have been made, to our knowledge, there are only few reports on the synthesis of pure Ni nanoparticles. However, the successful routes for fabrication of the desired uniform architectures are usually complicated, which always involve the use of various surfactants and still give unstable assemblies with the small nanocrystal [30]. In addition, the metallic Ni nanoparticles are easily oxidized in the presence of nonmagnetic components [31]. In spite of their high electrocatalytic activity, these nanomaterials often have certain disadvantages including poor stability and high cost [32]. Herein, many efforts have been directed toward synthesizing metal Ni nanoparticles with a rapid, simple, economical, well-reproducible, and green way.
In this work, the flower-like Ni nanoflakes, hollow micrometer-sized Ni spheres/tubes, and Ni submicron spheres (Ni-SSs) were synthesized by a facile and efficient one-step solvothermal method with no reducing agent and only one surfactant used. The structure and morphology of the series of resultant Ni nanostructures were characterized. The possible formation mechanism for three Ni hierarchical architectures was proposed, which was confirmed by the controllable surfactant-assisted synthesis routes in addition of poly (ethylene glycol) (PEG) agents. Importantly, the pure Ni-SSs were obtained successfully. Furthermore, the microwave properties of the as-made pure Ni-SSs were investigated in a wide frequency range, and it was found that the pure Ni-SSs exhibit a strong and broad electromagnetic absorption peak with excellent microwave properties. More importantly, our findings inspire a universal and convenient way, which not only controls the low-cost reaction process of pure Ni metal-based nanomaterials as microwave absorbers but also presents operational simplicity for the large-scale production.
Methods
Materials
Nickel chloride hexahydrate (NiCl2·6H2O), ethylene glycol (HOCH2CH2OH, EG), anhydrous sodium acetate (CH3COONa, NaAc), and PEG (M n = 600, 2000, 6000, 10,000) were purchased from Kelong Regent Co. Ltd, Chengdu, China. All the chemicals were used without any further purification.
Synthesis of Nickel Submicron Spheres
Nickel submicron spheres (Ni-SSs) were fabricated by a one-step process through a solvent-thermal route. As schematically illustrated in Fig.
1
, a typical procedure is described as follows: NiCl
2
·6H
2
O (5.94 g) was dissolved in 160 ml of EG in a 500-ml three-neck flask at room temperature, followed by the addition of NaAc (18.0 g). The mixture was stirred vigorously for 30 min at 30 °C to form a light green solution. The solution was obtained without the addition of any other PEG (no PEG). Then, the PEG 600, PEG 2000, PEG 6000, and PEG 10,000 with the same molar (0.0025 mol) were introduced into the abovementioned solution followed by another intensive stirring of 60 min at 60 °C. Afterwards, series of the as-made solutions were sealed in a Teflon-lined stainless-steel autoclave. The autoclave was heated and maintained at 200 °C for 15 h, then cooled down to room temperature naturally. The resultant products (labelled as Ni-0, Ni-600, Ni-2000, Ni-6000, and Ni-10000, respectively) were collected by centrifugation, rinsed several times with absolute ethanol and distilled water, separately, and dried in a vacuum oven at 60 °C for 12 h.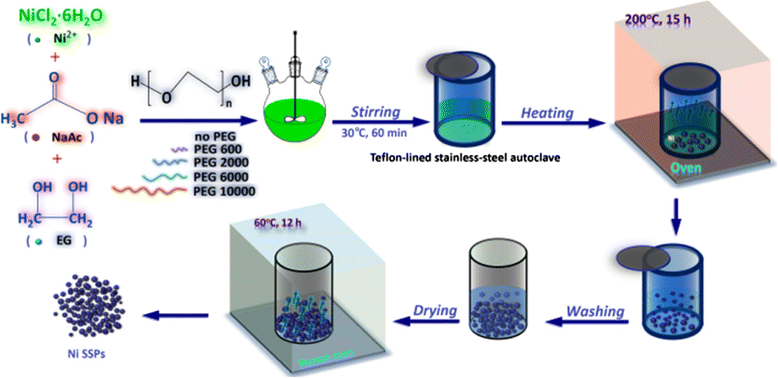 Characterization
The morphologies of the obtained samples were observed by scanning electron microscopy (SEM) (JSM, 6490LV). An energy dispersive X-ray spectrometer (EDS, EDAX GENESIS 2000XMS) associated with SEM was used to characterize the compositions of the samples. Transmission electron microscopy (TEM) and high-resolution TEM (HRTEM) images were acquired using a JEOL JEM 2010F microscope working at 200 kV. The obtained samples were further characterized by X-ray powder diffractometer (XRD) (Rigaku RINT2400 with CuKα radiation). Thermal gravimetric analysis (TGA) was performed on a TA Instruments Q50. The samples (10–15 mg) were heated from ambient temperature to 500 °C at a rate of 20 °C·min−1 under nitrogen flow with a purge of 40 ml min-1. The magnetic properties were examined using a vibrating sample magnetometer (VSM, Riken Denshi, BHV-525) at 27 °C. The microwave absorption properties were measured using a vector network analyser (Agilent 8720ET) in the frequency range of 0.5–18.0 GHz. The Ni-10000 powder samples were pulverized and mixed with paraffin with a mass ratio of 3:1 and then pressed into a cylindrically shaped compact with an outer diameter of 7.0 mm and an inner diameter of 3.0 mm.
Conclusions
In conclusion, pure metallic nickel submicron spheres have been successfully synthesized by a facile and efficient one-step solvothermal method using different PEG agents. The as-synthesized Ni-SSs can be obtained without any further processing. The solid-cores were nearly spherical in shape with a wide diameter distribution of approximately 200~800 nm through the aggregation of small Ni nanocrystals. The pure Ni-SSs with a ferromagnetic behavior exhibited high coercivity values. Furthermore, the microwave absorption properties of the magnetic Ni-SSs researched were in the frequency range of 0.5–18.0 GHz. The minimum reflection loss reached −17.9 dB at 17.8 GHz with the thickness of 1.2 mm, suggesting excellent microwave absorption properties. Therefore, this one-pot synthesize route provides a universal and convenient way for preparations of larger scale pure Ni-SSs, which can be potentially used in industrial, commercial, and defense applications.
Declarations
Acknowledgements
The work is supported by the National Natural Science Foundation of China (Grant Nos. 11104010 and 61474014).
Authors' Contributions
HG completed all the experiments and wrote the manuscript. BP, HC, JY and YZ assisted with manuscript preparation. JY, BB and HL revised the manuscript. XN conceived the study, revised the manuscript, and supervised the work. All authors read and approved the final manuscript.
Competing interests
The authors declare that they have no competing interests.
Open AccessThis article is distributed under the terms of the Creative Commons Attribution 4.0 International License (http://creativecommons.org/licenses/by/4.0/), which permits unrestricted use, distribution, and reproduction in any medium, provided you give appropriate credit to the original author(s) and the source, provide a link to the Creative Commons license, and indicate if changes were made.
Authors' Affiliations
(1)
State Key Laboratory of Electronic Thin Film and Integrated Devices, University of Electronic Science and Technology of China, Chengdu, China