Recent Advances on Neuromorphic Systems Using Phase-Change Materials
Nanoscale Research Letters
2017
12:347
Received: 4 April 2017
Accepted: 26 April 2017
Published: 11 May 2017
Abstract
Realization of brain-like computer has always been human's ultimate dream. Today, the possibility of having this dream come true has been significantly boosted due to the advent of several emerging non-volatile memory devices. Within these innovative technologies, phase-change memory device has been commonly regarded as the most promising candidate to imitate the biological brain, owing to its excellent scalability, fast switching speed, and low energy consumption. In this context, a detailed review concerning the physical principles of the neuromorphic circuit using phase-change materials as well as a comprehensive introduction of the currently available phase-change neuromorphic prototypes becomes imperative for scientists to continuously progress the technology of artificial neural networks. In this paper, we first present the biological mechanism of human brain, followed by a brief discussion about physical properties of phase-change materials that recently receive a widespread application on non-volatile memory field. We then survey recent research on different types of neuromorphic circuits using phase-change materials in terms of their respective geometrical architecture and physical schemes to reproduce the biological events of human brain, in particular for spike-time-dependent plasticity. The relevant virtues and limitations of these devices are also evaluated. Finally, the future prospect of the neuromorphic circuit based on phase-change technologies is envisioned.
Keywords
Phase-change materials
Neuromorphic
Neuron
Synapse
STDP
Brain
Conclusions
The ability to gradually induce a reversible switch between SET and RESET states, integrated with several superior transition properties such as fast switching speed, low energy consumption, and long retention, has made phase-change-based devices a leading candidate to emulate the biological synaptic events. Moreover, the excellent scalability of phase-change materials down to 2-nm size [112] also forecasts its potential to reproduce the ultra-high density neurons and synapses inside human brain. In this case, majority of the current work on electronic synapse are devoted to simulate the STDP event of the biological synapse that was reported to govern the learning and memory function by gradually changing the conductance of the phase-change materials, thereby resulting in several novel pulse schemes to adjust the device conductance with respect to the relative time delay between two external stimulus applied to device that represent pre-post spikes. Most importantly, the construction of PCM elements in array level allows for the emulation of large-scale connectivity of human brain with any given neuron having as many as 10,000 inputs from other neurons, which is exemplified by an integrated hardware with 256 × 256 neurons and 64,000 synapses [113].
In spite of the aforementioned merits, the neurons and synapses based on PCM devices are also facing some serious issues. Although the conductance of PCM device in crystalline phase can be modulated continuously, the device conductance in amorphous phase is found to suffer from a sudden change. This can be alleviated using multiple conductances per synapse and periodic corrections [
3
], but still remaining questionable. Besides, the inherent weakness of amorphous phase-change materials including resistance drift or relaxation of the amorphous phase after the melt-quenching also exacerbates the application of PCM on neuromorphic circuit systems. Another issue of PCM-based neuromorphic device arises from its fairly poor performance metrics mainly due to immaturities or inefficiencies in currently developed STDP learning algorithm. Under this circumstance, such inherent imperfections of the PCM devices may pose some indiscernible problems. To boost the classification accuracy, a so-called back propagation method that has received extensive application in computer science field to train artificial neural networks has recently been introduced a three-layer perceptron network with 164,885 synapses based on 2-PCM structure that was trained on a subset of a database of handwritten digits, leading to training and test accuracies of 82–83% [
114
], as shown in Fig.
26
. This work simply implies that classification accuracy can be achieved on the condition that either phase-change materials or the training algorithm permits PCM devices to serve more like a bidirectional NVM with a symmetric, linear conductance response of high dynamic range [
115
].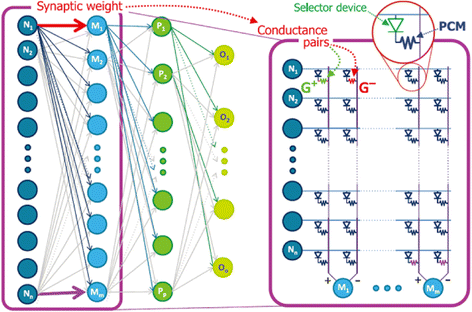 Despite the aforementioned challenges, the excellent physical properties of phase-change materials in conjunction with the currently mature technologies on PCM devices has provided an opportunity to envision the success of the future artificial neural networks that can perform the similar complex tasks to human brain while without sacrificing the occupied area and energy consumption. Device models suitable for neuromorphic architectures are still needed for application-specific performance evaluations of these systems.
Declarations
Acknowledgements
The authors acknowledge the financial supports of the Natural Science Foundation of Jiangxi Science and Technology Department (Grant No. 20151BAB217003) and the Foundation of Jiangxi Education Department (Grant No. GJJ50719).
Authors' Contributions
LW collected and reviewed the data for phase-change synaptic models and phase-change synaptic devices and drafted the manuscript; SL collected and reviewed the data for phase-change neural network; JW collected and reviewed the data for phase-change neurons. All authors read and approved the final manuscript.
Competing Interests
The authors declare that they have no competing interests.
Publisher's Note
Springer Nature remains neutral with regard to jurisdictional claims in published maps and institutional affiliations.
Open AccessThis article is distributed under the terms of the Creative Commons Attribution 4.0 International License (http://creativecommons.org/licenses/by/4.0/), which permits unrestricted use, distribution, and reproduction in any medium, provided you give appropriate credit to the original author(s) and the source, provide a link to the Creative Commons license, and indicate if changes were made.
Authors' Affiliations
(1)
School of Information Engineering, Nanchang HangKong University, Nanchang, People's Republic of China
(2)
Department of Automatic Control, School of Information Engineering, Nanchang Hangkong University, Nanchang, People's Republic of China