Colorimetric Humidity Sensors Based on Electrospun Polyamide/CoCl2 Nanofibrous Membranes
Nanoscale Research Letters
2017
12:360
Received: 12 April 2017
Accepted: 11 May 2017
Published: 19 May 2017
Abstract
Humidity indicators based on composite polyamide 66/cobalt chloride (PA66/CoCl2) nanofibrous membranes (NFMs) were successfully fabricated by electrospinning. A series of NFMs with various weight percentage of CoCl2 to PA66 were prepared, and their humidity sensitivity based on color changing and quartz crystal microbalance (QCM) were studied. Due to the color change property of cobalt chloride, the as-spun composite NFMs show obviously macroscopic color change from blue to pink as relative humidity (RH) increasing from 12.4 to 97.2%. Moreover, the QCM detection showed a linear dependence on the RH changing and exhibited short response/recovery time (less than 65.4 s/11 s), small hysteresis (less than 11%), good reproducibility, and stability. Owing to the above double sensitive mechanism on RH, the PA66/CoCl2 composite NFM may show great potential applications from meticulous to coarse.
Keywords
Colorimetric humidity sensorElectrospinningPA66/CoCl2 nanofibrous membranes
Background
Relative humidity (RH) sensor is mainly used for monitoring atmospheric humidity environment and shows important applications in warehousing [1], environmental monitoring [2], instruments and meters, and meteorology [3]. Until now, various types of humidity sensors have been reported, such as resistance type [4], capacitor type [5], field-effect-transistor type [6], optical type [7, 8], and so on. Among these types of sensors, the optical type has attracted a lot of interests since it is supplying a change in optical properties, easily detectable with the naked eye (visual) which is suitable for applications in daily life [8–10].
It is now believed that RH sensors based on the electrospun nanofibrous membranes (NFMs) show improved sensor sensitivity due to their large surface area to volume ratio [11–13], providing an increased number of sites for analyte interaction or signal transduction [10, 14–17]. For example, electrospun polyamide 6 nano-fiber/net modified by polyethyleneimine was investigated as RH indicator detected by quartz crystal microbalance (QCM) [14]. It shows high sensitivity and the response and recover times are 120 and 50 s, respectively, with RH changing from 2 to 35% [14]. Moreover, ceramic LiCl-doped ZnO electrospun fibers were also fabricated as humidity sensor, with response time and recovery time about 3 and 6 s [15].
While the sensitivity of the above humidity sensors based on electrospun fibers were detected by precise instrument, [14, 15] it may do not work in practical application limits to conditions. Optical humidity sensors will be a possible solution. Since RH do not have measurable intrinsic optical properties, some intermediate agent will be introduced to show a change in optical property. At present, several intermediate agents have been adapted to realize colorimetric indicator for humidity including photonic crystal [8, 9, 18], polymer electrolyte thin films [19], doped cholesteric liquid crystal [20], and crystalline covalent organic framework nanofibers [21]. In addition, cobalt chloride has been applied as colorimetric RH indicator for its color changes when contaminated by water [7]. Typical colorimetric RH indicator such as silica gel self indicator and CoCl2-based optical humidity sensor [7, 22] have been presented. However, colorimetric humidity sensor based on electrospun fibers was rarely investigated.
In this work, we fabricated PA66/cobalt chloride NFMs by electrospinning and investigated its humidity sensing properties by extensive color change and both fine quartz crystal microbalance (QCM). The results showed that the electrospun PA66/cobalt chloride NFM sensors exhibiting high humidity sensitivity with obviously color change, rapid response/recovery performance, small hysteresis, excellent reproducibility, and good stability.
Methods
Preparation of Polymer/Cobalt Chloride Solutions
The solutes were CoCl2·6H2O (Sinopharm Chemical Reagent Co., Ltd) and PA66 (Tianjin Heowns Biochem LLC., China). As a comparison, the concentrations of CoCl2·6H2O in these solutes were 0 (pure PA66), 10, 30, and 50 wt%, respectively. Dissolved these solutes in formic acid at 12 wt% and stirred thoroughly for 6 h at room temperature, then the uniform precursor solutions were obtained.
Fabrication of Colorimetric Nanofiber Membranes for Humidity Detection
The process of fabricating fiber membranes by electrospinning is depicted in Fig.
1a
. Firstly, the precursor solution was loaded into a syringe and regulated the flow rate of the solution at 10 μL min
−1
by a syringe pump (LSP01-1A, Baoding Longer Precision Pump Co., Ltd., China). The applied voltage was kept at 18 kV, and the distance between the needle and collector was about 15 cm. The ambient humidity was controlled at 50–60% RH, and the temperature was between 20 and 25 °C. Electrospinning for about 30 min, the as-spun composite NFMs could be obtained.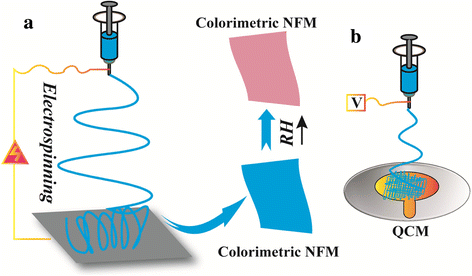 Fabrication of Sensing Membranes on QCM
To further investigate the humidity sensitivity of the as-spun NFM, we also selected QCM for precision measurement. The process of fabricating sensing NFMs on the QCM (CHI400C, Shanghai Huachen Instruments Co., Ltd., China) chip is showed in Fig. 1b. Under the above electrospinning conditions, PA66/cobalt chloride NFMs were deposited onto the surface of the QCM chip, and then the humidity sensitivity can be measured.
Characterization
The photographs of the colorimetric NFMs were recorded by a digital camera (DSC-TX9C 50i). Absorption spectra were recorded by a UV-vis spectrometer (U-4100, Hitachi) under absorption mode. The morphologies and structures of the NFMs were characterized by a scanning electron microscopy (SEM, EVO MA 10/LS 10, CARL ZEISS Co., Ltd., Germany) and a transmission electron microscope (TEM, JEM-2100PLUS, JEOL Ltd., Japan). Fourier transform infrared (FT-IR) spectra were recorded on a Thermo Scientific Nicolet In10 spectrometer. Means for humidity control are saturated salt solution humidity bottles, which have a stable humidity environments of 12.4% RH (Saturated LiCl solution, in 20 °C), 33.6% RH (Saturated MgCl2 solution, in 20 °C), 55.2% RH (Saturated Na2Cr2O7·2H2O solution, in 20 °C), 75.5% RH (Saturated NaCl solution, in 20 °C), and 97.2% RH (Saturated K2SO4 solution, in 20 °C), respectively.
Conclusions
In summary, hybrid PA66/cobalt chloride humidity sensitive colorimetric nanofibrous membranes have been fabricated successfully by electrospinning. The influences of CoCl2 concentrations on morphology, color, and humidity sensitivity of the NFMs have also been systematically studied. The hybrid membranes exhibit different colors in different humidity conditions, indicating that PA66/cobalt chloride NFMs have promising application in visual hygrometer. Furthermore, PA66/cobalt chloride NFMs deposited on QCM also exhibit interesting humidity sensing properties. Since the nanofibrous structure may increase the sensing area and surface activity, the QCM-based humidity sensor shows high sensitivity, fast response, and recovery time, good reproducibility in moisture-sensitive and longtime stability in a stable humidity environment with a little frequency shift. These results indicate that the PA66/cobalt chloride NFM sensor has potential applications in humidity detection.
Declarations
Acknowledgements
This work was supported by the National Natural Science Foundation of China (51373082 and 51673103), the Taishan Scholars Programme of Shandong Province, China (ts20120528), the Shandong provincial key research and development plan (2016GGX102011), the Shandong Provincial Natural Science Foundation, China (ZR2016EMB09), and the Research Fund for the Doctoral Program of Higher Education of China (20133706110004).
Authors' Contributions
MHY, XY, and YZL designed the experiments. MHY, XY, and XXH prepared the colorful NFMs. MHY, XY, and XXW collected and analyzed the data of the scanning electron microscopy, transmission electron microscope, and color measurement. MHY and JZ collected and analyzed the QCM humidity characteristics. JZ, MY, and XN analyzed the IR spectra data and absorption spectra. All authors read and approved the final manuscript.
Competing Interests
The authors declare that they have no competing interests.
Publisher's Note
Springer Nature remains neutral with regard to jurisdictional claims in published maps and institutional affiliations.
Open AccessThis article is distributed under the terms of the Creative Commons Attribution 4.0 International License (http://creativecommons.org/licenses/by/4.0/), which permits unrestricted use, distribution, and reproduction in any medium, provided you give appropriate credit to the original author(s) and the source, provide a link to the Creative Commons license, and indicate if changes were made.
Authors' Affiliations
(1)
Collaborative Innovation Center for Nanomaterials & Devices, College of Physics, Qingdao University, Qingdao, China
(2)
Industrial Research Institute of Nonwovens & Technical Textiles, College of Textiles & Clothing, Qingdao University, Qingdao, China
(3)
Department of Mechanical Engineering, Columbia University, New York, USA