Review Application of Nanostructured Black Silicon
Nanoscale Research Letters
2018
13:110
Received: 11 January 2018
Accepted: 9 April 2018
Published: 19 April 2018
Abstract
As a widely used semiconductor material, silicon has been extensively used in many areas, such as photodiode, photodetector, and photovoltaic devices. However, the high surface reflectance and large bandgap of traditional bulk silicon restrict the full use of the spectrum. To solve this problem, many methods have been developed. Among them, the surface nanostructured silicon, namely black silicon, is the most efficient and widely used. Due to its high absorption in the wide range from UV-visible to infrared, black silicon is very attractive for using as sensitive layer of photodiodes, photodetector, solar cells, field emission, luminescence, and other photoelectric devices. Intensive study has been performed to understand the enhanced absorption of black silicon as well as the response extended to infrared spectrum range. In this paper, the application of black silicon is systematically reviewed. The limitations and challenges of black silicon material are also discussed. This article will provide a meaningful introduction to black silicon and its unique properties.
Keywords
Black siliconHigh absorptionSF6 Internal quantum efficiencyApplication
Background
The high reflectance of traditional silicon, which is higher than 40%, severely limits the applications of silicon-based photon sensitive devices. The large bandgap of 1.07 eV limits the useful wavelength range spectrum of bulk silicon, especially when the wavelength is above 1.1 μm. Moreover, the high reflectance across the electromagnetic spectrum seriously affects the efficiency and sensitivity of optoelectronic devices based on silicon [1]. Black silicon has been studied since 1995, when the micro-structured silicon was fabricated by reactive ion etching (RIE) with high depth-to-width ratio [2]. In the presence of gas atmosphere, silicon with spiked surface has a strong light absorption due to the light-trapping effect: the surface turns deep black and covers with micro-nanospikes after laser irradiation process has been finished, hence namely black silicon [3]. E. Mazur reported that silicon surfaces with arrays of sharp conical spikes and silicon nanoparticles possess higher absorptance in infrared wavelength range when irradiated with 500 femtosecond (fs) laser pulses in SF6 [4]. This phenomenon can be ascribed to the sulfur-doping effect in silicon.
With high absorptance in visible and infrared wavelengths, black silicon can be used in visible and infrared photodetectors, solar cells, night vision cameras, and near-infrared (near-IR) avalanche photodiode (APD). Compared to the traditional silicon, the energy band structures of black silicon has been changed, which is beneficial to be used as photoluminescence. As black silicon fabricated with fs lasers is covered with sharp conical micro-spikes arrays, it can be used as field emitters further.
Besides silicon materials, some other semiconductors, for instance indium gallium arsenide and germanium, are always used for near-infrared detection in commercial market. However, these commercial photodetectors show some shortcomings, such as expensive material cost, large noise characteristics, and poor integration with the present silicon-based electronic process. During these years, the scientists are always devoting themselves to finding efficient methods to improve the responsivity of traditional silicon materials [5–8].
Absorptance Enhanced in Black Silicon
It has been demonstrated that the absorptance of black silicon is enhanced owing to the light-trapping effect of surface morphology and energy level of dopants. In the irradiating process, the parameters of laser pulse, including spot size, pulse number and density, and scanning parameters are crucial to the form of sharp conical micro-spike arrays in substrate surface. While the micro-textured surface greatly decreases the reflection, the absorption in the range from 1100 to 2500 nm is also enhanced due to the doping of chalcogen elements. Both the energy levels of dopants and structural defects would create more intermediate states to enhance the sub-bandgap absorption of silicon. However, the laser irradiation will damage the black silicon surface, resulting in inactive electronic properties. Post-annealing treatment is often used to reduce and repair the damage of structural defects, which aims to improve the carrier mobility without an evident change on silicon surface. The annealing temperature and time should be controlled well because a low annealing temperature would not reduce defect efficiently versus a high-temperature anneal would decrease the below-bandgap absorption of micro-textured silicon significantly. As shown below, it is observed that the absorptance above 1100 nm decreases with the increasing of annealing time under the same annealing conditions. The reduced absorption in the infrared wavelength range depends on the dopant diffusion. It is clear that the samples doped by sulfur element show the largest decrease in infrared absorption, followed by selenium-doped samples and tellurium-doped samples, respectively. Furthermore, the absorption at 1550 nm strongly increases with the increasing number of fs laser pulses.
C. Wu measured the absorptance of crystalline silicon and black silicon before and after annealing shown in Fig.
1a
[
1
]. Brian R. Tull and co-workers modified the boron-doped Si (100) wafers by pre-coating sulfur, selenium, and tellurium powders, respectively, and then used fs laser to irradiate silicon wafers to form the supersaturated concentrations [
9
]. The obtained absorptance spectra before and after annealing are shown in Fig.
1b
,
c
. It is known that only black silicon doped with chalcogen exhibits high absorption between 1100 and 2500 nm. Brian R. Tull reported that the high concentration of chalcogen dopants in the nanometer-sized grains of the polycrystalline surface layer resulted in the high absorptance near the infrared wavelength [
9
]. The result is ascribed to the deep level donors created by chalcogen elements in the bandgap of silicon. They provide this explanation by supposing a simple diffusion model: the decrease in absorptance depends on the fraction of dissolved dopants. Upon annealing, these dopants diffuse from the nanometer-sized grains to the grain boundaries of surface layer. The diffusion would reduce the number of donor impurity levels which are cooperated in the bandgap of silicon, thus reducing the infrared absorption.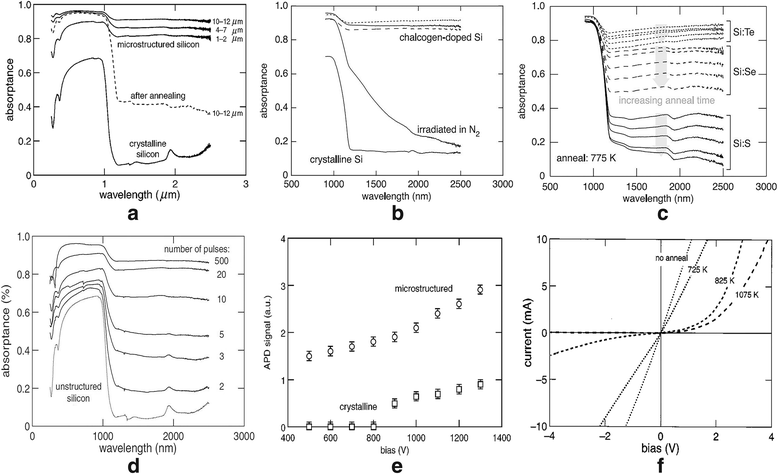 After thermal annealing, the decrease in the infrared absorptance of silicon with supersaturated chalcogen doping most likely is due to the dopant diffusion. Other mechanisms, such as clustered precipitation of dopant particles within the grains, may lead to a deactivation of infrared absorption to some extent [9]. Black silicon possesses unique optical and electronic properties that are not found in traditional bulk silicon, making it an ideal candidate material for photovoltaic devices.
Application of Black Silicon
Conclusions
As the rapid development of semiconductor industry, the applications of crystalline silicon are much more intensive. Due to the limits of high reflectivity, wide bandgap and indirect bandgap of crystalline silicon, the emergence of black silicon greatly solves the abovementioned problems. The black silicon, with lower reflectivity, higher absorption at wavelengths from 250 to 2500 nm, and excellent optical and electrical properties, becomes an ideal material in some application devices, such as high-efficiency solar cells, near-infrared detectors, and field emission. However, some technology issues also need to be solved about the black silicon materials applied on the devices, such as production efficiency to an industrial scale. Compared with typical metal-assisted chemical etching, reactive ion etching, and photoelectrochemical etching, laser-irradiated process is relatively slow for fabricating porous or nanostructured black silicon. The production rate can be improved by enlarging pulse power, spot size, or increasing scanning speed. And the material damage induced by laser-irradiated process accompanies a form of defects, which requires to be decreased and removed by anneal. The suitable anneal process is the key to achieve high photoresponse and high material quality of photovoltaic applications. How to make better use of black silicon in a specific device still requires further study.
Abbreviations
Al-BSF:

Aluminum back surface field
APD:

Avalanche photodiode
CCD:

Charge-coupled device
fs:

Femtosecond
IQE:

Internal quantum efficiency
MFC:

Micro fuel cell
near-IR:

Near-infrared
NIR/SWIR:

Near/shortwave-infrared
PL:

Photoluminescence
PSi:

Porous silicon
QE:

Quantum efficiency
RIE:

Reactive ion etching
RTA:

Rapid thermal annealing
SNSPDs:

Superconducting nanowire single-photon detectors
Declarations
Acknowledgements
This work was supported by the National Natural Science Foundation of China under grant nos. 61421002, 61574029 and 61471085. This work was also partially supported by the University of Kentucky.
Authors' Contributions
JL wrote the paper. TZ and PZ participated in the work to collect the information about nanostructured silicon. YZ and SL gave the idea and supported and polished the English language. All authors read and approved the final manuscript.
Competing Interests
The authors declare that they have no competing interests.
Publisher's Note
Springer Nature remains neutral with regard to jurisdictional claims in published maps and institutional affiliations.
Open AccessThis article is distributed under the terms of the Creative Commons Attribution 4.0 International License (http://creativecommons.org/licenses/by/4.0/), which permits unrestricted use, distribution, and reproduction in any medium, provided you give appropriate credit to the original author(s) and the source, provide a link to the Creative Commons license, and indicate if changes were made.
Authors' Affiliations
(1)
State Key Laboratory of Electronic Thin Films and Integrated Devices, School of Optoelectronic Information, University of Electronic Science and Technology of China (UESTC), Chengdu, People's Republic of China
(2)
Beijing Haidian District Vocational School, Beijing, People's Republic of China