Effect of Enhanced Thermal Stability of Alumina Support Layer on Growth of Vertically Aligned Single-Walled Carbon Nanotubes and Their Application in Nanofiltration Membranes
Nanoscale Research Letters
2018
13:173
Received: 30 January 2018
Accepted: 28 May 2018
Published: 7 June 2018
Abstract
We investigate the thermal stability of alumina supporting layers sputtered at different conditions and its effect on the growth of aligned single-walled carbon nanotube arrays. Radio frequency magnetron sputtering of alumina under oxygen–argon atmosphere produces a Si-rich alumina alloy film on a silicon substrate. Atomic force microscopy on the annealed catalysts reveals that Si-rich alumina films are more stable than alumina layers with low Si content at the elevated temperatures at which the growth of single-walled carbon nanotubes is initiated. The enhanced thermal stability of the Si-rich alumina layer results in a narrower (< 2.2 nm) diameter distribution of the single-walled carbon nanotubes. Thanks to the smaller diameters of their nanotube pores, membranes fabricated with vertically aligned nanotubes grown on the stable layers display improved ion selectivity.
Keywords
Single-walled carbon nanotubeCatalystAluminaCNT membrane
Background
Single-walled carbon nanotubes (SWCNTs) are promising materials for high-strength composites [1–3], high-speed transistors, flexible electronics [4], and nanofiltration membranes [5–7]. For the latter application, the atomically smooth inner walls of pristine SWNTs provide nearly frictionless channels for molecular transport at extraordinarily fast rates [5, 8]. Tight control on the SWCNT diameter distribution and density is critical to the production of membranes that fully exploit their outstanding fluidic properties and combine high flux with high selectivity and a sharp molecular weight cutoff [9].
Chemical vapor deposition (CVD) has been widely accepted as a controllable and large-scale synthesis method for carbon nanomaterials [10, 11]. Nanoparticles of transition metals such as iron, nickel, and cobalt have been employed in CVD to provide confined catalytic domains necessary for the growth of SWCNTs. If the density of catalyst particles is high enough, SWCNTs self-assemble during growth in vertically aligned arrays (here indicated as VA-SWCNTs), a form that is of particular interest for the fabrication of membranes with highly oriented through pores [5, 6, 12]. Carbon nanotube growth by CVD, however, occurs at high temperatures (500–900 °C in general) where atomic diffusion and the subsequent catalyst ripening processes are significantly accelerated. This thermally induced morphological evolution of catalyst particles can result in reduced catalyst lifetime [13] as well as enlarged nanotube diameters [14].
Not only the thermal stability of a catalyst particle but also the catalyst–substrate interaction is a crucial factor that determines catalyst thermal stability [15]. In this regard, various chemically inert and thermally stable oxide catalyst-support layers such as oxides of silicon [15], aluminum [15, 16], magnesium [17], and zirconium have been examined. In particular, alumina (Al2O3) thin films have been widely used as a catalyst-support layer for growth of SWCNTs and have been shown to improve the growth yield of SWCNTs (including VA-SWCNTs) by preventing the formation of unwanted metal compounds and improving the dispersion of catalyst nanoparticles [13, 16].
Previous investigations also revealed that the performance of alumina films as a supporting layer for nanotube growth depends on the deposition method. In particular, sputtering was shown to be superior to other thin film deposition methods such as electron-beam evaporation and atomic layer deposition [16, 18]. Researchers have argued that the chemical identity of the alumina film could play a role in such enhanced growth of SWCNTs. This finding naturally opened questions on the importance of alumina stoichiometry and the presence of impurities possibly incorporated into the film during the deposition process [18–20].
In this study, we explored the influence of alumina films sputtered at two different conditions on the growth of VA-SWCNTs at a high temperature (850 °C), where alumina thermal stability becomes critical. To enhance the thermal stability of alumina films, we used a reactive sputtering method (O2 + Ar) with a ceramic alumina target [21]. The chemical composition of the alumina film and the morphological change by thermal treatment were scrutinized. We then fabricated nanofiltration membranes from the VA-SWCNTs produced on alumina support layers with different thermal stability and compared their ion selectivity.
Methods
Preparation of Alumina and Fe/Mo Catalyst Layers
Radio frequency (RF) sputtering (Edwards Auto 306 DC and RF Sputter Coater) of an alumina target (99.99% pure, Plasmaterials, Inc.) was employed to deposit an alumina film on a substrate. To prevent excessive heating, the alumina target was bonded to an oxygen-free electronic (OFE) copper backing plate. For substrates, p-type silicon wafers (100) with native oxide surfaces were used. Additional heating was not applied to the substrate during the sputtering process.
For nonreactive sputtering, the chamber was pumped out to the base pressure of approximately 3 × 10−5 Torr. Before the ignition of plasma, argon gas was introduced, and the pressure reached approximately 5.8 mTorr. Upon the plasma ignition at 210 W (4.8 W/cm2), the sputtering process was initiated. The deposition rate was approximately 0.6 nm/min, and the deposition process was finalized when the final thickness of the film became approximately 30 nm. For reactive sputtering, the same procedure was followed, but oxygen gas was additionally introduced and mixed with the argon gas. The presence of oxygen not only increased the chamber process pressure from 5.8 to 6.2 mTorr but also decreased the deposition rate (0.5 nm/min).
To deposit growth catalysts, a very thin Fe/Mo bilayer (0.5 nm/0.2 nm, respectively) was additionally deposited onto the above alumina film by using an e-beam evaporator (Edwards EB3 electron beam evaporator). Fe and Mo targets (99.95–99.99% pure, Plasmaterials Inc.) were used. The base pressure for the catalyst deposition was maintained below 4 × 10−6 Torr. After the completion of catalyst deposition, the wafer was cut into individual chips (1 × 1 cm2) for the subsequent high-temperature annealing process.
Alumina Annealing and CVD Growth of VA-SWCNTs
For annealing and growth of CNTs at high temperatures, the catalyst sample was placed in home-built atmospheric pressure thermal CVD setup consisting of a gas feeding system and a quartz tube furnace (Lindberg Blue TF55035A, Thermo Electron Corp.) as shown in Fig.
1a
. Helium (purity 99.999%, air liquid), hydrogen (purity 99.9999%, air gas), and ethylene (purity 99.999%, air gas) gases were introduced through inline gas purifiers (PureGuard, Johnson Matthey) to the quartz tube. The flow rate of each gas was adjusted using mass flow controllers (MKS). Figure
1b
describes the CNT growth process. The catalyst sample was heated to 850 °C at a ramp rate of 50 °C/min. During the temperature ramp, helium (515 SCCM) and hydrogen (at
T
 > 400 °C, 400 SCCM) were flown into the quartz tube. The catalyst was then annealed at that temperature under the same gas atmosphere for 12 min. The system was then equilibrated for 3 min at a reduced hydrogen flow rate (15 SCCM). To initiate the growth of CNTs, a gas mixture of ethylene (100 SCCM), hydrogen (15 SCCM), and helium (515 SCCM) was introduced. For annealing-only experiments, the same procedure was followed, but the process was finalized before the introduction of ethylene gas. More details of the growth system and the CVD process can be found in our previous paper [
22
].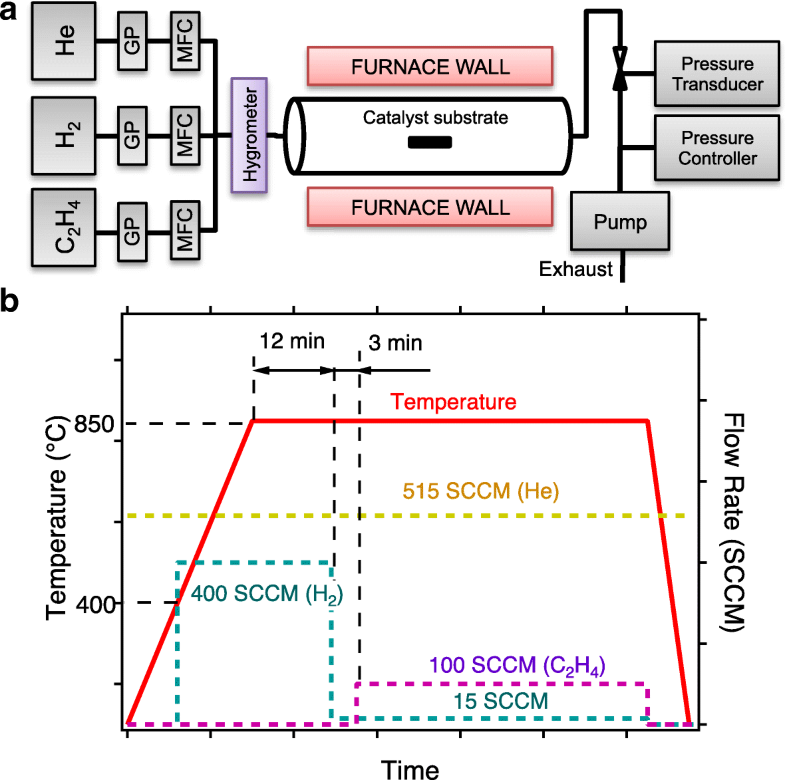 Characterization of Catalyst Films and Carbon Nanotubes
Surface morphologies of catalyst films were examined using atomic force microscopy (AFM) (MFP 3D, Asylum Research) in a tapping mode. The specimen for cross-sectional transmission electron microscopy (TEM) imaging was prepared by argon ion milling (PIPS691, GATAN). TEM (JEM-ARM200F, JEOL) with energy-dispersive X-ray spectroscopy (EDX) (QUANTAX 400, Bruker) was used for imaging and elemental analysis of the catalyst film. The graphitic structure quality of the as-grown CNTs was evaluated by Raman spectroscopy (Nicolet Almega XR dispersive Raman spectrometer, Thermo Scientific). A HeNe laser (wavelength 632.8 nm) was focused on the top surface of the nanotube arrays through a × 100 objective lens. Laser power was limited to approximately 0.1 mW in order to prevent laser-induced damage on SWCNTs. TEM (Philips CM300-FEG TEM) was also used to obtain a diameter distribution of the nanotubes.
Fabrication of CNT Membranes and Nanofiltration Experiments
Low-stress silicon nitride (SiNx) was conformably deposited by low-pressure chemical vapor deposition (LPCVD) onto as-grown VA-SWCNTs supported by a prepatterned Si wafer. This ceramic material closed the inter-nanotube gaps and provided the CNT membrane with mechanical strength necessary for pressure-driven flow experiments. To open both ends of nanotubes to fluid transport, argon ion milling was first used to remove metal nanoparticles and alumina on the catalyst side, and then, reactive ion etching with oxygen plasma was applied to both sides in order to remove excessive silicon nitride and uncap the nanotubes. The final result was a membrane with VA-SWCNTs as the only through pores in an otherwise impermeable SiNx matrix. A more detailed description of the membrane fabrication process is provided in our previous paper [5]. Representative scanning electron microscopy images (SEM; JEOL7401-F) of CNT membrane cross-sections are given in Fig. 5.
Consistently with previous literature (Additional file 1: Table S1), membranes that showed (a) no macroscopic voids in SEM imaging during the fabrication steps, (b) no detectable flux before etching, (c) enhanced gas and liquid transport rates after opening when compared with classical transport theories, (d) a gas permeance independent of applied pressure, and (e) fully rejected 5-nm gold nanoparticles during filtration were judged to be defect free and then used for ion rejection studies. The filtration cell and protocols for the nanofiltration experiments and capillary electrophoresis (CE) analysis are described in detail elsewhere [5, 6]. Briefly, 2 ml of 1 mM potassium chloride (KCl, 99.999%, Aldrich) or 0.5 mM potassium sulfate solution (K2SO4, 99%, Sigma, St. Louis, MO) was pressurized at a 0.69-bar pressure differential through a CNT membrane with a controlled nitrogen gas line. After 150–200 μl of solution had permeated through the CNT membrane, samples from both feed and permeate were collected for analysis by capillary electrophoresis (Hewlett Packard 3D CE system, Agilent Technologies, Santa Clara, CA). Ion rejection coefficients were obtained from the CE chromatograms by quantifying the permeate/feed peak–area ratio of the corresponding ion.
Conclusions
In summary, our results show (a) a stark improvement in the thermal stability of alumina films sputtered in an oxygen-containing atmosphere, (b) a narrower diameter distribution for the SWCNTs grown on the thermally stable alumina layer, and (c) a correspondingly higher ion selectivity for the membranes fabricated with these SWCNTs. High-temperature annealing at 850 °C induces defective pits in alumina support layers sputtered without oxygen gas. Conversely, oxygen-reactive sputtering promotes the formation of Si-rich alumina layers with higher thermal stability. This stable support favors reliable growth of narrowly distributed sub-2-nm VA-SWCNTs. Nanofiltration membranes made from these VA-SWCNTs display improved ion rejection in pressure-driving filtration experiments thanks to the smaller diameters of these CNT arrays. Our reactive sputtering method could be combined with post-treatment techniques such as ambient annealing [17], oxygen plasma treatment [31], and ion beam bombardment [32] to further enhance the stability of supporting layers.
Abbreviations
AFM:

Atomic force microscopy
CNT:

Carbon nanotube
CVD:

Chemical vapor deposition
EDX:

Energy-dispersive X-ray spectroscopy
RMS:

Root mean square
SD:

Standard deviation
SWCNT:

Single-walled carbon nanotube
TEM:

Transmission electron microscopy
VA-SWCNT:

Vertically aligned single-walled carbon nanotube
Declarations
Acknowledgements
This work received partial support from the Defense Threat Reduction Agency-Joint Science and Technology Office for Chemical and Biological Defense (Grant BRBAA07-F-1-0066) and from Lawrence Livermore National Laboratory. J. I. is grateful for the financial support from the Chung-Ang University Research Grants in 2015. The work at LLNL was performed under the auspices of the US Department of Energy under contract DE-AC52-07NA27344. A portion of this work was performed at the Molecular Foundry, which was supported by the Office of Science, Office of Basic Energy Sciences, of the US Department of Energy under contract DE-AC02-05CH11231. The authors thank Dr. Olgica Bakajin (Porifera, Inc.) for insightful and helpful comments.
Availability of data and materials
Data will not be shared.
Authors' contributions
JBI, FF, and AN conceived and designed the experiments. JBI, FF, TXT, and AN wrote the manuscript. JBI, FF, KRC, and YW conducted the experiments. CPG, SMK, and AN gave advice to the research and writing of the manuscript. All authors read and approved the final manuscript.
Competing interests
The authors declare that they have no competing interests.
Publisher's Note
Springer Nature remains neutral with regard to jurisdictional claims in published maps and institutional affiliations.
Open AccessThis article is distributed under the terms of the Creative Commons Attribution 4.0 International License (http://creativecommons.org/licenses/by/4.0/), which permits unrestricted use, distribution, and reproduction in any medium, provided you give appropriate credit to the original author(s) and the source, provide a link to the Creative Commons license, and indicate if changes were made.
Authors' Affiliations
(1)
School of Mechanical Engineering, Chung-Ang University, Seoul, Republic of Korea
(2)
The Molecular Foundry, Lawrence Berkeley National Laboratory, Berkeley, USA
(3)
Physical and Life Sciences Directorate, Lawrence Livermore National Laboratory, Livermore, USA
(4)
Department of Mechanical Engineering, University of California, Berkeley, USA
(5)
School of Natural Sciences, University of California, Merced, USA