Wavelength-Controlled Photodetector Based on Single CdSSe Nanobelt
Nanoscale Research Letters
2018
13:171
Received: 26 April 2018
Accepted: 30 May 2018
Published: 7 June 2018
Abstract
CdSSe nanobelts (NBs) are synthesized by thermal evaporation and then characterized by scanning electron microscopy (SEM), X-ray diffraction (XRD), transmission electron microscopy (TEM), high-resolution electron microscopy (HRTEM), X-ray photoelectron spectroscopy (XPS), photoluminescence (PL), and cathodoluminescence (CL). It is found that the CdSSe NBs have a good morphology and microstructure without defects. CL is sensitive to the defects of CdSSe NBs; thus, we can select single nanobelt with homogeneous CL emission to prepare a detector. Based on it, the photodetector of single CdSSe NB was developed and its photoelectric properties were investigated in detail. It is found that under illumination of white light and at the bias voltage of 1 V, the photocurrent of a single CdSSe nanobelt device is 1.60 × 10−7 A, the dark current is 1.96 × 10−10 A, and the ratio of light current to dark one is 816. In addition, the CdSSe nanobelt detector has high photoelectric performance with spectral responsivity of 10.4 AW−1 and external quantum efficiency (EQE) of 19.1%. Its rise/decay time is about 1.62/4.70 ms. This work offers a novel strategy for design wavelength-controlled photodetectors by adjusting their compositions.
Keywords
CdSSe nanobeltsOptical propertiesCathodoluminescencePhotodetector
Background
Recently, semiconductor nanomaterials have been widely studied as optoelectronic devices, such as light emitting diodes [1, 2], photovoltaic devices [3], solar cell [4, 5], electrocatalytic H2 generation [6, 7], and photodetectors [8–10]. CdS and CdSe are II–VI semiconductor materials with the bandgap at room temperature of 2.42 and 1.74 eV, respectively. They are considered to be the best materials for the fabrication of photodetectors due to their bandgap corresponding to the absorption wavelength in the visible light region [11, 12].
One-dimensional nanostructures such as nanowires [13], nanobelts [14], and nanotubes [15] have been used in sensors and photodetectors due to their high surface-to-volume ratios, physical properties, and chemical properties [16]. Among them, some nanostructures such as ZnO [17], CdS [18], CdSe [19], MoS2 [20], Zn x Cd1 − xSe [21], CdS1 − xSe x [22], and Zn x Cd1 − xS [23] have been used in fabrication photodetectors. Pan et al. reported that the photodetector based on CdS0.49Se0.51/CdS0.91Se0.09 heterostructure has a good performance [24]. However, how to develop a high response and selectivity detector with excellent performance is still a challenge.
In this work, the CdSSe nanobelts (NBs) were synthesized by thermal evaporation. We undertake the fabrication and characterization of single CdSSe device. After that, the photoelectric properties of single CdSSe NB device were systematically investigated. Based on it, we carried out the cathodoluminescence (CL) of CdSSe NB at room temperature and low temperature and found that CL is sensitive to the defects of CdSSe NBs. Therefore, we choose nanobelts with perfect microstructures to design devices by CL so that they can achieve our desired properties.
Methods
Preparation of CdSSe Nanobelts
Single-crystal CdSSe NBs were prepared by thermal evaporation. For synthesis of CdSSe NBs, the mixture of pure CdS powders (99.99 wt%) and CdSe powders (9.99 wt%) premixed in the weight ratio of 1:1 was put into a ceramic boat. The ceramic boat was placed in the middle of the quartz tube. A silicon substrate coated with about 10-nm Au film was placed into the tube; the distance of silicon substrate and ceramic boat was about 5–7 cm. The furnace was heated to 820 °C and was then maintained for 2 h. Finally, the furnace naturally cooled to room temperature. The nanobelts with different compositions were deposited on the different position of the Si substrate. In the whole experiment, Ar gas was flown at 20 sccm, and the pressure inside the tube was kept at 112 Torr.
Material Characterization
The morphology, structure, and composition of the nanobelts were characterized by scanning electron microscopy (SEM), X-ray diffraction (XRD), transmission electron microscopy (TEM), high-resolution electron microscopy (HRTEM), and X-ray photoelectron spectroscopy (XPS). The PL spectra were measured under 532-nm laser excitation. CL spectra of CdSSe NBs were measured at room temperature and low temperature by a cathodoluminescence (CL) (Gatan monocle CL4) system installed on the scanning electron microscopy (Quanta FEG 250).
Fabrication of Nanobelt Device
Ti/Au electrodes were deposited on the two ends of a single nanobelt dispersed on Si substrate with a 500-nm-thick SiO
2
layer, and then, the device was attained. The detailed fabrication process of the devices is referred in the literature [
25
]. The uncovered part of the nanobelts was exposed to the incident light. Figure
1
is the schematic diagram of the device test.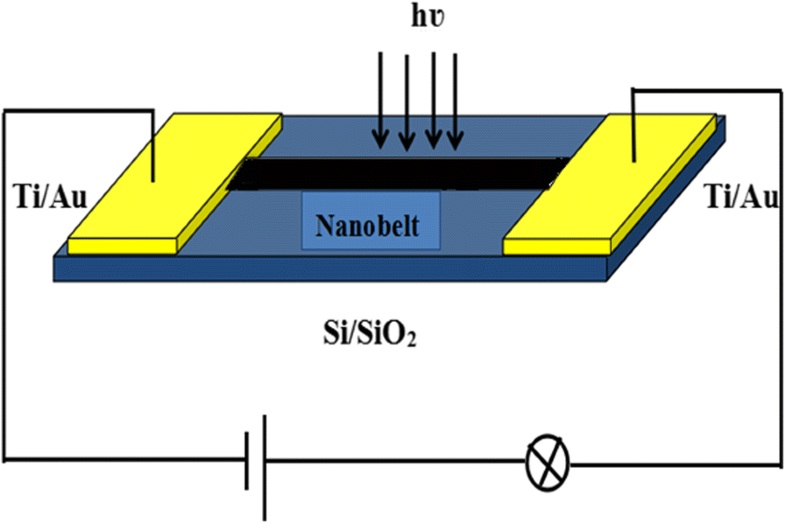 Photoelectric Characterization
The measurement on the photoelectric performance of nanobelts was carried out by Keithley 4200 semiconductor system and the monochromatic spectrometer. The photocurrent of the device was measured by changing the incident light vertically irradiated on the device, and I–V curves were performed by a two-probe measurement.
Results and Discussion
It is well known that the spectral responsivity (R λ ) and external quantum efficiency (EQE) are critical parameters for optical devices, which can be defined as R λ  = Iph/(P λ S)and EQE = hcR λ /(qλ), where Iph is the difference between the photocurrent and dark current, P λ is the light power density irradiated on the nanobelt, S is the effective illuminated area, c is the velocity of light, h is the Planck's constant, q is the electronic charge, and λ is the exciting wavelength [33, 34]. We calculated the corresponding R λ and EQE values of the CdSSe NB device are 10.4 A/W and 19.1%.
Conclusions
In summary, CdSSe NBs were grown in a high-temperature furnace by thermal evaporation. The obtained nanobelts were characterized by various methods. It is found that the CdSSe NBs have perfect microstructure without any defects and the nanobelts are composed of Cd, Se, and S elements. The CL results revealed that the intensity of single CdSSe nanobelt at low temperature (93 K) is stronger than that at room temperature (295 K), and the signal noise ratio is better at 93 K. After that, we developed the CdSSe photodetector based on single NB and studied its optoelectronic properties. The detector achieved high performance with responsivity of 10.4 A/W, rise/decay time of 1.62/4.70 ms, and the external quantum efficiency (EQE) of 19.1% at 674 nm, which has good stability and repeatability in the photoelectronic properties. This work paves the way towards for developing continuous-wavelength visible photodetector by tuning its composition.
Abbreviations
CL:

Cathodoluminescence
EDX:

Energy-dispersive X-ray
EQE:

External quantum efficiency
HRTEM:

High-resolution electron microscopy
NB:

Nanobelt
NBE:

Near-band-edge
NS:

Nanosheet
PL:

Photoluminescence
R λ :

Responsivity
SAD:

Selected-area diffraction
SEM:

Scanning electron microscopy (SEM)
TEM:

Transmission electron microscopy
XPS:

X-ray photoelectron spectroscopy
XRD:

X-ray diffraction
Declarations
Funding
This work was supported by the National Natural Science Foundation of China (Grant No. 11764046, 11304275, and 61564010), Applied Basic Research Foundation of Yunnan Province (2017FB009), and Innovative Talents of Science and Technology Plan Projects of Yunnan Province (2014HB010).
Availability of Data and Materials
All data are fully available without restriction.
Authors' Contributions
YL guided the experiments and test process and revised the paper. LX carried out the synthesis of nanobelts and photoconductance measurement and prepared the manuscript. XF and QT carried out the characterization. QW analyzed the data. All authors read and approved the final manuscript.
Ethics Approval and Consent to Participate
Not applicable
Competing Interests
The authors declare that they have no competing interests.
Publisher's Note
Springer Nature remains neutral with regard to jurisdictional claims in published maps and institutional affiliations.
Open AccessThis article is distributed under the terms of the Creative Commons Attribution 4.0 International License (http://creativecommons.org/licenses/by/4.0/), which permits unrestricted use, distribution, and reproduction in any medium, provided you give appropriate credit to the original author(s) and the source, provide a link to the Creative Commons license, and indicate if changes were made.
Authors' Affiliations
(1)
Institute of Physics and Electronic Information, Yunnan Normal University, Kunming, People's Republic of China
(2)
Yunnan Key Laboratory of Opto-electronic Information Technology, Kunming, People's Republic of China
(3)
Key Laboratory of Yunnan Higher Education Institutes for Optoelectric Information Technology, Kunming, People's Republic of China