CdTe Quantum Dot/Dye Hybrid System as Photosensitizer for Photodynamic Therapy
Nanoscale Research Letters
2010
5:753
Received: 16 December 2009
Accepted: 28 January 2010
Published: 10 February 2010
Abstract
We have studied the photodynamic properties of novel CdTe quantum dots—methylene blue hybrid photosensitizer. Absorption spectroscopy, photoluminescence spectroscopy, and fluorescence lifetime imaging of this system reveal efficient charge transfer between nanocrystals and the methylene blue dye. Near-infrared photoluminescence measurements provide evidence for an increased efficiency of singlet oxygen production by the methylene blue dye. In vitro studies on the growth of HepG2 and HeLa cancerous cells were also performed, they point toward an improvement in the cell kill efficiency for the methylene blue-semiconductor nanocrystals hybrid system.
Keywords
Quantum dots
Nanocrystals
Photosensitiser
Electron transfer
Singlet oxygen
Introduction
Methylene blue (MB) is a dye that has been extensively used for a variety of photochemical [1] and medical applications [2], including photodynamic therapy (PDT). In PDT, it acts as a photosensitizer for the production of singlet oxygen [1] (O2) through energy transfer between its excited triplet state and the ground triplet state of molecular oxygen. It has been suggested that singlet oxygen may be linked to apoptosis of cancerous cells, while oxygen free-radicals are more likely to cause necrosis [2]. Apoptosis is a more favorable cell death mechanism, since it includes a safe disposal of cellular debris. Necrosis, on the other hand, is a form of traumatic cell death and often leads to inflammation and other complications. The use of MB in PDT has been limited by the formation of MB dimers [3] and the reduction in MB to the photochemically inactive leuco-MB under physiological conditions [4], both of which result in a decreased efficiency of singlet oxygen production. In this work, we attempt to increase this efficiency by addition of CdTe nanocrystals (NCs).
Semiconductor nanocrystals (NCs), otherwise known as quantum dots (QDs), are promising for such applications because of their size-dependent optical properties [5]. They have wide absorption bands and relatively narrow, tunable emissions, which makes them ideal candidates as Förster resonance energy transfer (FRET) pairs. The shell of ligand molecules surrounding the NCs allows their chemical properties to be adjusted through relatively straightforward solution-based surface chemistry [6]. On the basis of their versatility and unique optical properties, semiconductor nanocrystals are impacting the areas of photonics [7, 8], electronics [8], and bio-imaging [8, 9].
Experimental Methods
Materials and Sample Preparation
Methylene blue dye powder was bought from Sigma–Aldrich. Thioglycolic acid (TGA)-stabilized CdTe NC samples were prepared by an aqueous method as reported previously [10, 11]. Both the dye and the NC samples were diluted in water to give 1 × 10−5 M stock solutions. Doubly purified deionized water from an 18 MΩ Millipore system was used for all dilutions.
Two CdTe samples were used, with emissions centered at 545 nm and 645 nm (Fig.
1a
). These emission maxima correspond to NC sizes of 2.8 nm and 3.3 nm, respectively, as calculated according to Peng [
12
]. Both of these samples were diluted to give 10
−5
M stock solutions and then mixed with a 10
−5
M MB stock solution to give two sets of mixtures of increasing MB concentrations. To aid the reference to the samples, each set was labeled with NC size (2.8 or 3.3 nm) and then letters "a"–"g" corresponding to ∞, 10:1, 5:1, 1:1, 1:5, 1:10, 0 QD:MB molar ratios, respectively. QD solutions were sonicated for approximately 5 min prior to mixing.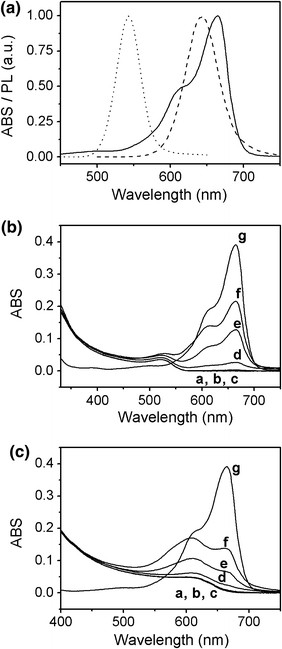 For work with cancerous cells, the 3.3-nm NC sample was diluted to give a 5 × 10
−6
M
solution and five MB solutions of different concentrations were also prepared (Table
1
). HepG2 and HeLa cells, obtained from the European Collection of Cell Cultures, were grown in serum-free medium ultra culture (Lonza) at 37°C in a 5% CO
2
humidified atmosphere. Cells were seeded onto 96 wells of a 96-well plate (5,000–10,000 cells per well). To each of the well, 5 μL of QD solution and/or 5 μL of MB solution were added, as summarized in Table
1
. The plate was placed approximately 10 cm away from a standard UV lamp for varying periods of time (30–180 s). The cells were then washed with fresh ultra culture solution, and incubated for 24–32 h. After the incubation, cells were counted using fluorescent labeling with a CyQuant Cell Proliferation Assay Kit (Biosciences).
Table 1
Experimental setup used to study the effect of NC–MB mixtures on the growth of cancerous cells
| Line no. | Sample description |
| --- | --- |
| 1 | Control (no QD/MB) |
| 2 | QD only control |
| 3 | MB only (1:1) |
| 4 | MB only (5:1) |
| 5 | MB only (10:1) |
| 6 | MB only (20:1) |
| 7 | MB only (30:1) |
| 8 | MB and QD (1:1) |
| 9 | MB and QD (5:1) |
| 10 | MB and QD (10:1) |
| 11 | MB and QD (20:1) |
| 12 | MB and QD (30:1) |
| MB:QD ratio | MB concentration (M) |
| --- | --- |
| 1:1 | 5 × 10−6 |
| 5:1 | 2.5 × 10−5 |
| 10:1 | 5 × 10−5 |
| 20:1 | 1 × 10−4 |
| 30:1 | 1.5 × 10−4 |
Conclusions
In solution, methylene blue adsorbs onto the nanocrystal surface with partial dimerization. The dye quenches the NC luminescence primarily via charge transfer, but Förster resonance energy transfer also occurs if there is sufficient overlap between NC emission and MB absorption bands. Both energy and charge transfer imply increased excitation of dye molecules, which suggests that the efficiency of MB to produce reactive oxygen species is also increased. Near-infra red photoluminescence measurements confirmed the increase in the production of singlet oxygen by MB in D2O, while cell growth studies demonstrated an increase in cell kill efficiency for MB–NC mixtures. These results hint toward the possibility of improving the efficiency of any general photosensitizer utilizing semiconductor nanocrystals.
Footnotes
1 Before the subtraction of "f" and "g" PL spectra, both were corrected for the contribution from the tail of NCs' emission, which had a Gaussian profile in the spectral region in question.
Declarations
Acknowledgments
This project was partly funded by the Embark Postgraduate Research Scholarship Scheme of the Irish Research Council for Science, Engineering and Technology (IRCSET). Dr. Yuri Gun'ko and Dr. Nikolai Gaponik are acknowledged for their academic assistance.
Open Access
This article is distributed under the terms of the Creative Commons Attribution Noncommercial License which permits any noncommercial use, distribution, and reproduction in any medium, provided the original author(s) and source are credited.
Authors' Affiliations
(1)
School of Physics and CRANN Research Centre, Trinity College, Dublin 2, Ireland
(2)
Brest State Technical University, Brest, Belarus
(3)
School of Biochemistry and Immunology, Trinity College, Dublin 2, Ireland
(4)
Physikalische Chemie/Elektrochemie, TU Dresden, Dresden, Germany