Nanoscale surface modifications to control capillary flow characteristics in PMMA microfluidic devices
Nanoscale Research Letters
2011
6:411
Received: 30 October 2010
Accepted: 3 June 2011
Published: 3 June 2011
Abstract
Polymethylmethacrylate (PMMA) microfluidic devices have been fabricated using a hot embossing technique to incorporate micro-pillar features on the bottom wall of the device which when combined with either a plasma treatment or the coating of a diamond-like carbon (DLC) film presents a range of surface modification profiles. Experimental results presented in detail the surface modifications in the form of distinct changes in the static water contact angle across a range from 44.3 to 81.2 when compared to pristine PMMA surfaces. Additionally, capillary flow of water (dyed to aid visualization) through the microfluidic devices was recorded and analyzed to provide comparison data between filling time of a microfluidic chamber and surface modification characteristics, including the effects of surface energy and surface roughness on the microfluidic flow. We have experimentally demonstrated that fluid flow and thus filling time for the microfluidic device was significantly faster for the device with surface modifications that resulted in a lower static contact angle, and also that the incorporation of micro-pillars into a fluidic device increases the filling time when compared to comparative devices.
Keywords
Contact AnglePMMADielectric Barrier DischargeStatic Contact AngleMicrofluidic Flow
Introduction
In recent years, microfluidics has become an indispensable component of microelectromechanical systems (MEMS) technology [1–3], with polymer devices establishing a greater role in the development of disposable microfluidic systems [4]. One such polymer is polymethylmethacrylate (PMMA) which is used in the fabrication of a wide variety of microfluidic devices [4, 5], from micro-reactors [4] to high aspect ratio microstructures [6], blood filters [7], and waveguide devices [8]. Additionally, PMMA microfluidic systems may be fabricated using a wide range of techniques, including injection molding, hot embossing, laser photo-ablation, and X-ray lithography [3, 4, 6, 7, 9].
Passive capillary flow is an important consideration for disposable polymeric microfluidic devices [2, 10–12], where flow can be modified by adjusting the surface wettability or by incorporating surface roughness features on the interior surface of the microchannels. In literature, mainly three surface engineering strategies have been developed that can directly change nanoscale surface properties of polymer. First, fabricating desired surface features by various micro fabrication techniques, such as lithographic, hot-embossing, etc. Secondly, vacuum-based thin film coating techniques can be used to modify surface properties. Finally, polymer surface can be modified by physical (such as plasma) and chemical routes. Recent reports have shown that the surface wettability for polymer devices can be varied by plasma treatment [13–16] and the coating of diamond-like carbon (DLC) film [17, 18] on the microchannel surfaces with numerous simulations describing the effects of surface roughness on microfluidic flow [2, 19–22]. The plasma treatment and DLC coating on polymer for the surface modification have been well studied by other researchers. Chemical modification technique is also useful on PMMA surface for microfluidic applications [23]. Also, pristine and UV-modified PMMA surfaces were used in microfluidic devices for cell transport applications [24]. However, to the best of our knowledge, the effect of these surface modifications on microfluidic flow is not well understood. As such this study on the effects of microfluidic flow is essential to aid the design and fabrication processes of polymer microfluidic systems.
In this study, we have fabricated PMMA microchannels incorporating a micropillar array structure and subjected the channel surfaces to both plasma modification and DLC coatings to study the effects of surface modification on surface energy and surface chemistries. The capillary flow (in terms of capillary meniscus position and filling time of the devices) was recorded as a series of video files, which were subsequently analyzed to correlate the flow behavior of the surface modification system.
Experimental techniques
Fabrication of PMMA microchannels
An SU8 stamp-on-silicon-wafer was fabricated using an SF100 maskless photolithograph system (Intelligent Micro Patterning, LLC, USA) using an established SU8 processing method [5, 25, 26]. Briefly, SU8 50 was coated onto the silicon substrate using a spin coater at 1000 RPM to make the SU8 stamp, patterned following a soft bake by exposure to UV light at an intensity of 310 μW/cm2 for 25 s, and developed following post-exposure bake in EC solvent for 10 min, following which the stamp was hard baked. The PMMA channels were fabricated from the stamp using a hot embossing system (EVG520, EVG Group, Austria) [5–7, 9] operating at 125°C and 10 kN for 2 min. Finally, a direct bonding technique was used [5, 27] to seal the PMMA devices to a PMMA lid. The bonding temperature and pressure used were 90°C and 10 kN, respectively, for bonding time of 4 min.
Figure
1
represents the schematic of the microchannels used to study the effects of different surface properties (surface wettability and surface roughness) on flow through microfluidic channels, with amaranth dye (Sigma Aldrich, UK) used to aid visualization of the water meniscus. The microchannel dimensions following hot embossing were verified using a Dektak 8 profilometer (Vecco Instruments, Santa Barbara, CA, USA). The microchannel design [
2
,
11
] shown in Figure
1
can be described as follows Regions 1 and 6 are circular inlets and outlets with a diameter of 2 mm. Region 2 has uniform width of 1.5 mm, while the width of region 3 increases from 1.5 to 5.0 mm. Region 4 (the chamber) has the length of 6 mm and width of 5 mm, and region 5 decreases from 5 to 1.5 mm in width. Each of the regions 2, 3, and 5 has a length of 2 mm along the channel axis and the height of the microchannel across all regions is 33 μm.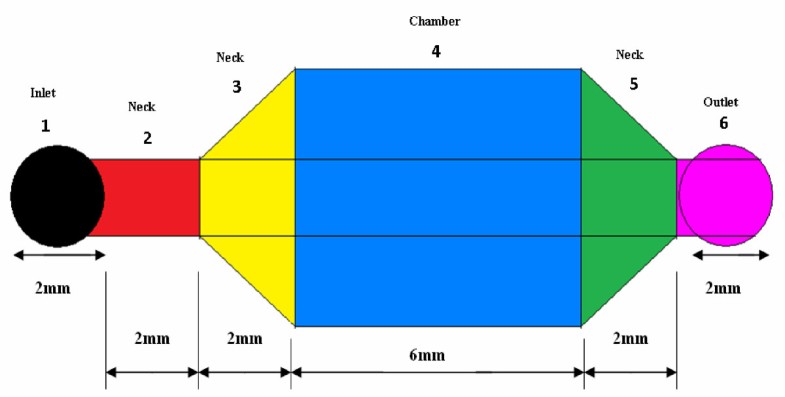 The PMMA microchannels described above were fabricated in two categories: (i) planar faces with no micro-pillar structures present on any of the walls of the device, (ii) planar faces on all but the lower wall, where micro-pillar features were hot-embossed. The micro-pillars were used as surface roughness elements [
2
,
22
] with a height of 15 μm, and were fabricated from the beginning of region 3 and to the end of region 5, as arrays of 100 m (1.6% increase per mm
2
), 200 m (1.9% increase per mm
2
), or 300 m pillars (1.8% increase per mm
2
), with an inter-pillar separation (horizontal distance between any two subsequent micropillars) of 200 μm. Figure
2
shows example of SEM images of microchannel containing pillars of 300 μm in width.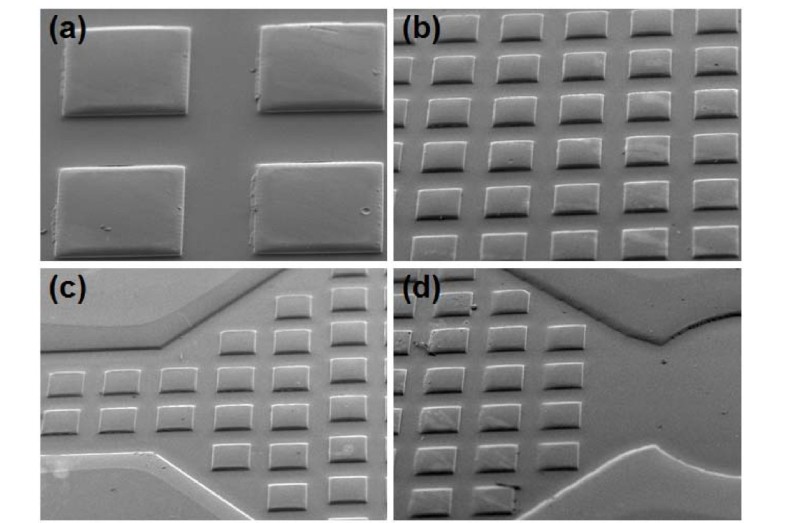 Surface modifications on the PMMA microchannel surfaces
We utilized four different methods to modify the pristine PMMA surfaces following heat and pressure treatment by hot embossing, but prior to thermal bonding, to modify the surface properties and wettability of the devices. The methods can be described briefly as follows:
Characterization techniques
Surface characterizations
The surface of PMMA was not rinsed with IPA and DI water prior to contact angle analysis. However, rinsing PMMA surfaces by IPA and DI water may alter contact angles [28]. Two different liquids were used to carry out the contact angle measurements: ultra-pure water (MilliQ®) and Ethylene Glycol (Sigma-Aldrich, Gillingham, UK). Static contact angle were measured (using CAM 2000, KSV Instrument Ltd., Helsinki, Finland) by the sessile-drop method at room temperature (approximately 25°C). A 5 μl droplet of the liquid was deposited on the surface of the sample, and immediately after stabilization, an image of the droplet was captured. The profile of the droplet was automatically fitted with the CAM 2000 software using a Young Laplace approach. At least ten readings were performed per sample type and the corresponding average values and standard deviations were recorded. We have studied the surface chemistry and roughness of the unmodified and modified PMMA surfaces by X-ray photo electron spectroscopy (XPS) and atomic force microscopy (AFM), respectively.
Fluidic measurements for the microfluidic devices
Fluid flow in the sealed devices was recorded using a CMOS camera capturing video at 25 frames per second (fps) which corresponded to a frame resolution of 0.04 s/frame. The air-water interface velocity was measured from the recorded video clips [29] and the air-water interface velocity and the filling time (time for the meniscus to travel from the inlet to outlet of any particular device) were calculated by measuring the interface position change over a corresponding time interval [2, 5]. The laboratory temperature and humidity at the time of recording were in the order of 25°C and 28%, respectively. The flow was visualized using amaranth dyed water, with 15 μl amount of working liquid volume dispensed to minimize the entrance effect in each system. The meniscus movements were measured along the center line of the chamber.
Conclusions
In this study, we have shown that the microfluidic flow behavior can be significantly varied by two simple ways; first, by the plasma treatment on PMMA microchannel; secondly, by the variation of designed surface roughness (micropillars). Comprehensive analysis of surface energy and surface chemistry studies revealed the reasons for the change of fluid flow behavior in microchannel. The static water contact angle on PMMA surfaces being reduced significantly by a plasma treatment processes. The polar surface energy was shown to be higher for the surfaces of lower static water contact angle and the oxygen content, hydro-carbon groups, and surface roughness were notably higher on DBD processed PMMA than for pristine PMMA. The pristine and modified surfaces can be classified into two different groupings of wettabilities, determined by static water contact angles, above 70 and near to 50°. The dyed water flow was faster on the surface of lower static contact angle due to higher wettability, and the effect of pillar side length shown to be more significant on the surface of higher static water contact angle. This type of surface engineering of any polymeric material can be widely used in variety of applications such as microfluidic and bio-engineering.
Abbreviations
AFM:

atomic force microscope
DLC:

diamond-like carbon
fps:

frames per second
MEMS:

microelectromechanical systems
PECVD:

plasma enhanced chemical vapor deposition
PMMA:

polymethylmethacrylate
XPS:

X-ray photo electron spectroscopy.
Authors' Affiliations
(1)
Nanotechnology and Integrated Bio-Engineering Center, School of Engineering, University of Ulster, Northern Ireland, UK
Copyright
© Mukhopadhyay et al; licensee Springer. 2011
This article is published under license to BioMed Central Ltd. This is an Open Access article distributed under the terms of the Creative Commons Attribution License (http://creativecommons.org/licenses/by/2.0), which permits unrestricted use, distribution, and reproduction in any medium, provided the original work is properly cited.