Effect of UV/ozone treatment on polystyrene dielectric and its application on organic field-effect transistors
Nanoscale Research Letters
2014
9:479
Received: 1 July 2014
Accepted: 7 September 2014
Published: 10 September 2014
Abstract
The influence of UV/ozone treatment on the property of polystyrene (PS) dielectric surface was investigated, and pentacene organic field-effect transistors (OFETs) based on the treated dielectric was fabricated. The dielectric and pentacene active layers were characterized by atomic force microscopy, X-ray photoelectron spectroscopy, and scanning electron microscopy. The results showed that, at short UVO exposure time (<10 s), the chemical composition of PS dielectric surface remained the same. While at long UVO exposure time (>60 s), new chemical groups, including alcohol/ether, carbonyl, and carboxyl/ester groups, were formed. By adjusting the UVO exposure time to 5 s, the hole mobility of the OFETs increased to 0.52 cm2/Vs, and the threshold voltage was positively shifted to -12 V. While the time of UVO treatment exceeded 30 s, the mobility started to shrink, and the off-current was enlarged. These results indicate that, as a simple surface treatment method, UVO treatment could quantitatively modulate the property of PS dielectric surface by controlling the exposure time, and thus, pioneered a new way to modulate the characteristics of organic electronic devices.
Keywords
Polystyrene dielectricUV/ozone treatmentX-ray photoelectron spectroscopyOrganic field-effect transistor (OFET)
Background
Due to the low fabrication costs and wide applications, such as large area sensor arrays, flat panel displays, and radio frequency identification tags, organic field-effect transistors (OFETs) as an emerging kind of organic electronic device have been extensively researched in the past few decades [1–3]. As one of the most important components of OFETs, dielectric plays a key role in adjusting the performance of the devices [4–7]. Especially, since the dielectric consisting of polymer possesses excellent bendable feature, which is crucial in flexible nanoscale electronics, this kind of material has been widely studied [8–11].
Moreover, as the conducting channel lies in the first few semiconducting layers in proximity to the gate dielectric, the property of dielectric/organic semiconductor interface at nanoscale will dramatically influence the performance of the OFETs [12, 13]. Therefore, the polymer dielectric surface holds the capability to modulate the electronic properties of the devices [14, 15], and many methods have been applied to modify the surface [16–18]. Among various strategies, inserting buffer layer is the most common way to modify the dielectric surface. Many materials, including self-assembled monolayer [19, 20], organic semiconductor [21, 22], and polymer insulator [23], can act as an efficient buffer by improving the dielectric/organic semiconductor interface property. However, inserting buffer to the interface requires additional functional materials, and causes more complicated device architecture, leading to cost increase.
On the other hand, according to previous works on polymers with UV/ozone (UVO) treatment, an obvious change on the surface chemical structure of polystyrene (PS) was observed after UVO treatment [24–26]. Hence, OFETs with UVO-treated dielectric have been studied and exhibited obvious performance variation. However, the specific change of UVO-treated PS dielectric at nanoscale size and its effect on the performance of OFETs have seldom been investigated.
In this work, we studied the influence of UV/ozone treatment on the property of PS dielectric surface in detail. The morphologies of PS dielectric and pentacene layers were characterized by atomic force microscopy (AFM) and scanning electron microscopy (SEM), respectively. And the property of PS dielectric with various UVO treating time was studied by analyzing the PS through X-ray photoelectron spectroscopy (XPS) and electronic characterization. Furthermore, OFETs based on UVO-treated PS dielectrics were fabricated, and the performance change of the OFETs was studied.
Methods
Field-effect transistor fabrication
Figure
1
shows the device fabrication process, along with the device architecture. PS (average Mw ~ 280,000) and pentacene were purchased from Sigma-Aldrich (Sigma-Aldrich, St. Louis, MO, USA) and TCI (TCI, Tokyo, Japan), respectively. Indium tin oxide (ITO) glass substrate was cleaned in acetone, deionized water, and isopropyl alcohol for 15 min each by an ultrasonic bath sequentially. A 540 nm PS dielectric was formed by spin-coating a solution of PS in xylene (6 wt.%) on the substrate at room temperature. Then, the dielectric layer was baked at 120°C for 1 hr to completely remove residual solvents. Prior to the deposition of pentacene, the devices were exposed to UV light of 185 and 253.7 nm (SunMonde, UV-O
3
Cleaner, 40 W, Shanghai, China) for 0 ~ 240 s. Then, pentacene was evaporated under 3 × 10
-4
Pa at a rate of 0.2 ~ 0.3 Å/s to form a film with 30 nm. At last, gold source and drain electrodes of 50 nm were thermal evaporated using a metal shadow mask without breaking the vacuum.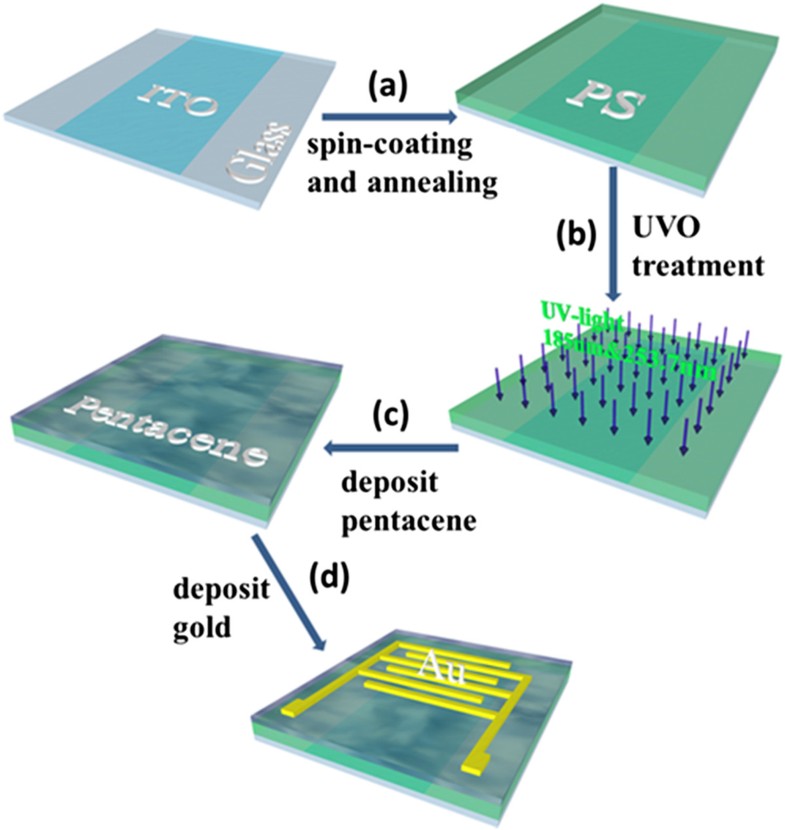 Thin film and device characterization
The morphology of PS dielectrics and pentacene films were characterized by AFM (MFP-3D-BIO, Asylum Research, Santa Barbara, CA, USA) in tapping mode and SEM (Hitachi, S-4800, Chiyoda-ku, Japan), respectively. XPS (Omicron ESCA Probe, Tokyo, Japan) characterization of carbon 1 s signal was monitored on PS dielectrics. The capacitance of the gate dielectrics was obtained by measuring capacitance-frequency properties of ITO/PS/Au with Agilent 4294A (Santa Clara, CA, USA).
The electrical characteristics of the OFETs were measured using a Keithley 4200 (Keithley, Cleveland, OH, USA) in a N
2
-filled glove box. The mobility (
μ
) was calculated in the saturation region of transfer curves using (1):
where L (100 μm) and W (1 cm) were the channel length and channel width, respectively. Ci was the capacitance (per unit area) of the dielectric, Vgs was the gate voltage, and Ids was the drain-source current.
Results and discussion
Especially, when the UVO treatment time was controlled to be 5 s (Figure 6a), all the electronic parameters of the OFETs were enhanced, including a positive shift of Vth (from -17.8 to -12.0 V), and an increasing μ (from 0.46 to 0.52 cm2/Vs). It was suggested that, at short UVO exposure time, although the chemical group on the PS dielectric surface would not change significantly, the surface of PS was effectively cleaned by UVO treatment [25]. As a result, the trap sites at the interface of pentacene/dielectric were reduced, leading to an improved performance [5, 14]. However, when the UVO treatment time exceeded 10 s, all the parameters, except Vth, started to become less along with the increasing UVO treatment time. An obvious decrease of μ (from 0.52 to 0.11 cm2/Vs) and the increase of SS (from 2.2 to 18.3 V/decade) were obtained. Furthermore, on/off ratio decreased about three orders of magnitude. As all the Ion were maintained at a relatively stable value of around 0.6 ~ 1 × 10-4 A (Ion was defined as the current of OFET when both Vgs and Vds were -20 V), the decrease of on/off ratio could mainly be attributed to the increase of Ioff. To prove the universality of this approach, another group of OFETs based on C60 were fabricated [see Additional file 2]. The variation of all the parameters for C60 OFETs with different UVO treatment time exhibited a similar trend as those of the pentacene OFETs. It is worth noting that, with UVO treatment, n-type OFETs of C60 also exhibited a positive shift of Vth, the increase of SS, and the decrease of μ and on/off ratio. However, unlike the OFETs consisting of p-type semiconductors, the decrease of on/off ratio was caused by the decrease of saturation current Ion, rather than the increase of Ioff. The above results indicated that the surface property of PS dielectric was effectively modified by UVO treatment, and such modification could be well controlled by adjusting the UVO treatment time.
Conclusions
The effect of UVO treatment on PS dielectric for pentacene OFETs was investigated, and the property of PS dielectric was analyzed through AFM and XPS. It was found that the surface property of PS dielectric could be quantitatively modified by adjusting the UVO treatment time. Consequently, the electronic properties of OFETs based on UVO-treated PS could be modulated. Enhanced performance with hole mobility up to 0.52 cm2/Vs and reduced Vth of -12 V was obtained in OFETs based on 5-s UVO-treated PS dielectric. These results indicated that UVO-treated PS dielectric holds the potential to regulate the performance of OFETs based on such dielectric, and thus, paves a new simple way to accelerate the development of nanoscale organic electronic devices.
Declarations
Acknowledgements
This research was funded by the National Science Foundation of China (Grant No. 61177032), the Foundation for Innovation Research Groups of the NSFC (Grant No. 61421002), and the Fundamental Research Funds for the Central Universities (Grant No. ZYGX2010Z004).
Authors' Affiliations
(1)
State Key Laboratory of Electronic Thin Films and Integrated Devices, School of Optoelectronic Information, University of Electronic Science and Technology of China (UESTC), Chengdu, People's Republic of China
Copyright
© Huang et al.; licensee Springer. 2014
This article is published under license to BioMed Central Ltd. This is an Open Access article distributed under the terms of the Creative Commons Attribution License (http://creativecommons.org/licenses/by/4.0), which permits unrestricted use, distribution, and reproduction in any medium, provided the original work is properly credited.