Assembling single gold nanorods into large-scale highly aligned nanoarrays via vacuum-enhanced capillarity
Nanoscale Research Letters
2014
9:556
Received: 31 August 2014
Accepted: 22 September 2014
Published: 7 October 2014
Abstract
We report a simple, straightforward, and efficient approach to assemble single gold nanorods (AuNRs) into highly aligned arrays, via a unique vacuum-enhanced capillarity. The assembled AuNR arrays demonstrate both an excellently unidirectional ordering and a wonderful single-rod resolution. The key role of vacuum in this approach enables high-aspect-ratio (10 to 22) AuNR alignment and efficiently facilitates large-area alignment. Further investigation of one- and two-dimensional AuNR arrays would undoubtedly be beneficial to their potential applications.
Keywords
GoldNanorodsAssemblyCapillaryAtomic force microscopyNanoarray
Background
Controlled assembly and alignment of one-dimensional (1D) nanostructures such as nanorods, nanotubes, and nanowires are essential for their integration and applications in many macroscopic devices for nanoelectronics, [1] sensing, [2–4], and plasmonics [5, 6]. Although 1D nanostructures such as gold nanoarrays can be fabricated by conventional top-down lithography (e.g., electron beam lithography), the process is time-consuming and the gold involved is polycrystalline, which may ultimately degrade the performance of devices. Recent wet chemical approaches have made it possible to synthesize various anisotropic gold nanostructures including dimeric gold nanorod (AuNR) junctions [4, 5, 7]. Meanwhile, several novel bottom-up strategies, such as capillary-driven assembly, [8–10] chemically template-directed assembly [11–13], spontaneous self-assembly [14], surface amidation assembly [15], and polymer-based assembly [16–18], have been developed to assemble spherical gold colloid nanoparticles [7] and anisotropic pentahedrally twinned AuNRs into ordered gold nanostructures [11, 15, 19]. However, the manipulation of anisotropic AuNRs to form highly aligned and ordered nanoarrays still remains significantly challenging. Herein, we employ a strong capillarity enhanced by a vacuum created from a syringe to assemble AuNRs into nanoarray structures. The assembled linear nanoarrays are not only single-rod resolved but also extremely well aligned. Compared with the spontaneous capillary assembly, this approach is simple, quick, and clean (does not involve any other chemicals such as polymers) and can be highly efficient in large-area assembly of AuNRs with high aspect ratios (ARs) (approximately 10 to 22). The vacuum-enhanced capillary force effectively promotes the formation of highly aligned AuNR arrays. This work is an extended study of our previous work on gold nanorods [20].
Methods
Figure
1
outlines our procedure depicting the assembly of AuNRs using a syringe as a simple pump to generate a vacuum-enhanced capillary force. Briefly, a piece of cleaned Si (100) substrate was sandwiched in between two pieces of semi-cylindrical poly(dimethylsiloxane) (PDMS) stamps, one of which has linear periodic nanochannels (a) molded from a DVD template. Note that in the present work, we used two complementary DVD templates (referred to as template 1 and template 2 hereafter, see Additional file
1
: Figure S1 and Additional file
1
: Figure S2 for details) to fabricate two types of PDMS stamps with nanochannels. A piece of tape was then wound tightly around the two pieces of PDMS stamps to clamp them together and hold the silicon substrate in position. Following dropping a few drops (approximately 5 μl) of highly purified AuNR dispersion (approximately 0.05 mg/ml) on the protruding portion of the substrate surface, the entire assembly was then carefully squeezed into the cylindrical tube of a syringe after the plunger had been pulled away from the syringe body. At this time, the nanochannels may deform due to the pressure imposed by the internal wall of the tube, giving rise to the formation of nanopore canals (b) with a diameter of ca. 20 nm. The plunger was pushed back into the tube, followed by sealing the open end of the syringe with a piece of tape. Thus, a closed system was created. Pulling the plunger produced a vacuum inside the tube between the ends of the plunger and stamps. Due to the vacuum-enhanced pressure difference between both ends of the stamps along inside the tube, the flow of the AuNR dispersion occurred spontaneously and rapidly to fill up (d) the nanopore canals. After the whole assembly was then left for several hours for the water to evaporate completely, the PDMS stamps were gently removed, leaving patterned AuNR arrays on the silicon surface (e). A crossed AuNR array can be formed by repeating steps from (a) to (e) to generate another linear array perpendicular to the existing linear array (f-h).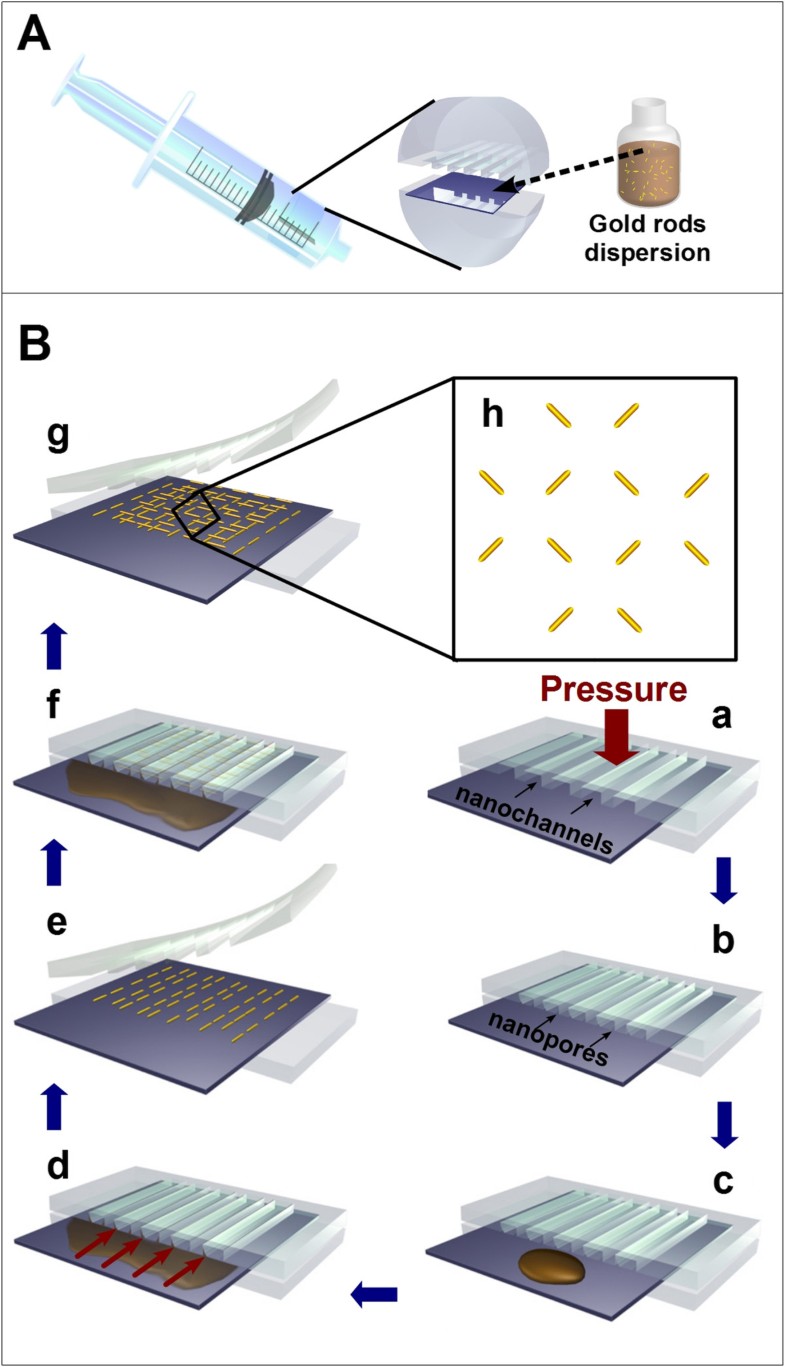 Conclusions
We have developed a simple, inexpensive, and efficient procedure that is based on a vacuum-enhanced capillary force for assembling anisotropic AuNRs into AuNR arrays. The AuNR arrays generated are not only single-rod resolved but also highly aligned and ordered. The created vacuum enables fast alignment of high-AR AuNRs on a large scale. Further work is needed to investigate the impact of various parameters on assemblies and to refine the process of forming two-dimensional AuNR nanoarrays as demonstrated in the proof-of-concept example. The approach presented here could be extended to assemble other anisotropic nanostructures including other nanorods/nanowires, carbon nanotubes, and DNA, and the nanoarrays fabricated could find potential applications in nanoelectronics, nanoplasmonics [5, 6], SERS sensing [6], and chemical detection [24].
Declarations
Acknowledgements
This work was supported by the 100 Talents Program of the Chinese Academy of Sciences (Y1291720S3) and the National Basic Research Program of the Ministry of Science and Technology of China (2011CB933101).
Authors' Affiliations
(1)
College of Materials Science and Opto-electronic Technology, University of Chinese Academy of Sciences, Beijing, China
(2)
CAS Key Laboratory for Biomedical Effects of Nanomaterials and Nanosafety, Institute of High Energy Physics, Chinese Academy of Sciences, Beijing, China
Copyright
© Wang et al.; licensee Springer. 2014
This article is published under license to BioMed Central Ltd. This is an Open Access article distributed under the terms of the Creative Commons Attribution License (http://creativecommons.org/licenses/by/4.0), which permits unrestricted use, distribution, and reproduction in any medium, provided the original work is properly credited.