Direct Magnetic Relief Recording Using As40S60: Mn–Se Nanocomposite Multilayer Structures
Nanoscale Research Letters
2017
12:286
Received: 29 December 2016
Accepted: 7 April 2017
Published: 20 April 2017
Abstract
Processes of holographic recording of surface relief structures using As2S3:Mn–Se multilayer nanostructures as registering media were studied in this paper. Optical properties of As2S3:Mn, Se layers, and As2S3:Mn–Se multilayer nanostructures were investigated. Values of optical bandgaps were obtained from Tauc dependencies. Surface relief diffraction gratings were recorded. Direct one-stage formation of surface relief using multilayer nanostructures is considered. For the first time, possibility of direct formation of magnetic relief simultaneous with surface relief formation under optical recording using As2S3:Mn–Se multilayer nanostructures is shown.
Keywords
Multilayer nanostructuresDiffraction gratingsMagnetic reliefChalcogenide glassesDirect recording
Background
Chalcogenide glasses (ChGs) are typical representatives of non-oxide glasses. ChGs are very promising versatile functional materials for use in optoelectronics as high-speed optical elements, for applications such as data processing devices, electronic switches, and other optical elements. ChGs possess unique characteristics which are different from other glasses: photoinduced phenomena, broad optical transmission window, high linear refractive index (n ≈ 2–3), and high optical non-linearity (around two orders of magnitude higher than silica, this makes them suitable for ultra-fast switching in telecommunication systems). These materials and their properties were reviewed in a number of books and review papers [1–6]. ChGs transmit to longer wavelengths in the IR than silica and fluoride glasses. ChGs based on sulfur, selenium, and tellurium typically transmit up to around 10, 15, and 20 μm, respectively [5]. In spite of a wide range of compositions in binary, ternary, and more complex systems of chalcogenide glasses, the problem of modification of parameters still exists. Such modifications can be performed partially by the special technologies (cooling rate, thin film deposition, exposure by light, e-beams or ion beams), by modification, or by creating complex artificial structures [7–13].
The properties of ChGs can be changed by doping with transitional metals or rare-earth elements resulting in change of thermal, optical, luminescent, and magnetic properties [14, 15]. Also the properties of ChGs can be changed by external light-, electron-, or ion-beam source resulting in change of refractive index, optical transmittance, volume (thickness), and viscosity [6, 16, 17]. Based on the changes of these parameters, different optical elements (lenses, gratings, beam splitters, waveguides, etc.) on micro/nanoscale can be fabricated by laser/electron- irradiation directly or followed by chemical development [6].
Composite nanomultilayer structures on the base of chalcogenide glasses are particularly interesting because they enable to realize one-step direct recording of surface relief without selective etching [18–28]. Multilayer structures are the simplest artificial nanostructures which can be rather easily produced with controlled geometrical parameters and investigated as thin films. It is essential, since the changes of the optical parameters (blue shift of the fundamental absorption edge, quantum states, luminescence), as well as of the conductivity and melting temperature (stability), are characteristic and usually examined in nanostructures. A lot of efforts were made to find classic quantum effects, to influence the structure, stability, and thermodynamic parameters of the chalcogenide material in very thin layers (see for example a review of Tanaka [16]), but the obtained results up to now are mostly connected to the optical recording. In this paper, results of direct surface and magnetic relief recording using As2S3:Mn 2 wt.%–Se nanostructures are considered.
Methods
The As2S3 glasses with manganese concentration 2 wt.% were prepared by standard melt-quenching technique using constituent elements of 6 N purity in vacuum-sealed silica ampoules. Ampoules were heated at 80 K/h rate, melt was held at 1010 K during 80 h with subsequent quenching in the air at 10 K/h rate.
Composite nanomultilayer structures on the base of chalcogenide glasses were prepared by co-condensation in vacuum. The scheme of the experimental setup is shown in Fig.
1
.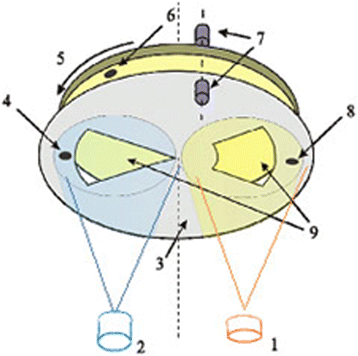 Scheme of samples cross section is shown in Fig.
2
.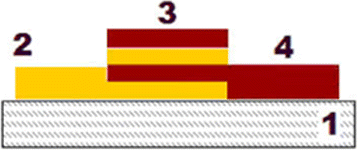 The overlapping part of samples (Fig. 2) contains alternating nanolayers of Se and As2S3:Mn 2 wt.%, i.e., two wide rings overlap in the central part of the substrate-forming nanostructure. Outside and internal rings of layers on the substrate contain pure compositions of Se and As2S3:Mn 2 wt.%, respectively.
We obtained the layers of Se and As2S3:Mn at the same time on the same substrate consequently through the windows in mask, and they were used to check the composition and calculate the ratio of the layer thicknesses in one modulation period N (the total thickness of one Se and As2S3:Mn nanolayers). Modulation period was ~21 nm = 10 nm + 11 nm; number of periods 90; thickness of one As2S3:Mn 2% layer d ≈ 11 nm; thickness of one Se layer d ≈ 10 nm; and total structure thickness ~2000 nm.
The amorphous nature of the samples was verified at room temperature by X-ray diffraction (XRD) technique using a ARL X'tra (Thermo Scientific) diffractometer equipped with a copper tube. The voltage on the tube amounted to 45 kV and current 30 mA. The scattering intensities were measured over an angular range of 2° ≤ θ ≤ 140° with a step size of Δ(θ) = 0.2° and a count time of 5 s per step.
Obtained films and composite nanomultilayer structures on the base of chalcogenide glasses were investigated using UV–vis spectroscopy. Transmission spectra were obtained in the region 200–900 nm with the use of a spectrophotometer Specord M40.
Morphology of the obtained films and surface relief of the obtained gratings were studied by atomic force microscopy (AFM) with the use of a Nanoscope-IIIa AFM.
Magnetizations of samples were measured with a Cryogenic S600 Super-conducting Quantum Interference Device (SQUID) magnetometer in the temperature range of 3–300 K and in the magnetic field up to 6 T. Measurements of magnetic properties (temperature dependence of the specific magnetic moment) were performed under the different conditions of samples cooling. The sample was cooled in a zero external magnetic field, and then the setting of the magnetic field with specified magnitude was performed. In the following, the magnetic field was remained constant during the sample heating. The interval of temperature change was chosen in such a way that the maximal value of temperature exceeded the temperature of transition into the paramagnetic state. Such dependencies in the following are denoted as ZFC [15]. Further, a sample was cooled in the magnetic field and M = M(T) was obtained, such regime was denoted as FC [15].
Diffraction gratings with 1- and 1.5-μm period were recorded by two laser beams using different light polarization with synchronous diffraction efficiency measurement by red laser (λ = 650 nm) in the first diffraction order. Monomode diode-pumped solid state (DPSS) green laser (λ = 532 nm) with average spot power density from 150 up to 350 mW/cm2 was used.
Local magnetic properties of the surface relief gratings which were fabricated using As2S3:Mn–Se multilayer nanostructures were investigated using gradient magnetic force microscopy (MFM). MFM measurements were carried out using a scanning probe microscope NanoScope IIIa Dimension 3000 with the use of a two-scan method.
Results and Discussion
X-ray diffraction patterns confirm the amorphous nature of the bulk samples of chalcogenide glasses (Fig.
3
). Spectra are shifted on some distance for better observation. Calculated radial distribution functions have shown no significant change with the introduction of manganese (Fig.
4
).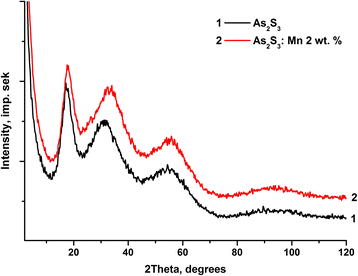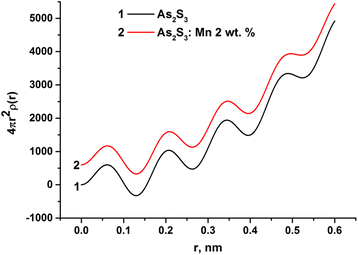 Conclusions
The presented results demonstrated a direct, one-step process of holographic recording by green light beam of surface relief structures using As2S3:Mn 2 wt.%/Se nanomultilayer structures.
Due to the changes in transmission, reflection, and in thickness under the influence of laser irradiation, As40S60:Mn 2 wt.%/Se nanomultilayer structures may be used for effective amplitude-phase optical information recording, for the production of surface relief optical elements with unique properties.
For the first time, it was shown that direct one-step magnetic relief formation is possible during grating recording using As40S60:Mn 2 wt.%/Se nanomultilayer structures.
Declarations
Acknowledgements
This research was partially supported by FP-7 project SECURE-R2I.
Authors' Contributions
AS conceived of the study and participated in its design and coordination, fabrication of chalcogenide glasses, idea of magnetic relief formation, results analysis, and drafted the manuscript. EA conceived of the study and participated in its design and coordination and results analysis. OP participated in fabrication of chalcogenide glasses, nanomultilayer structures and image recording, studied optical, thermal, and magnetic properties, and participated in results analysis. AM participated in the fabrication of nanomultilayer structures, image recording, and results analysis. AP participated in the fabrication of nanomultilayer structures and image recording. GT participated in the fabrication of nanomultilayer structures. PO participated in the results analysis. PL participated in the study of magnetic properties of recorded grating surface relief. All authors read and approved the final manuscript.
Competing Interests
The authors declare that they have no competing interests.
Publisher's Note
Springer Nature remains neutral with regard to jurisdictional claims in published maps and institutional affiliations.
Open AccessThis article is distributed under the terms of the Creative Commons Attribution 4.0 International License (http://creativecommons.org/licenses/by/4.0/), which permits unrestricted use, distribution, and reproduction in any medium, provided you give appropriate credit to the original author(s) and the source, provide a link to the Creative Commons license, and indicate if changes were made.
Authors' Affiliations
(1)
V.Lashkaryov Institute of Semiconductor Physics, National Academy of Sciences in Ukraine, Kiev, Ukraine
(2)
Institute of Applied Physics, Academy of Sciences in Moldova, Chisinau, Moldova